Le van with no plan était en fait un peu un mensonge...parce qu'on partait avec un unique plan. Qui était de trouver une planche, deux combinaisons et enfin apprendre à faire du surf. Après 3 mois sur la route on s'est dit qu'il était temps de s'y mettre si on voulait atteindre notre seul objectif. On a donc quitté l'Argentine pour traverser le Chili ( à cet endroit le Chili fait seulement 200km de long) direction l'océan pacifique. Avec un arrêt au milieu dans la ville de Temuco pour passer notre contrôle technique. Passé avec brio… au rattrapage après un passage express chez un nouveau mécano, José! Et nous voici arrivés sur la côte aux alentours de Peleco dans la province Araucania.
A Van with No Plan was actually a bit of a lie because we did have one and only plan. To find a surfboard, 2 wetsuits and learn surfing! After 3 months on the road we thought it was about time to get started if we wanted to achieve our unique plan. To do so we left Argentina to cross Chile and reach the Pacific Ocean. With a stop in the middle in the city of Temuco to pass our M.O.T, successfully (the second time after a short visit at a garagist, José). And then we reached the coast near by Peleco, located in the Araucania region.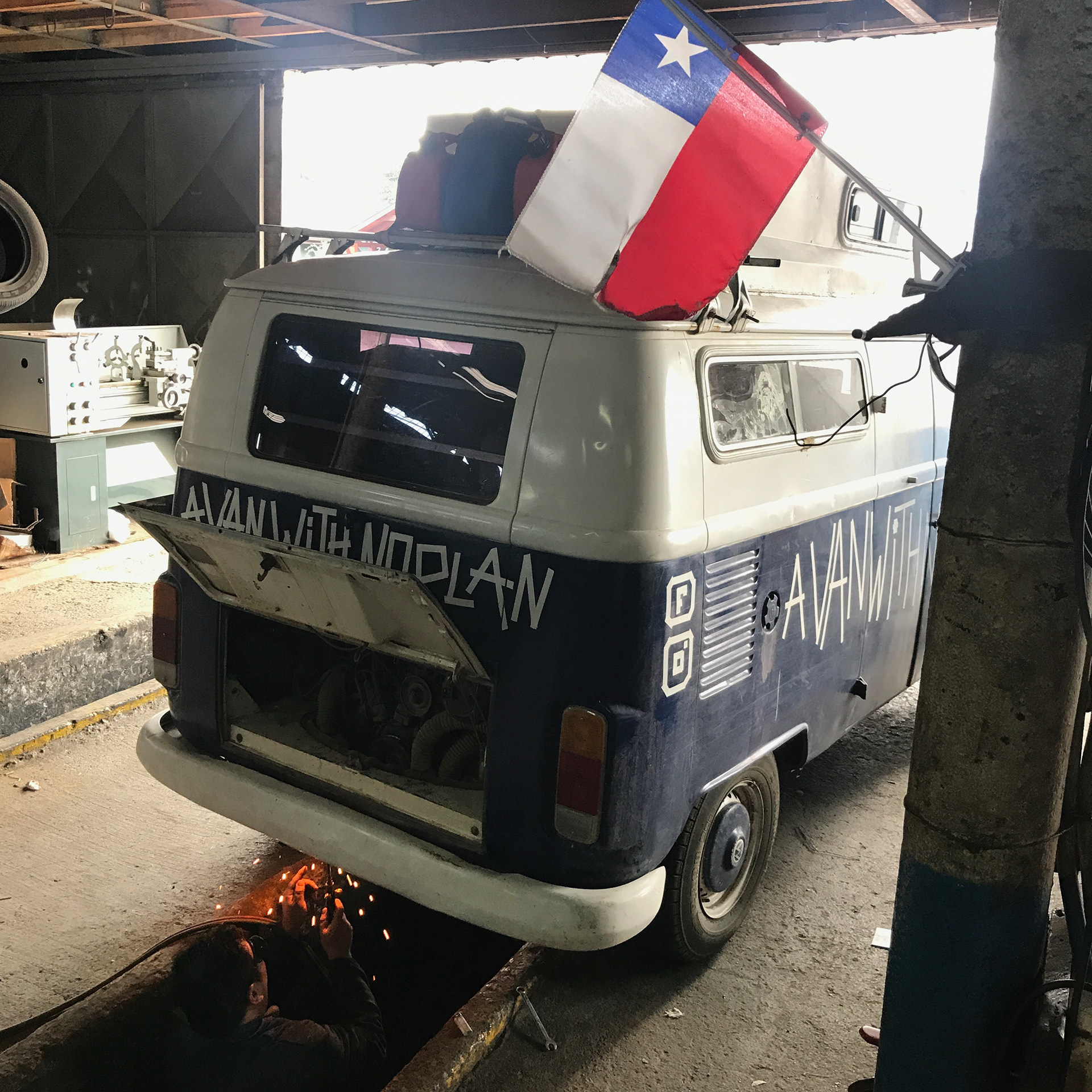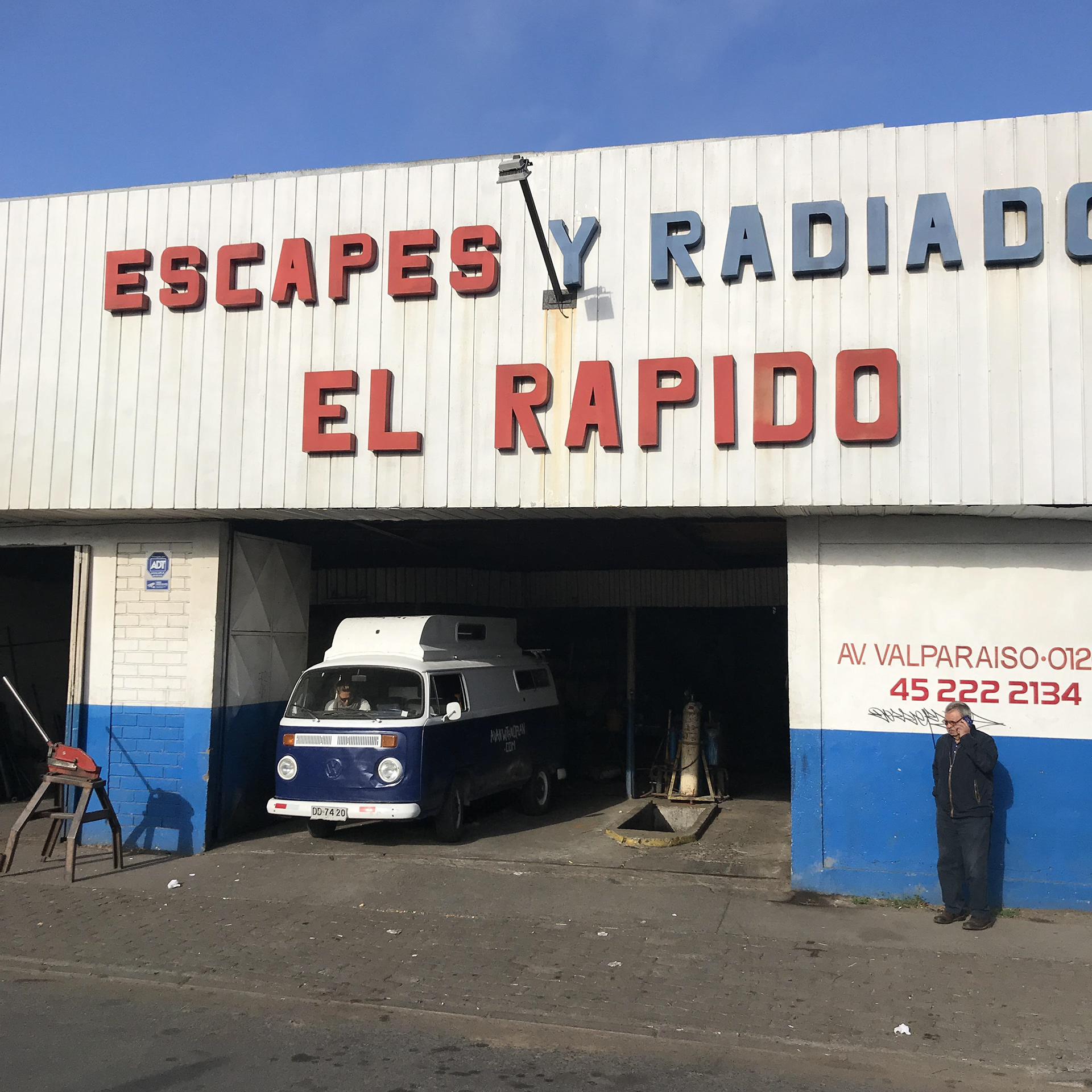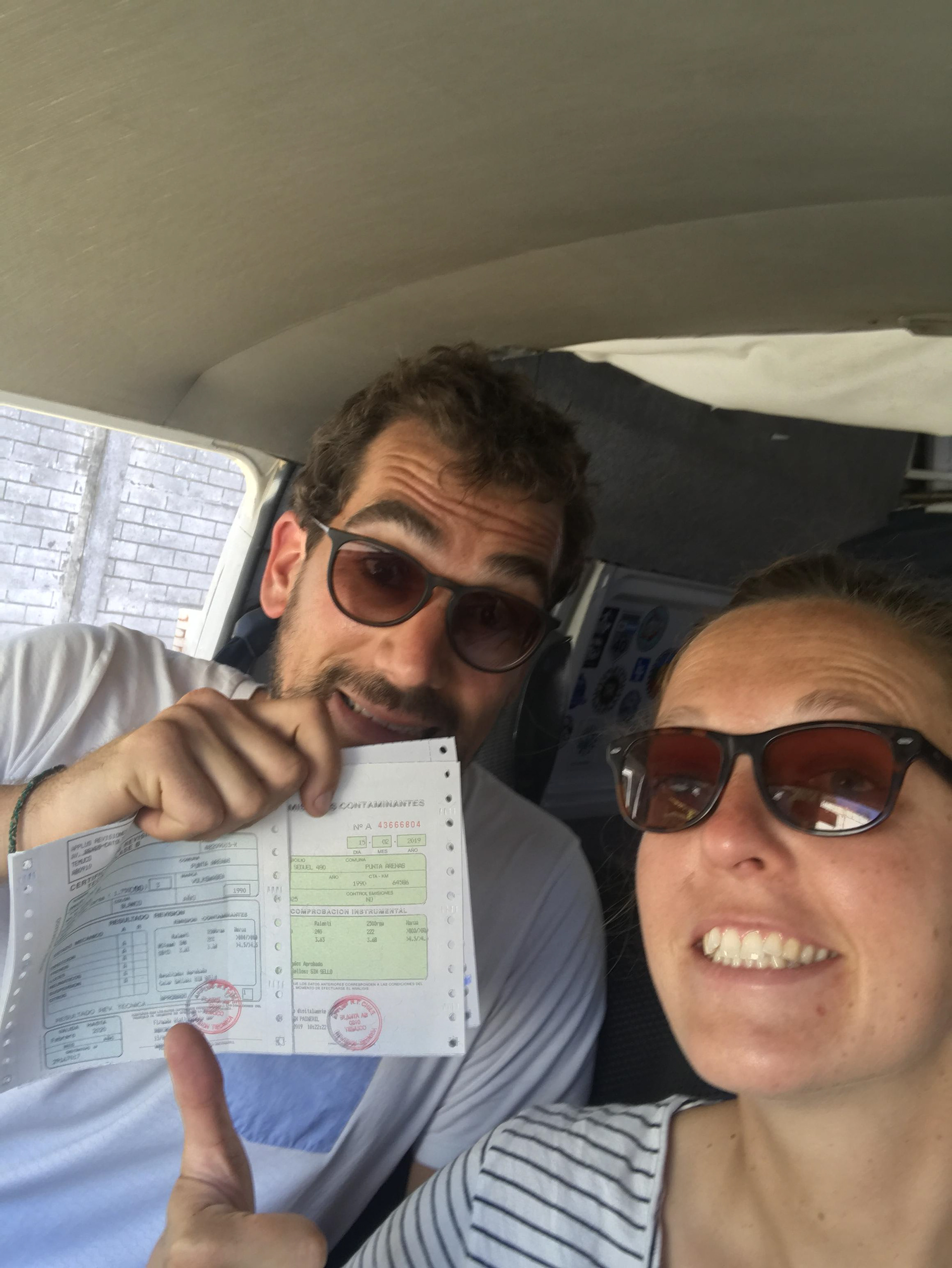 Nos débuts sur la côte pacifique sont marqués par une ambiance de fin du monde. Alors que nous quittions Temuco et ses 38 degrés, nous sommes arrivés sur la côte dans une mélange de brume épaisse et de crachin breton. Notre première nuit alors que nous nous dirigions vers une côte désertique nous avons aperçu quelques véhicules et un regroupement. On se rapproche...un bingo! On est vendredi soir, sur une plage brumeuse avec le bruit des vagues qui claquent en fond et sous un abri improvisé une cinquantaine de personnes jouent au bingo. Pour se joindre on achète deux cartons. Coup de chance on ne gagne pas puisque les lots étaient des robots de cuisine ou un Cordero c'est à dire un agneau!
First time we reached the Ocean, we found ourselves in a kind of world ending atmosphere. As we just left Temuco under 38 degrees, we arrived on the coast and it was all cloudy, gray, cold and rainy. For our first time by the ocean we were looking for a quiet place when we sight some cars a bit further away. We went closer, and seen about 100 people gathered to play Bingo! We join them and play until the end, hoping we wouldn't win as the prices where a smoothie maker or for the final round...a living lamb! (a cordero).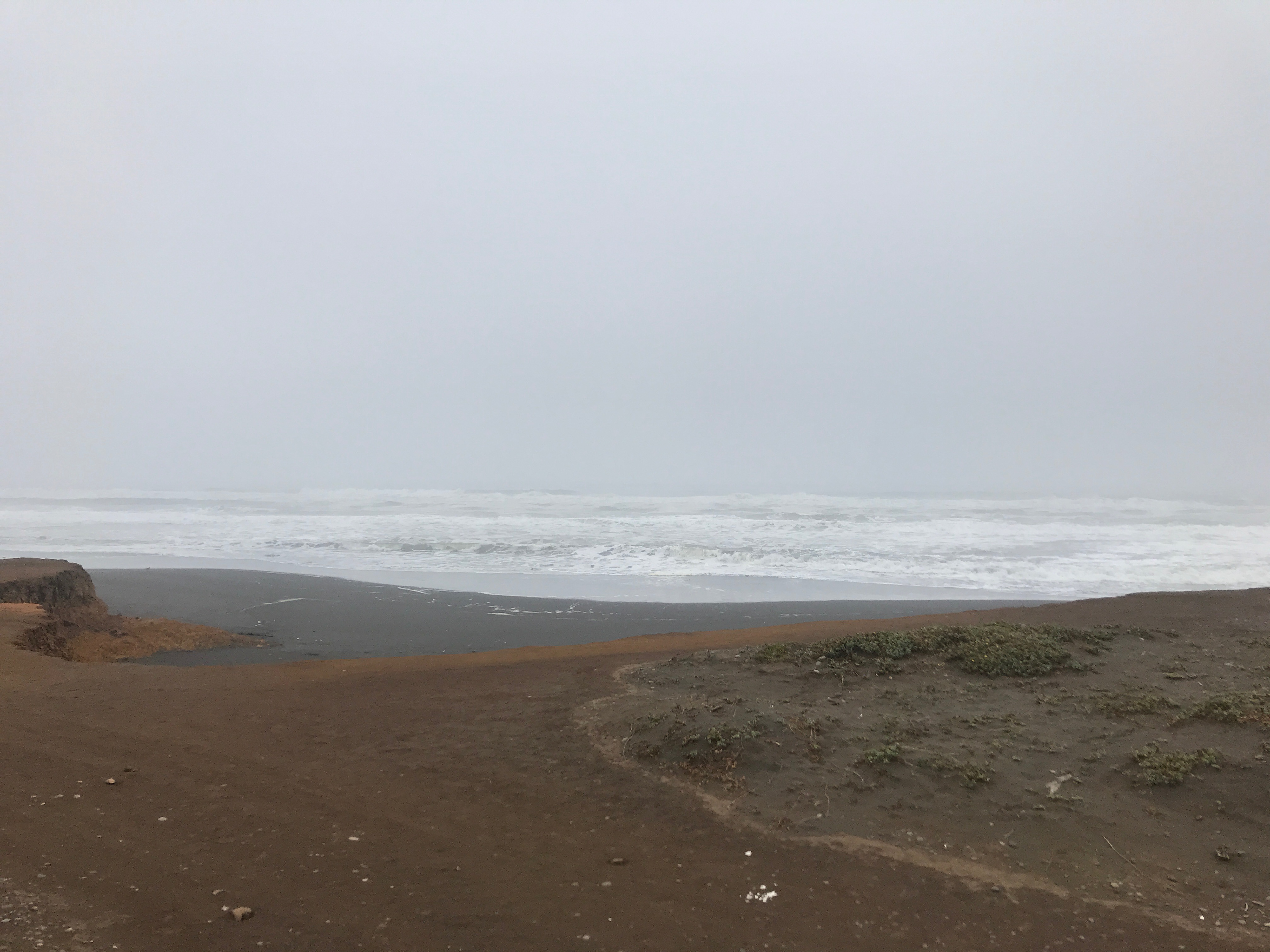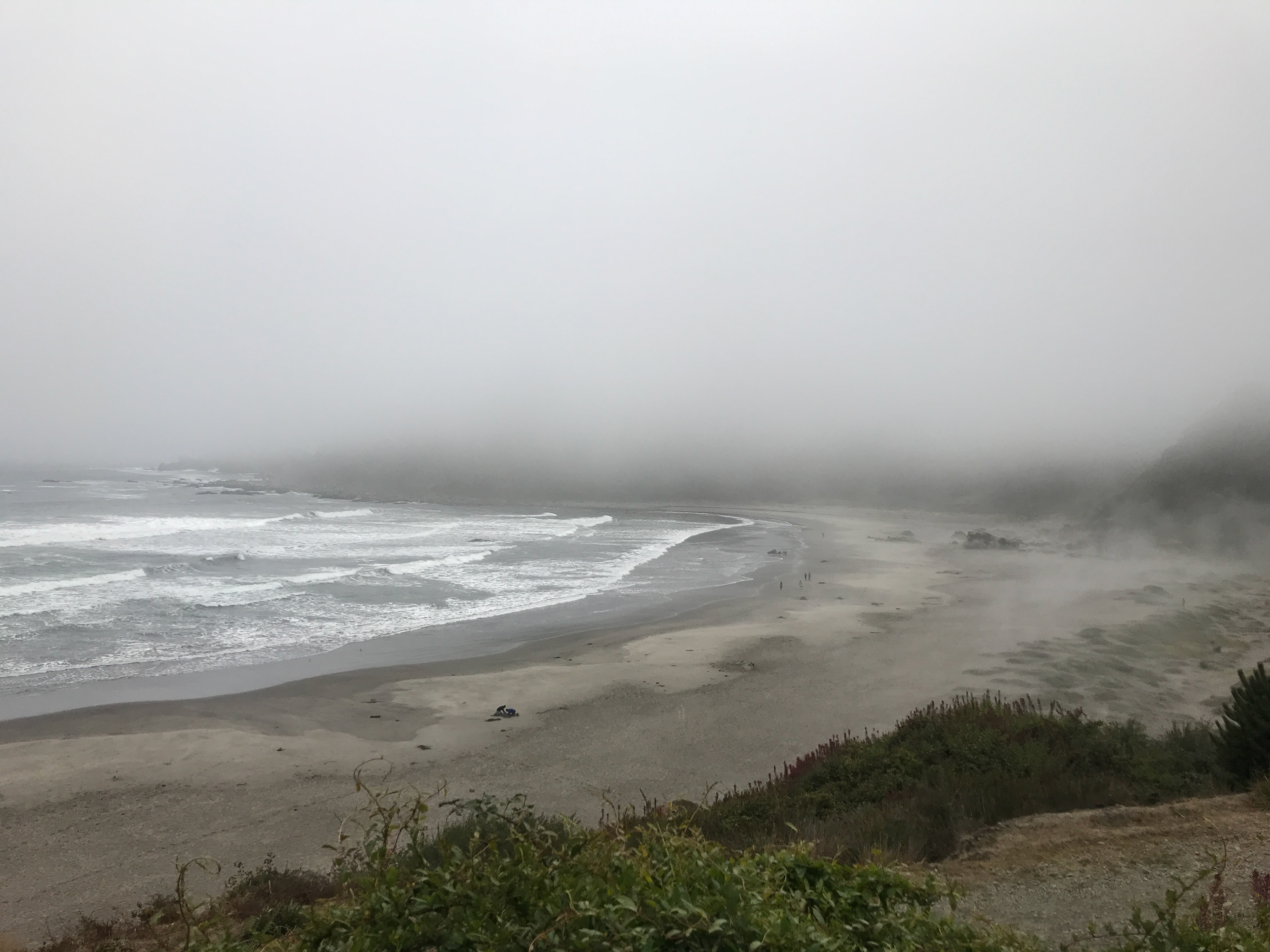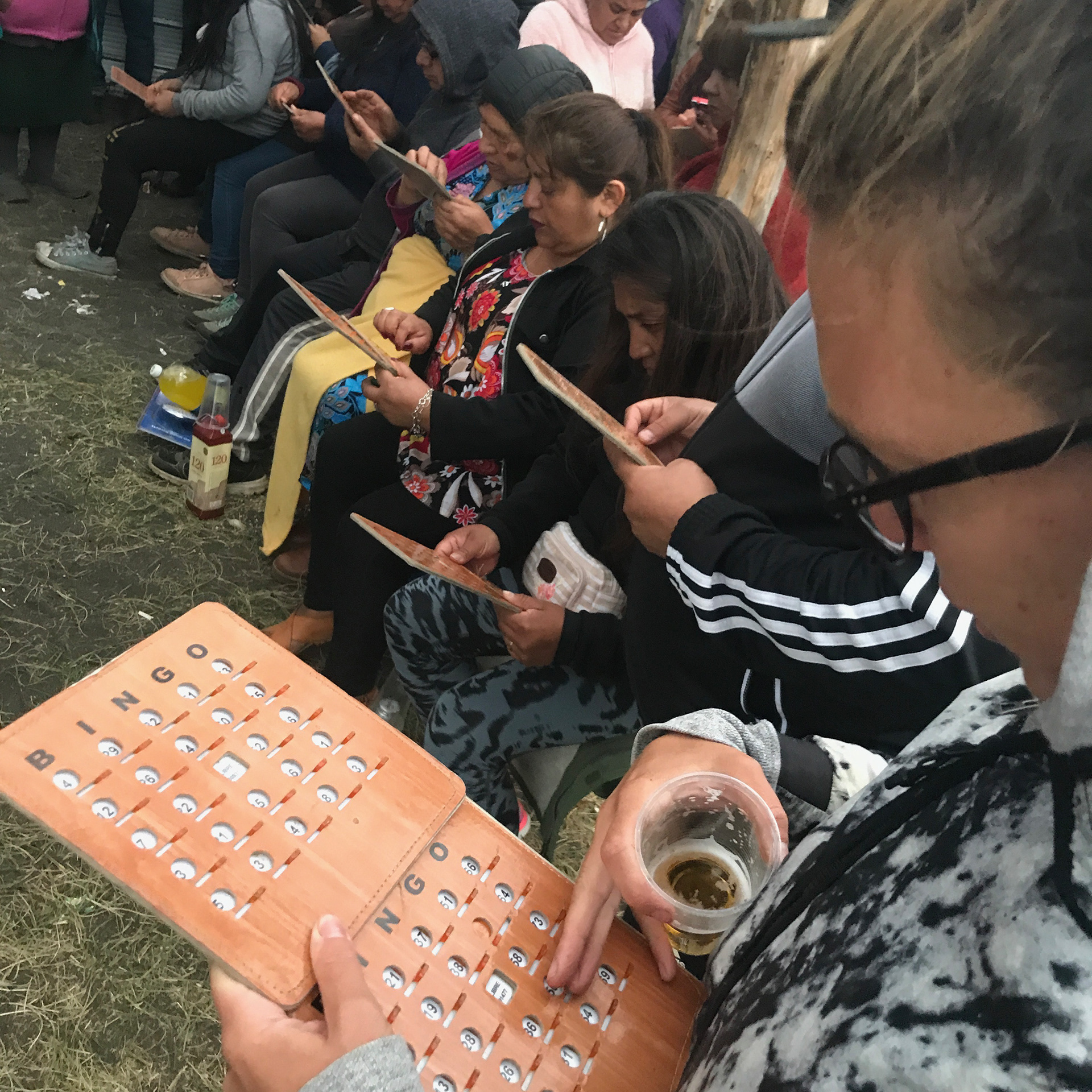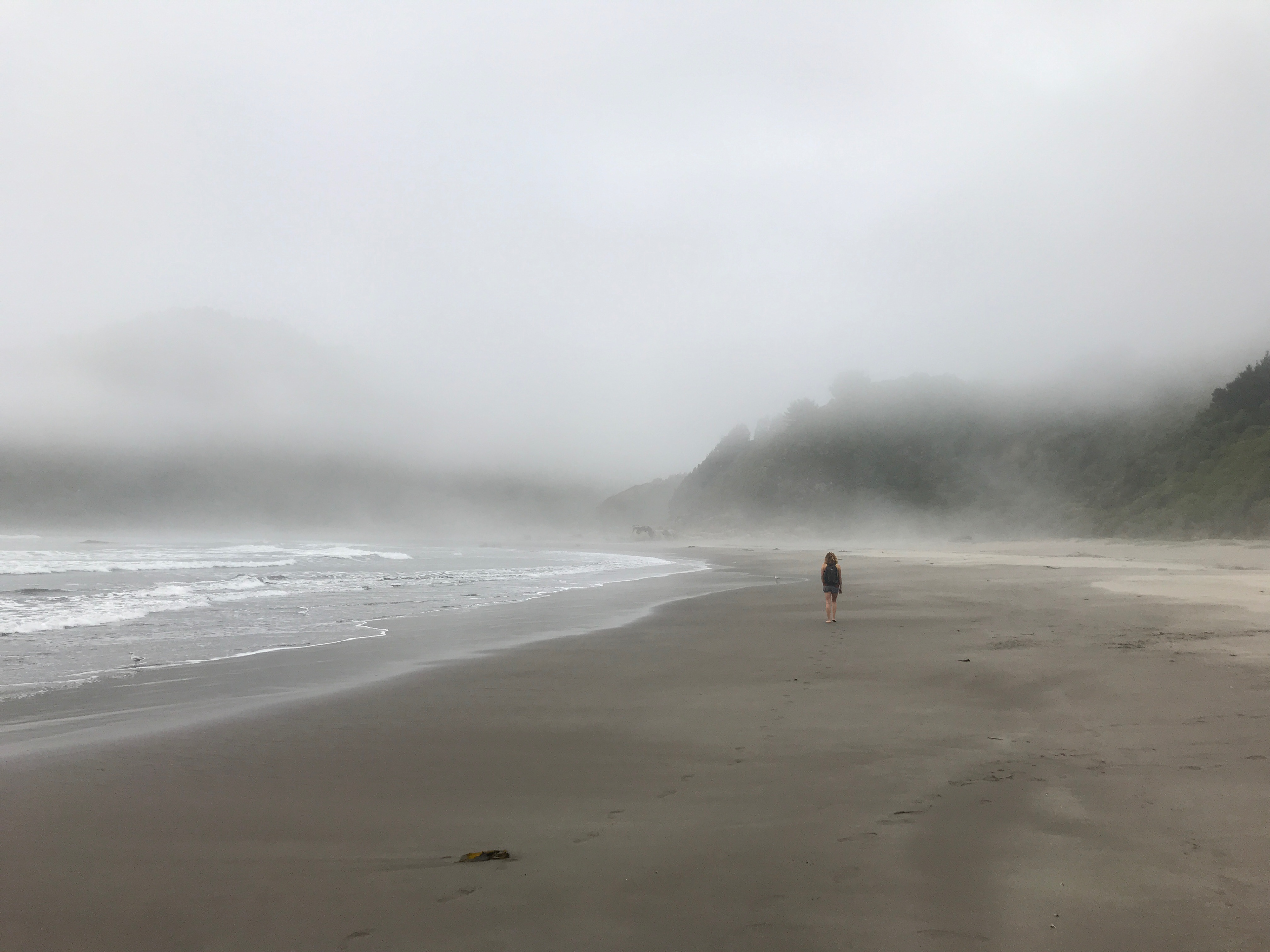 Depuis on remonte tranquillement le long du pacifique. Sur une plage sauvage près de Lebu nous avons pris notre premier cours de surf au chili, avec un français! La brume nous collait toujours. Puis nous avons remonté un peu plus à la recherche du soleil et de matériel pour pouvoir surfer seuls. Nous avons arpentés de nombreux villages de pêcheurs tous plutôt charmant dont nous avons eu du mal à nous défaire : Llico, Cocholgüe, Buchupero, et enfin Curanipe.
Since we're slowly going up North on the Pacific Coast. On a wild beach near by Lebu we took our first suf lesson in Chile, with a French teacher! The fog was still following us. So we kept going North looking for the Sun and to find a place to buy the surf equipment we needed. We stopped by many fishermen villages on the road, and each time it wasn't easyt t to leave: Llico, Cocholgue, Buchupero and then Curanipe.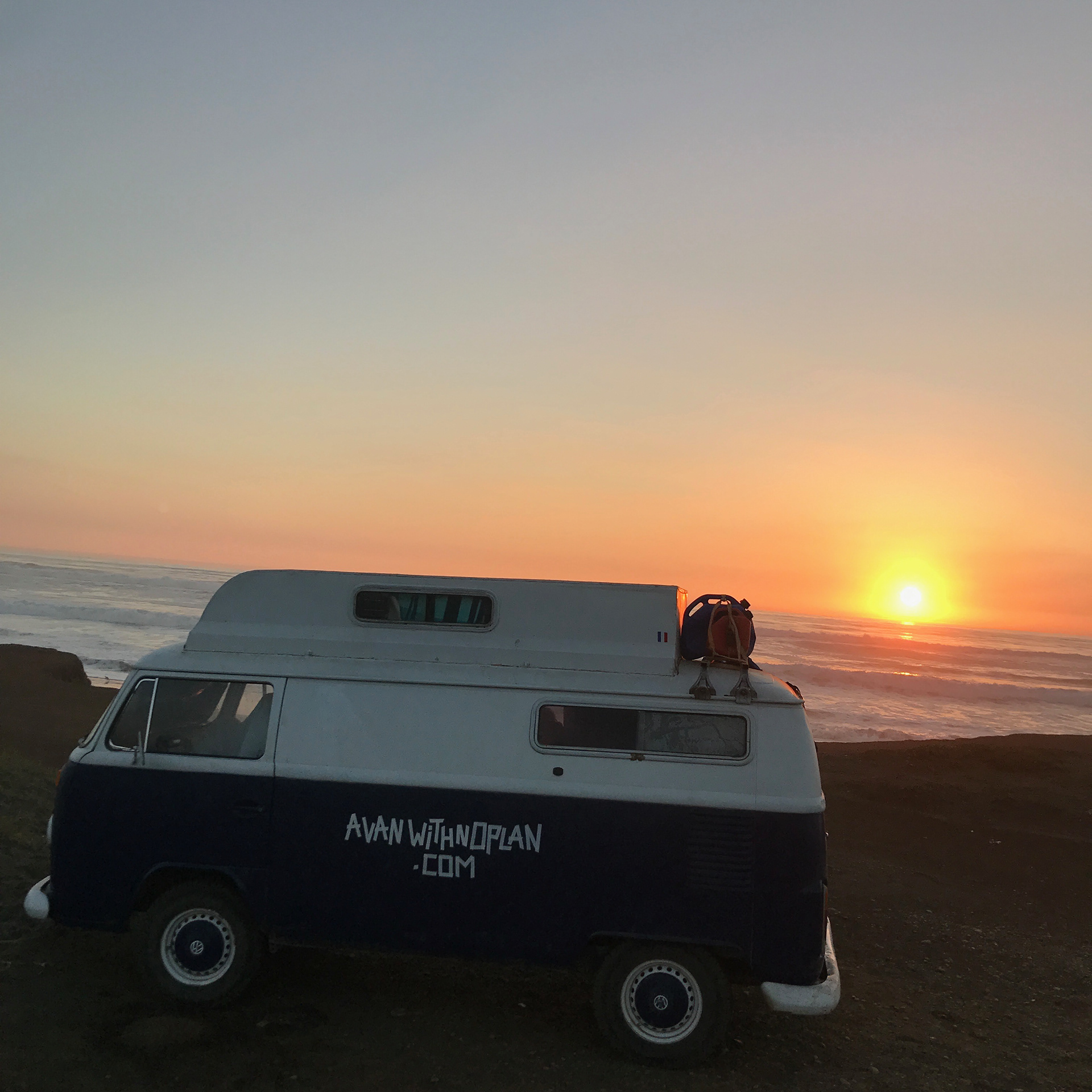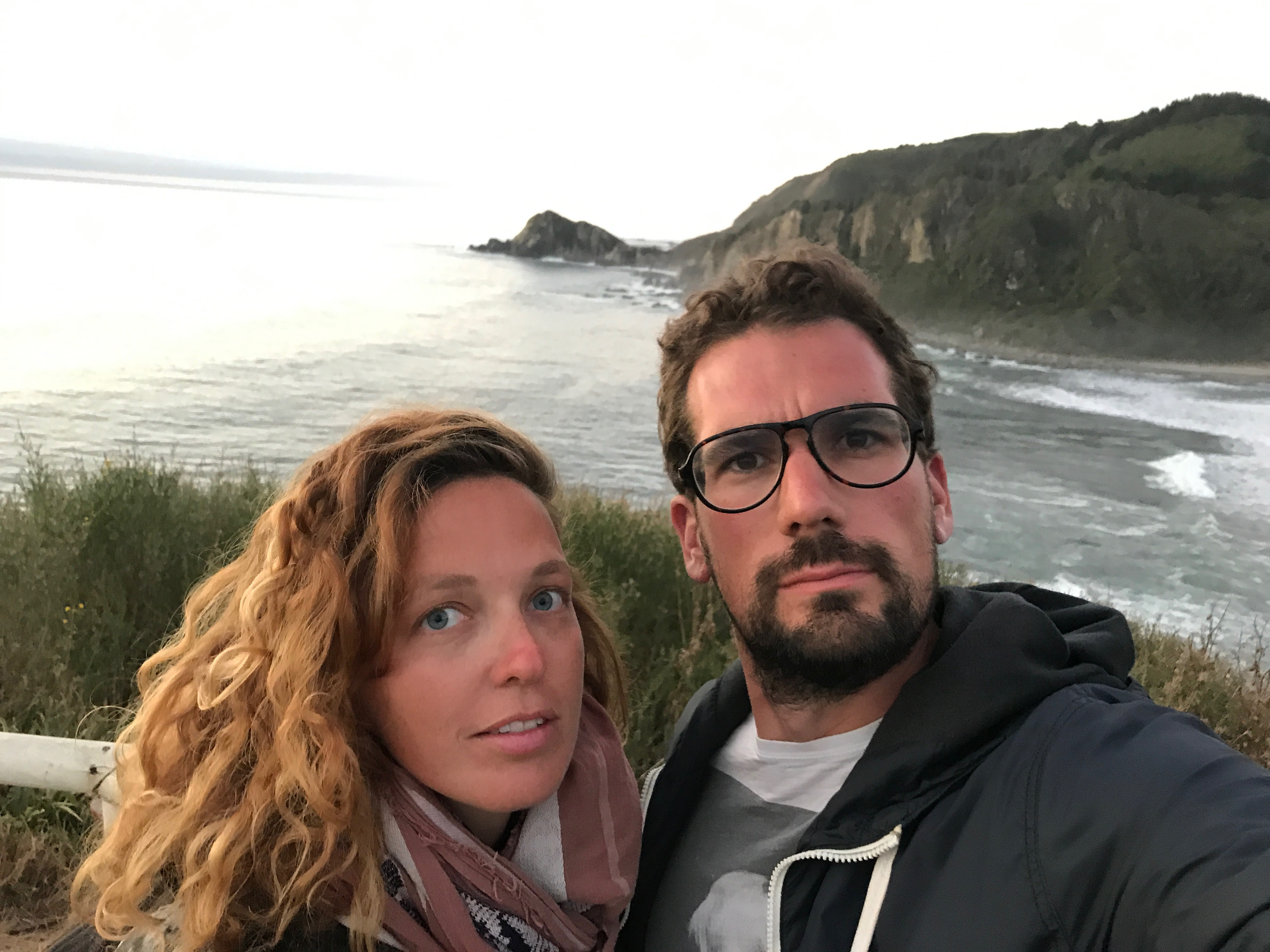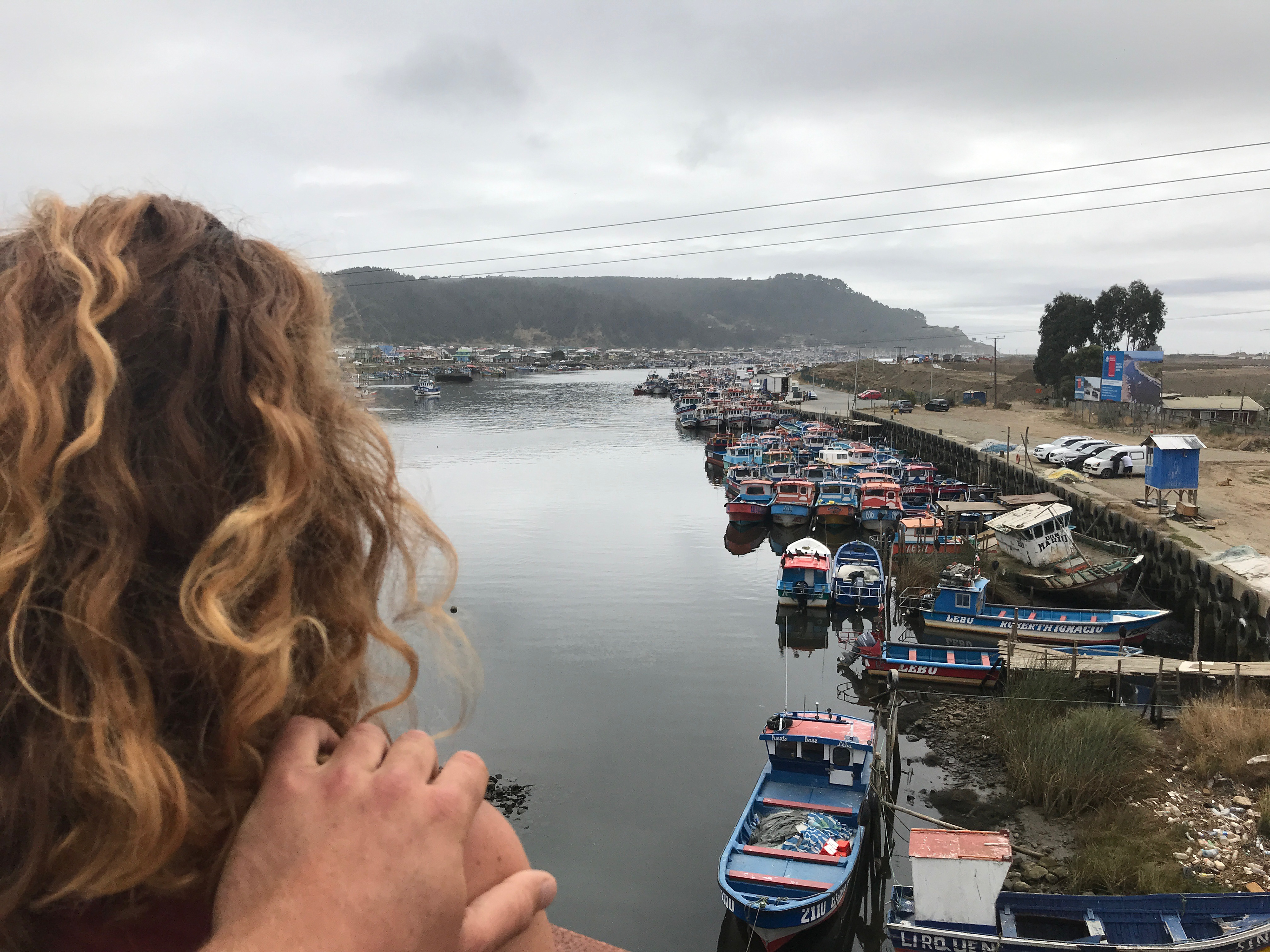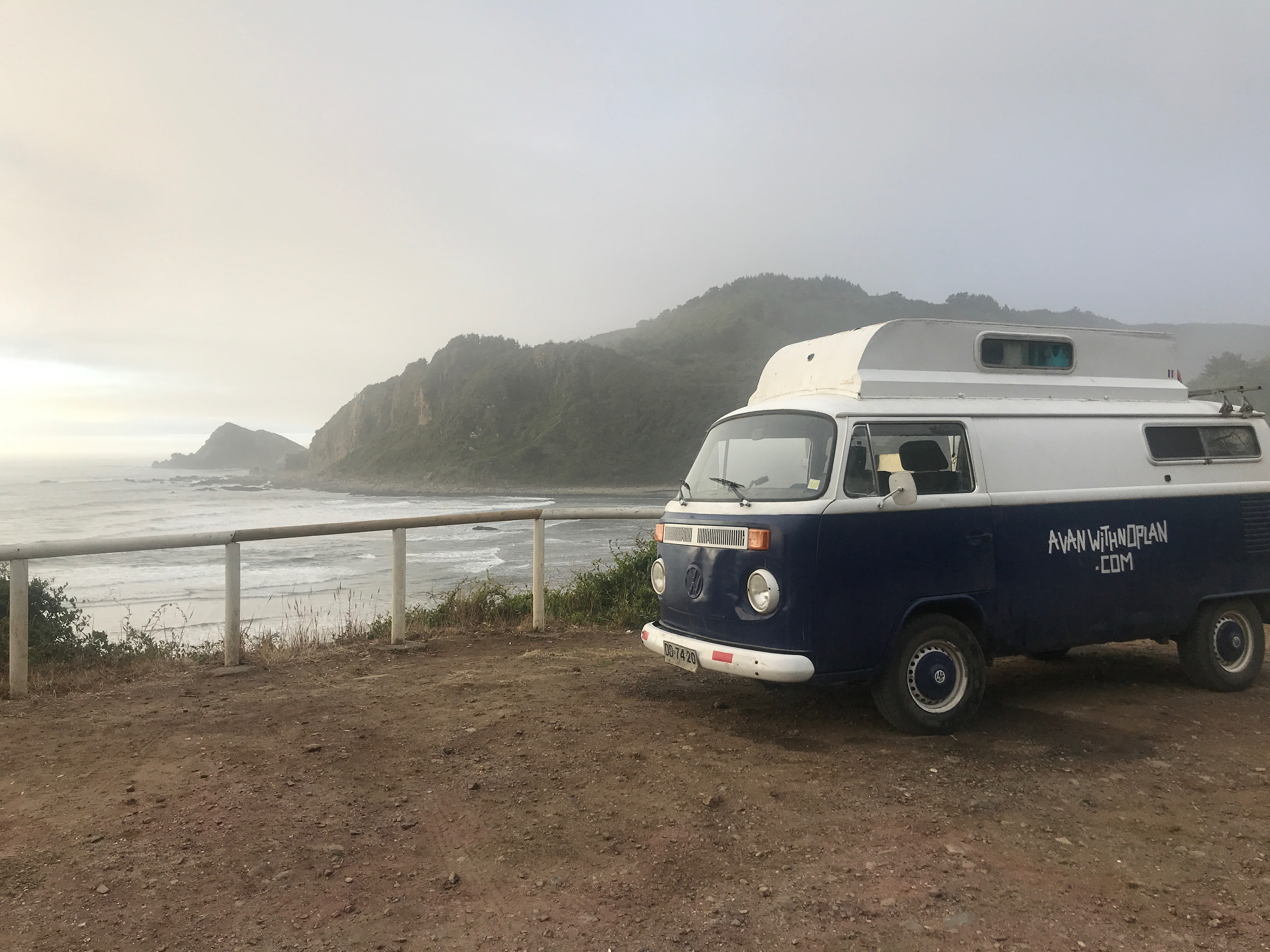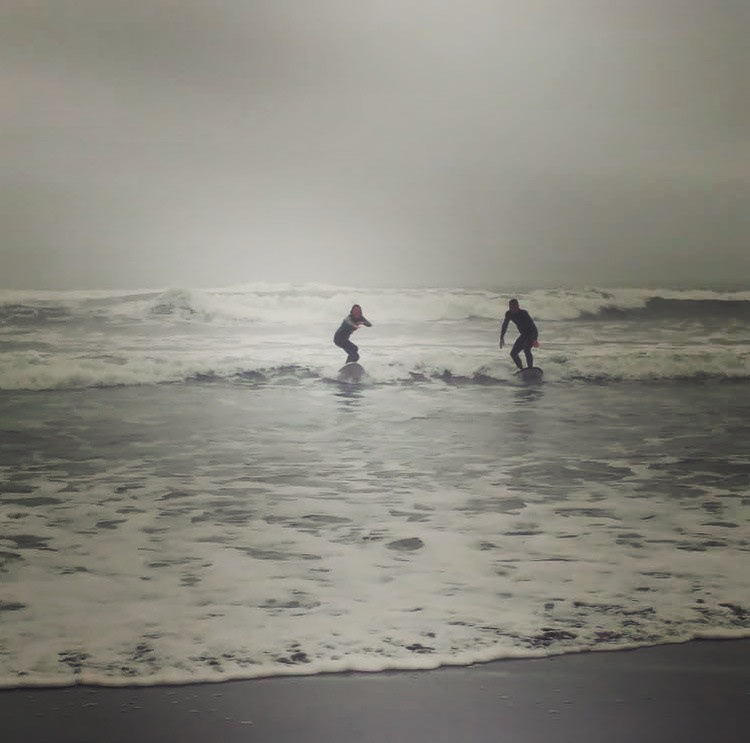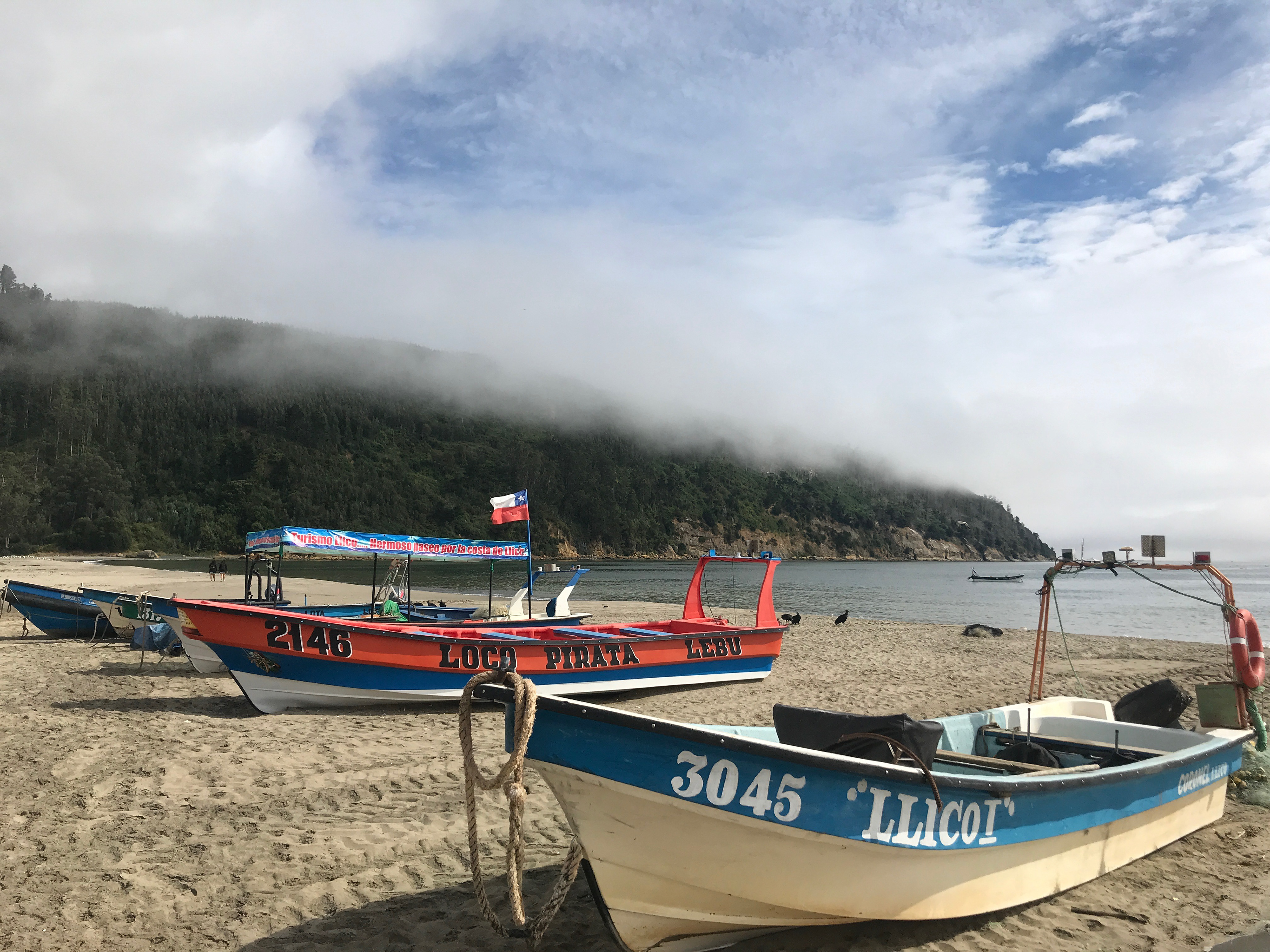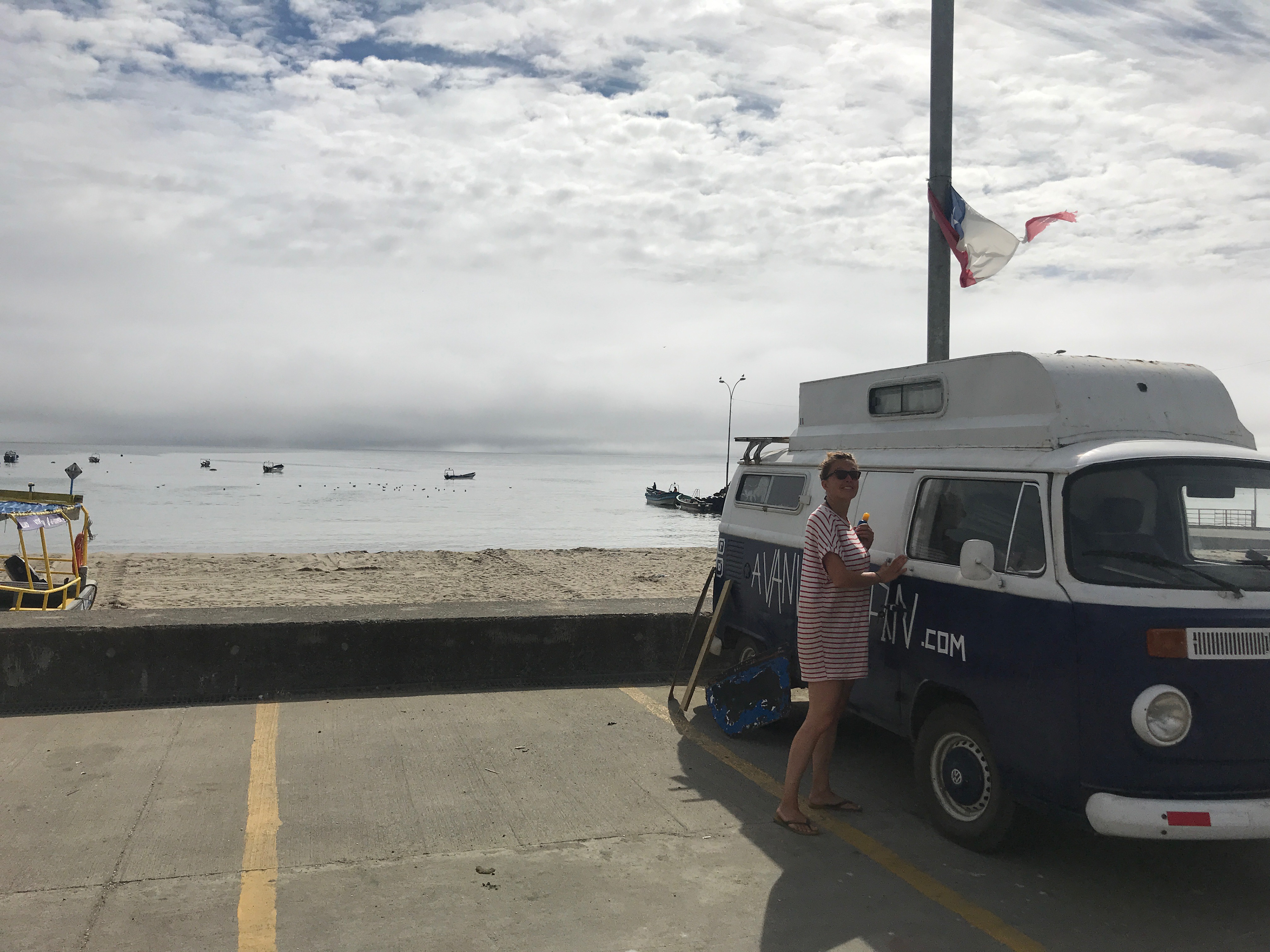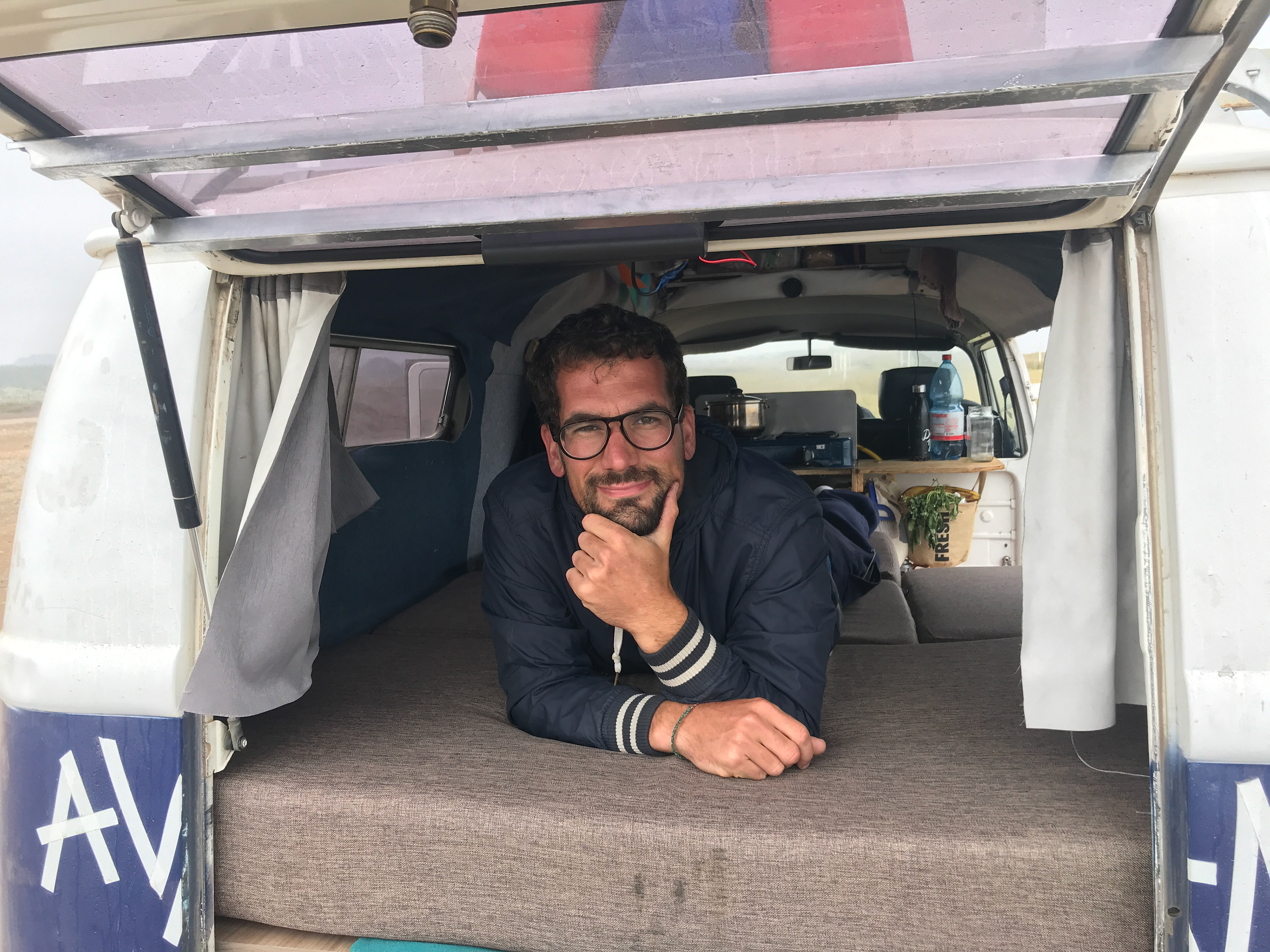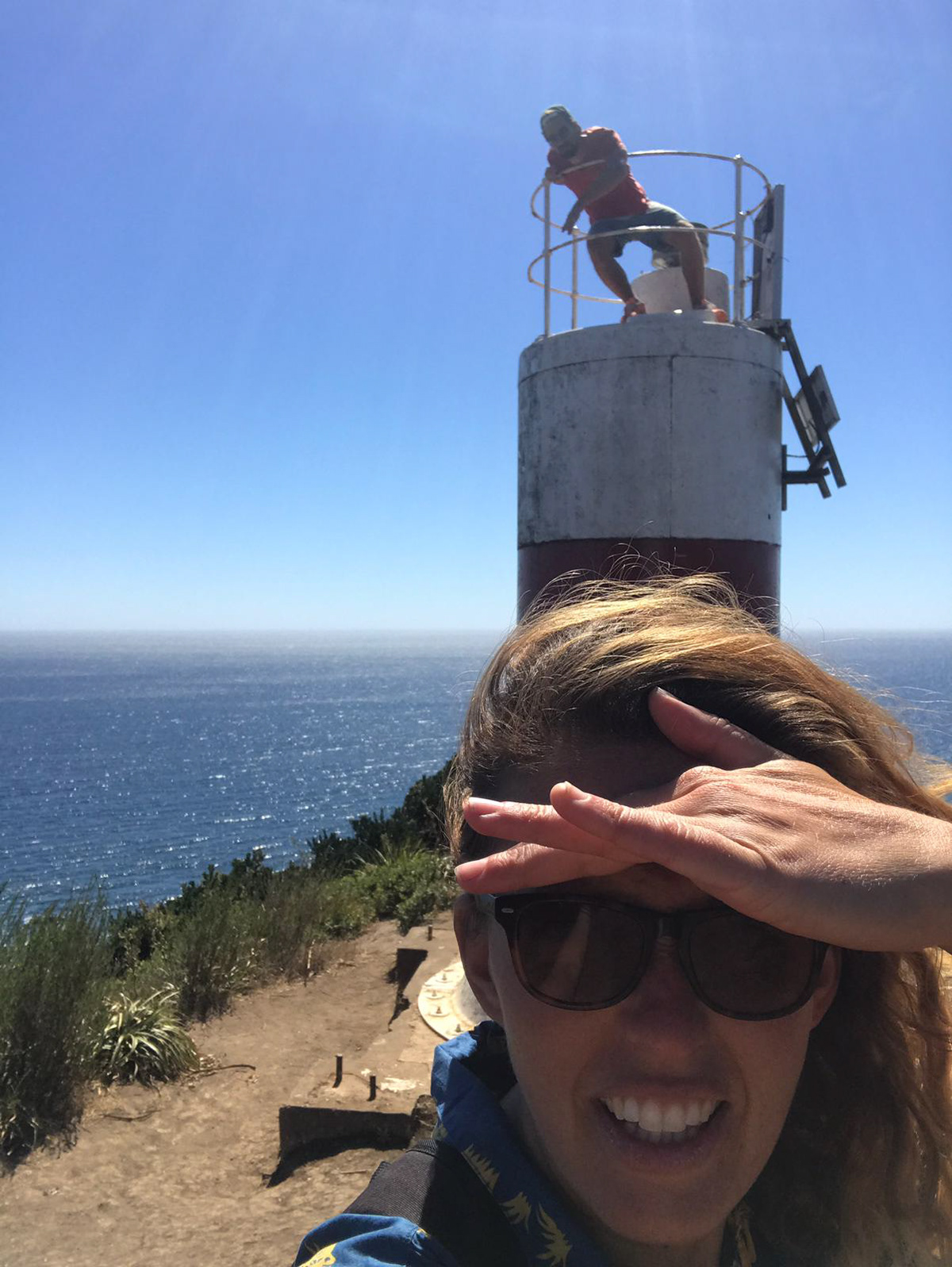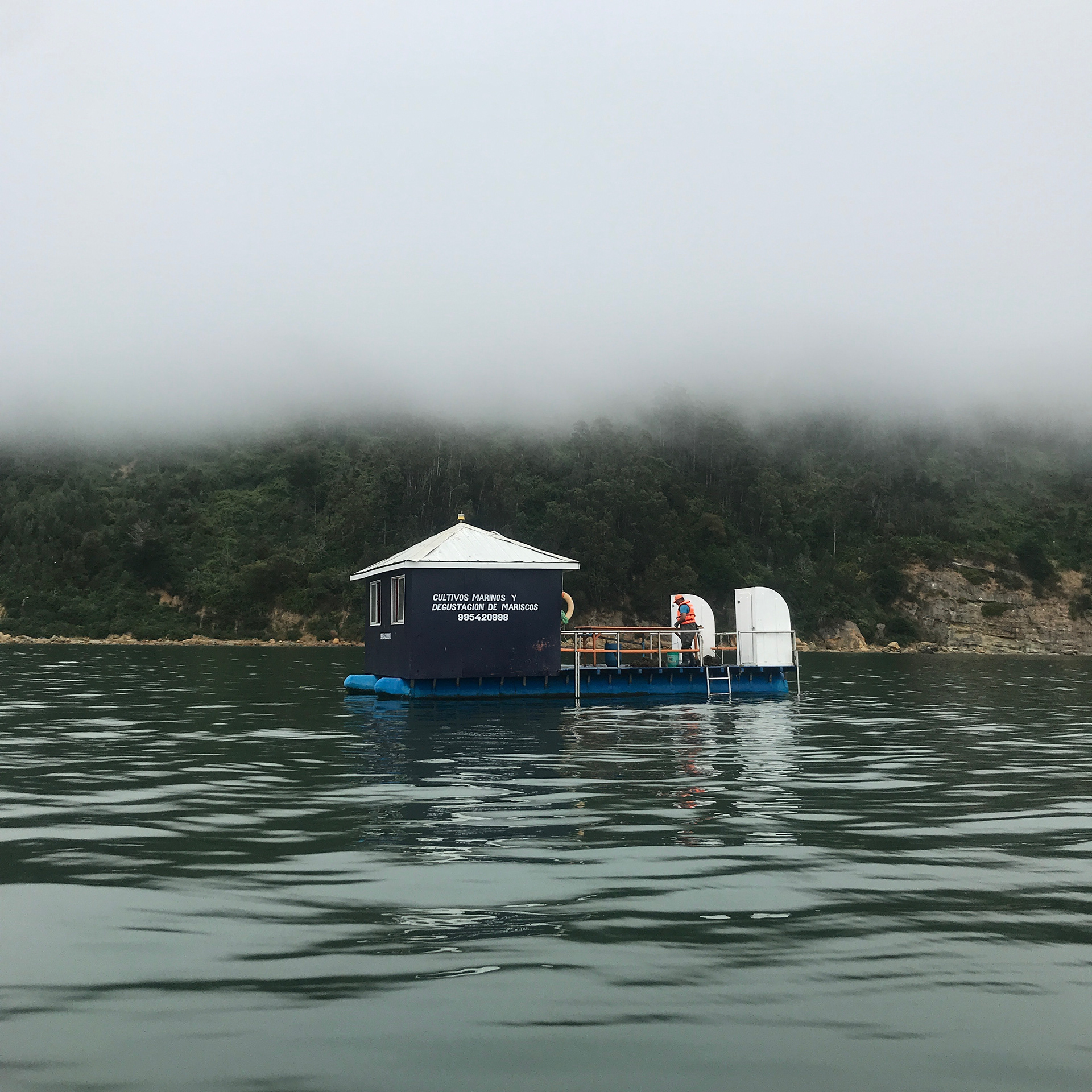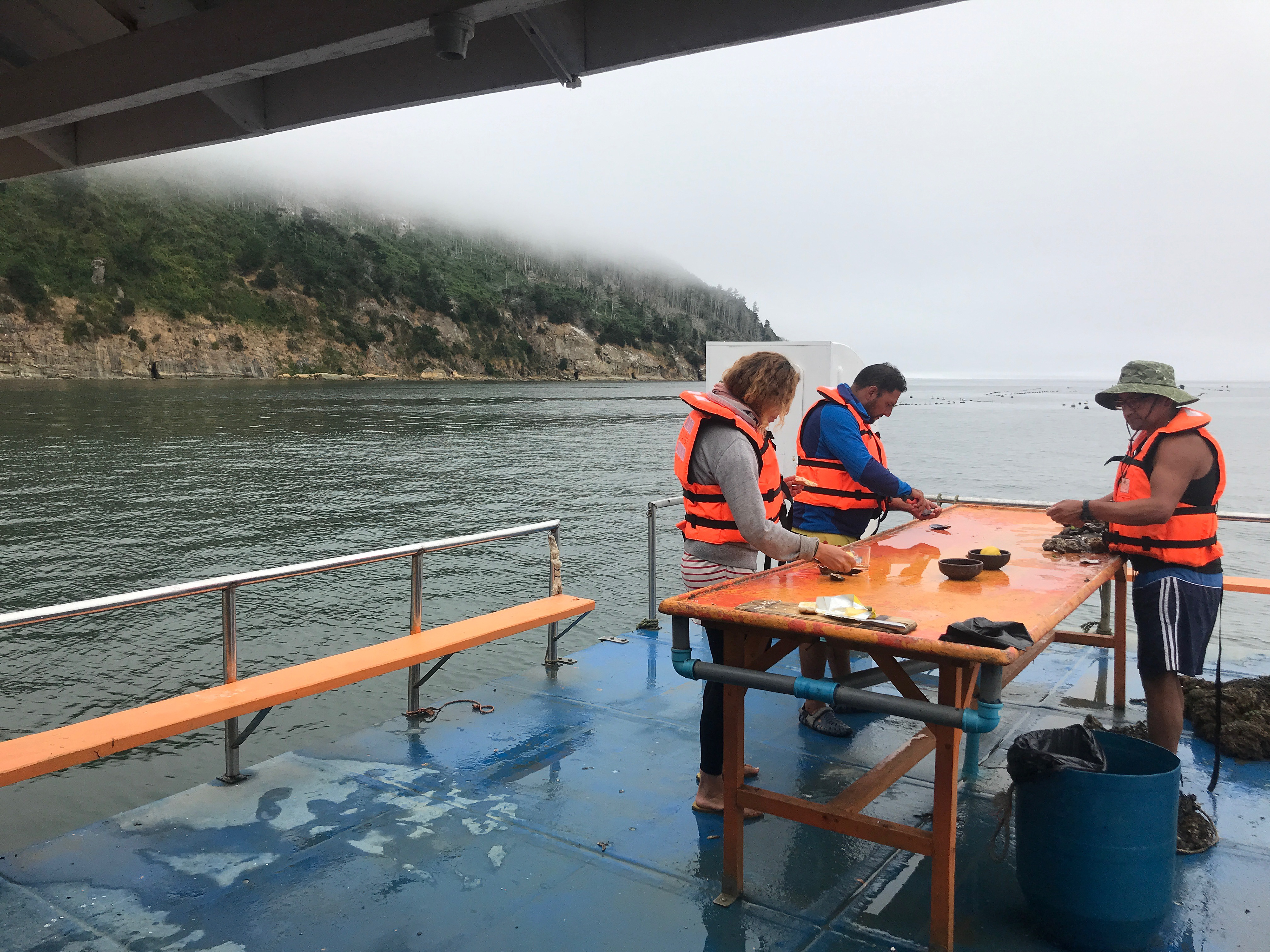 Par hasard nous avons fait un détour sur la plage de Curanipe et nous avons vu une grande école de surf posée dans des containers sur la plage. Cotello en ait sorti tout sautillant.Et rapidement il nous a raconté sa vie. Cotello a découvert le surf parce qu'un jour où il essayait de se lever sur sa planche de body board dans les vagues un australien l'a aperçu et lui a fait don de sa première planche de surf. Ça c'était il y a 20 ans, depuis Cotello a arpenté tous les championnats de surf chilien et aujourd'hui il fabrique des planches de surf sous la marque Tripanko dans son atelier. Des planches qui se vendent avant même d'être terminé sans aucune publicité. Il collabore avec des surfeurs californiens ou australiens. Nous, surfeurs bien débutants, nous avons acheté une grosse planche de surfboard et deux combis d'occas chez lui. Et pendant une semaine nous sommes restés près de chez lui pour se nourrir de tous ses conseils pour les apprentis que nous sommes…
Our stop by Curanipe was unplanned we just though the harbour looked nice from the road so we made a detour to stop by. When we parked on the beach we realised there was a massive surf school built with containers on the beach. As we headed there, Cotello welcomed us all bouncy and chatty.
Quickly he started to tell us more about his surf life. Cotello was initiated to surf because one day he tried to stand up on his bodyboard in a Chilean wave and an Australian surfer saw him from the beach. He thought this guy was talented and gave him his first surfboard. This was 20 years ago, since it Cotello has compete in many Chilean surf tournament. Today he stopped his career to make his own surfboard under the brand Tripanko. In his surfschool he built his own factory and his boards are sold even before they're finished. He collaborates with Australian and Californian surfers to create new models.
For us, surfer beginners we bought in his shop a second hand softboard and 2 wetsuits. And we stayed for a week near by his school to get all the advices for apprentices he could gave us.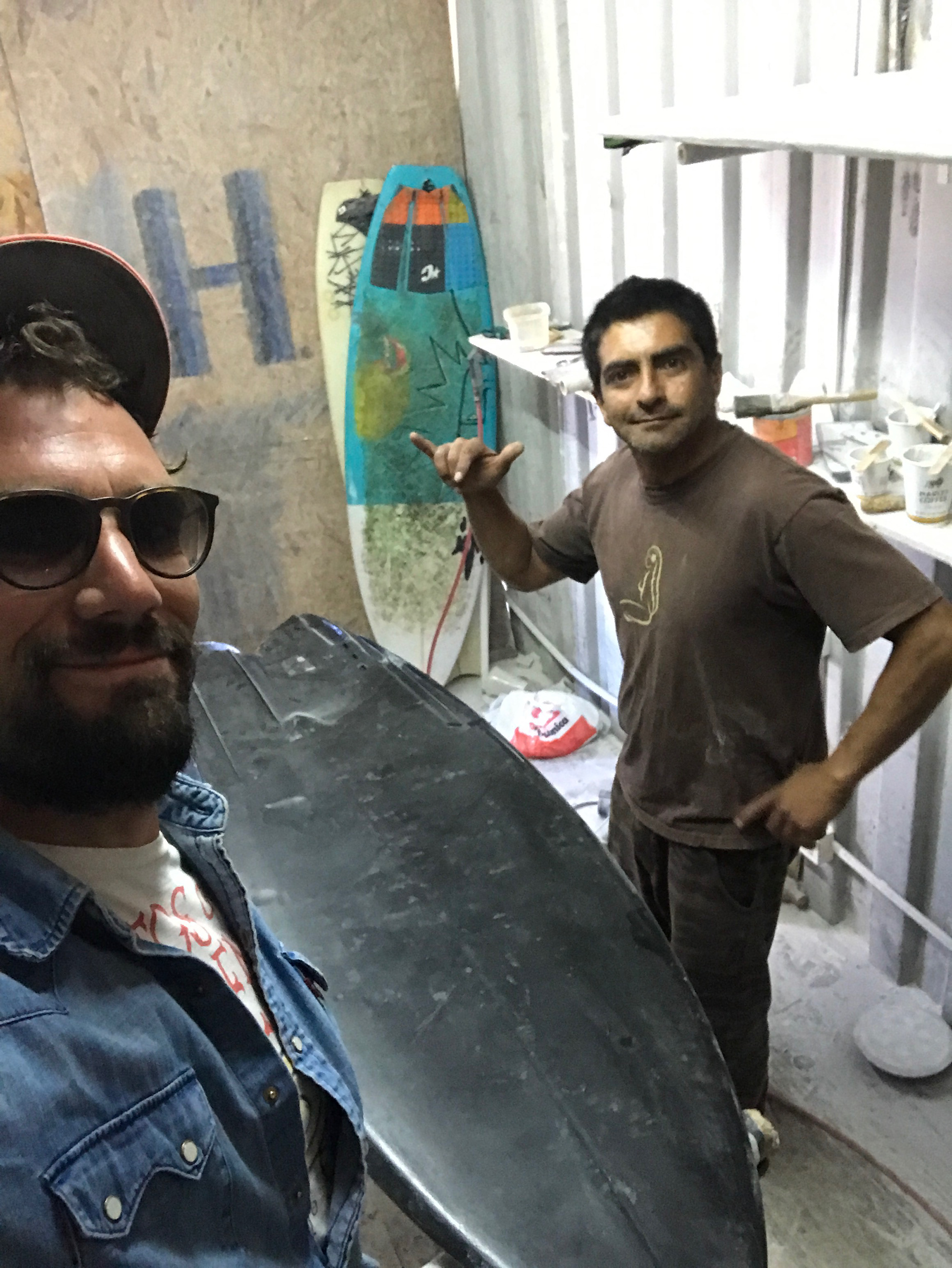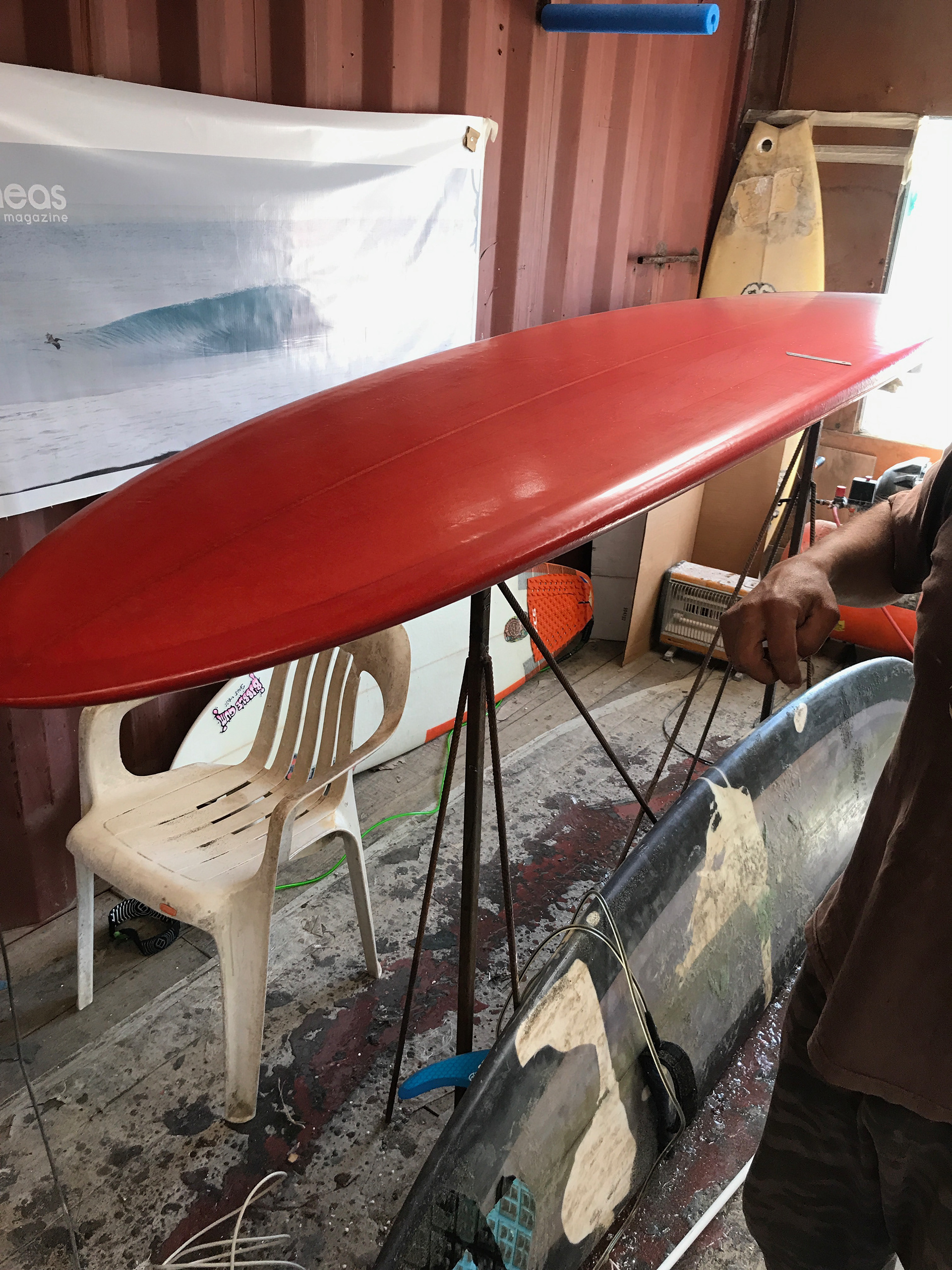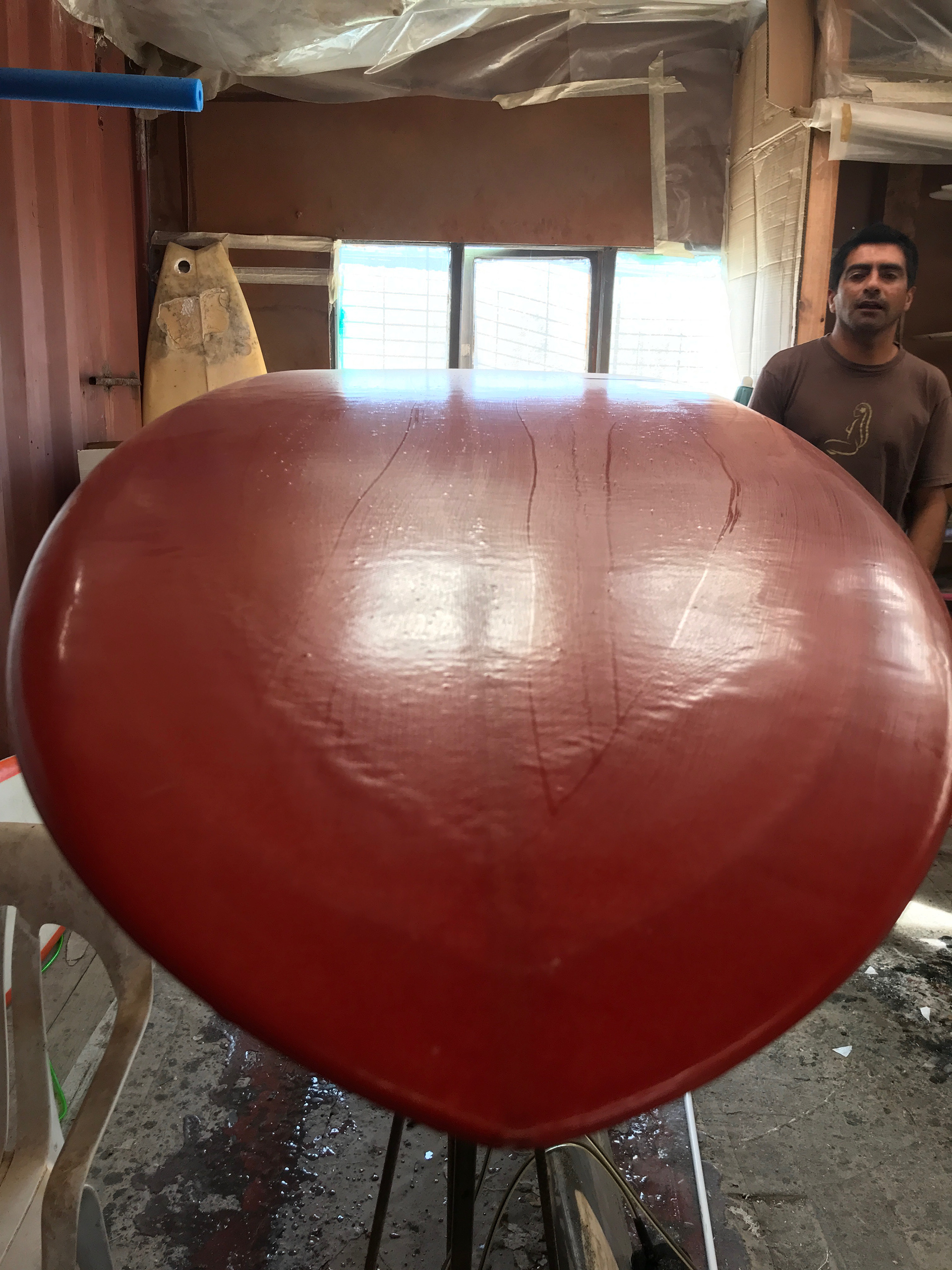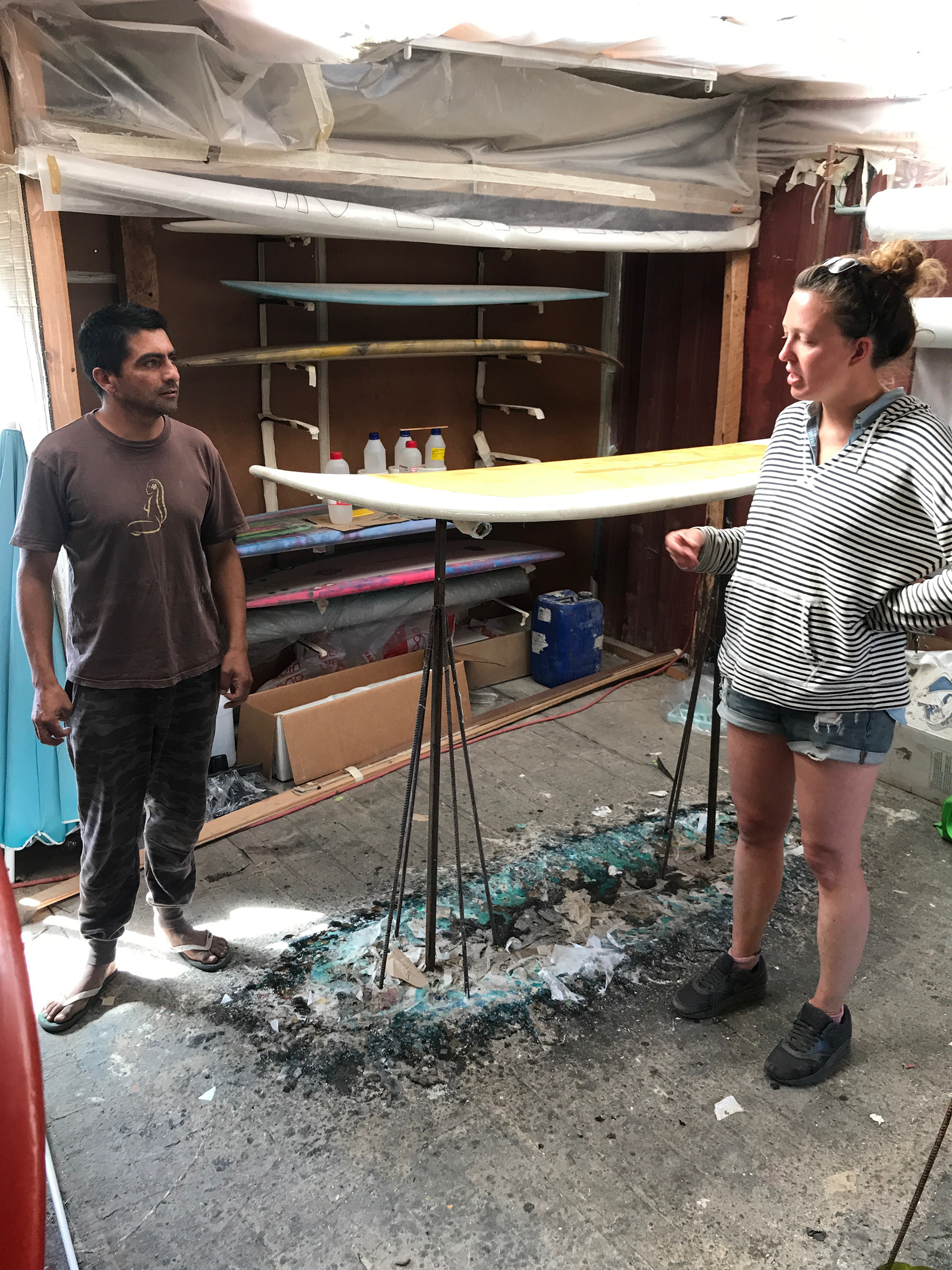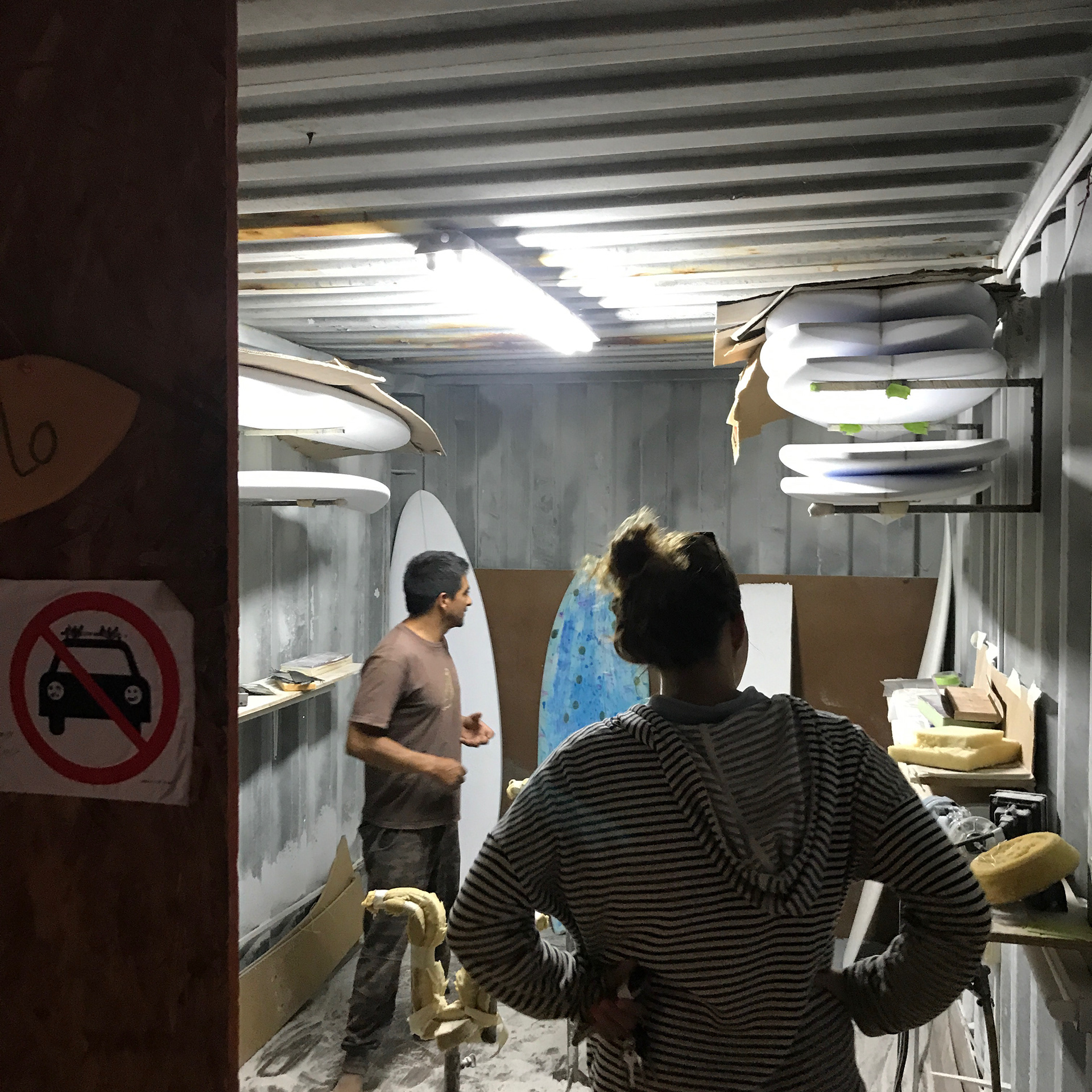 Depuis on est toujours apprentis surfeurs mais on se balade avec une planche sur le toit! On a avancé un peu plus vers le Nord aux alentours de Constitucion pour nous poser dans un surf camp chez Masi. Un petit oasis dans lequel on avait bien envie de se poser, donc on construit des tables en bois pour son camp et comme ca on peut rester un petit moment ici. (notre pote Solene nous a meme rejoint!)
Since we're still learning surf nearby Constitucion in a oasis called Masi's Place. And we made a deal with the owner to build some wooden furnitures for the place so we can around a bit longer… Let see.