We finally got George. Our kombi.
We are still in Punta Arenas, in Chile.
Nous avons enfin récupéré George. Notre combi.
Nous sommes toujours à Punta Arenas, au Chili.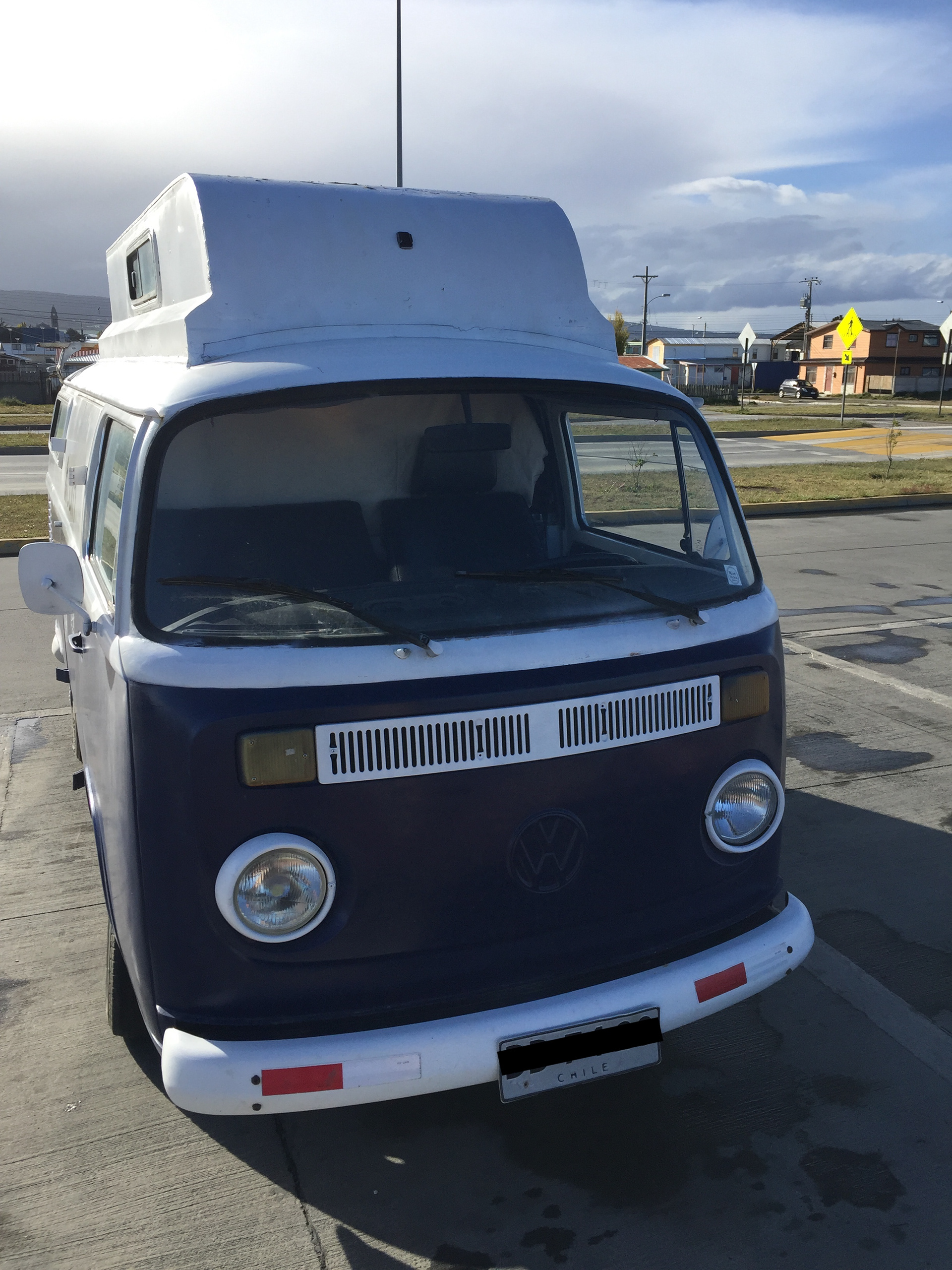 Last Sunday we've met with Lucie and Guillaume who sold it to us and we've met George for the first time.
Dimanche dernier nous avons rencontré Lucille et Guillaume qui nous l'ont vendu, 
et nous avons vu George pour la première fois.
On Monday we got the kombi's keys and said bye to Lucille and Guillaume. After driving it for a bit around the city and almost got into an accident, Amaury thinks it'll be better to get it check at a mechanic before we hit the road. So we start the hunt for the right mechanic with the help of iOverlander, an app for people living in their cars. Great news we spot one specialised in kombis in Punta Arenas. With no precise address, but only the street name and a house colour: red. We go around in circle looking for this Federico Mecanico, no one seems to know him. Until one of the neighbours recognises the name offers to take us there. Together we find the red house, knock at the door. A woman opens the door. Bad news, Federico is in Santiago until the 26th…
Nous récupérons donc les clefs du Kombi lundi et disons au revoir à Lucille et Guillaume.
Après quelques minutes de conduite dans la ville et un accident manqué. 
Amaury se dit que ca serait pas mal de lui faire une petite révision avant de partir pour notre grand voyage.
Nous voila parti a la recherche d'un garagiste grâce à iOverlander. L'appli de référence des nomades avec des véhicules maisons. Bonne nouvelle nous repérons un spécialiste des kombis a Punta Arenas. 
Bon sans adresse précise mais nous avons la rue et nous savons que c'est une maison rouge. Nous tournons en rond pendant un certain temps à la recherche de Federico Mecanico que personne ne semble connaître. Enfin un des voisins semble voir de qui on parle et propose de nous emmener. Nous trouvons la maison rouge, une femme nous ouvre la porte. 
Mauvaise nouvelle, Federico est à Santiago et ne revient que le 26 novembre.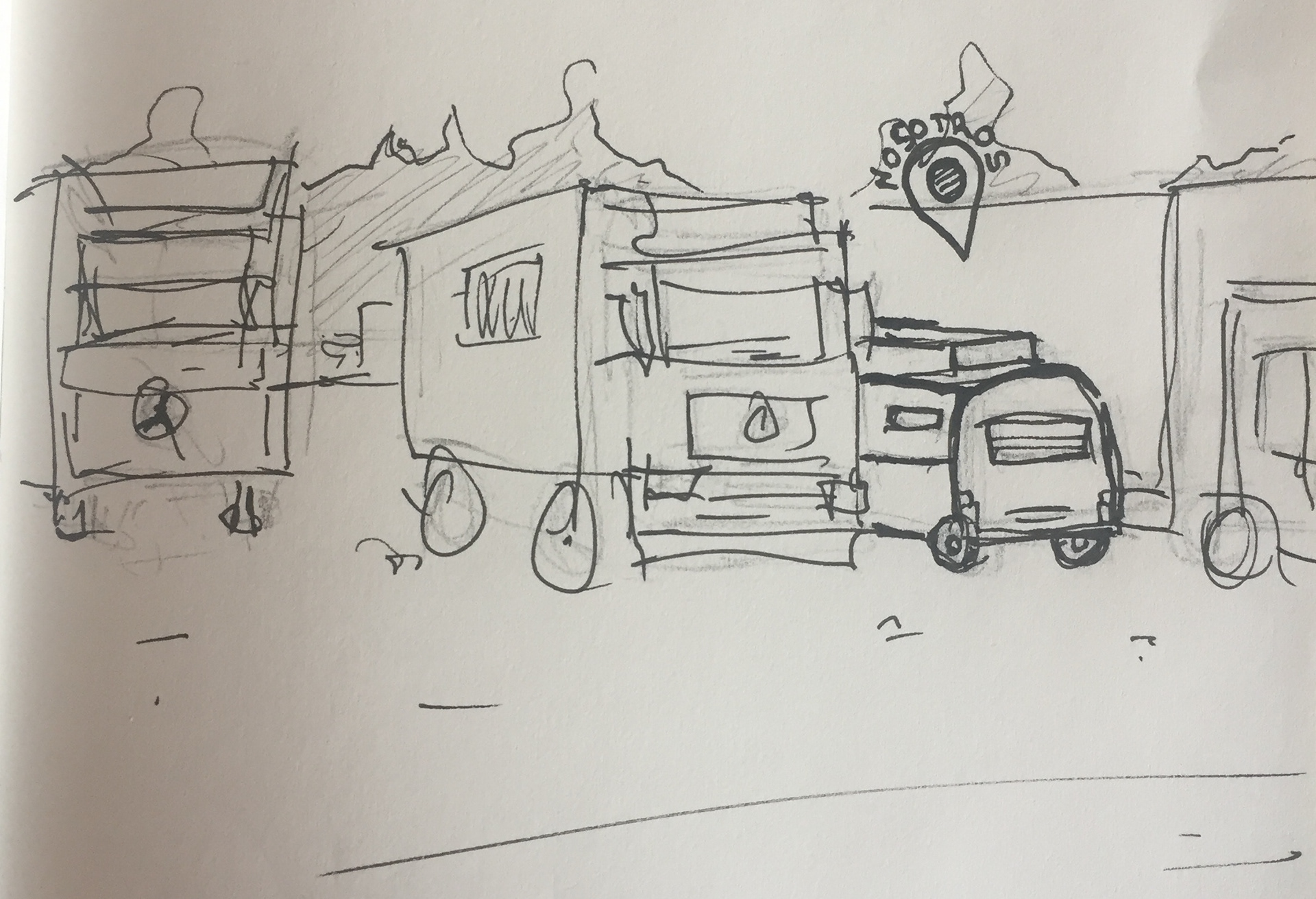 We are then on the hunt for another mechanic. We spot another one, outside the center but recommended for vans. We arrived there around 9pm (still daylight in Chile). It's a farm/car scrap yard guarded by giant dogs who are protecting a dozen of lorries. A man opens the door of a house located at the end of the yard. It's Pedro. He immediately offers to us to come in to get warm. While we are seating in Pedro's sofa having coffee and biscuits he explains to us that unfortunately he'll not be able to help us because it's speciality is lorries' suspensions. But it does not stop him for showing us around his place, all the winning cups of his son, a motocross champion. He offers to us to stay park in his yard for the night and to drive us to a mechanic he know in the morning. Here we go for a second night in the kombi, in the middle of rabbits, giant dogs and lorries.
The next morning, we follow Pedro to the mechanic. But at a crossing we loose him, and we'll never see him again…
Nous voilà parti à la recherche d'un autre garagiste. Plus en retrait de la ville celui-ci est également recommandé pour les vans. Nous débarquons à 21h dans une ferme/casse garde par des chiens de la taille de poney qui protègent des dizaines de camions de fret. Un homme ouvre la porte d'une maison située au fond de la cour. C'est Pedro. Il nous propose immédiatement de rentrer au chaud chez lui pour prendre un café… Il nous sert un café et nous explique que malheureusement il ne pourra pas nous aider, parce que sa spécialité à lui c'est les suspensions de camions. Mais ca ne l'empêche pas de nous offrir des gâteaux, de nous montrer toutes les coupes de son fils champion de moto cross et de nous proposer de garer le Kombi dans sa cour pour la nuit et de nous emmener demain matin chez un garagiste qu'il connaît.
Nous voilà parti pour une deuxième nuit dans le kombi, cette fois au milieu des lapins, des chiens géants et des camions.
Le lendemain matin nous suivons donc Pedro pour trouver un garagiste. Malheureusement nous le perdons à un croisement de rue et ne le retrouverons plus jamais…
But we finally find the mechanic he mentioned. This mechanic tell us they can't take care of Volkswagen vehicles. But reference another one to us. Just so you know Chilean does not really give you a precise address. They give you indications "turn left/right straight then right.."in Spanish! We finally find this 3rd mechanic who can take Volkswagen vehicles and speak english. Jackpot! He looks at the Kombi, according to him there is a slight parallelism problem. But they can't take care of it in this mechanic because our model is way too old. He calls another mechanic to know if he can take us in. The answer is yes! This is how on Wednesday we arrived in Pedro's garage ( a new Pedro). Pedro does not speak english. But we're lucky cause in the garage we find Peter from Switzerland who's waiting for his 4x4 to be fixed. Peter speaks French and Spanish, and offer to translate for us. In Pedro's garage there is a shiny Westfalia fully equipped. It belongs to Jorge and Sofia. A Spanish couple who travels the world in their full options home made van: onevanonelife.
Mais nous finissons par trouver le garagiste en question. Qui nous informe qu'il ne peut prendre en charge les véhicules Volkswagen. Mais il nous envoie chez un autre garagiste. Il faut savoir que les Chiliens, pour vous indiquer un lieu, ne vous donne pas l'adresse. Mais vous indique le chemin a suivre (gauche/droite…) en Espagnol! Nous finissons quand même par trouver ce 3eme garagiste qui lui prend en charge les Volkswagen et parle anglais. Jackpot! Alors selon lui, oui notre kombi a bien un léger problème de parallélisme. Par contre il est trop vieux pour ce garage. Il passe donc un coup de fil à un énième garagiste pour savoir s'il peut nous prendre. C'est ainsi que Mercredi nous débarquons dans le garage de Pedro (oui un autre). Un tout petit garage sans aucune indication, enseigne. Pedro ne parle pas anglais du tout. Par chance Peter un Suisse est sur place pour une réparation et nous propose de traduire. Dans le garage de Pedro, il y a un autre Westfalia tout aménagé. C'est celui de Jorge et Sofia. Un couple d'espagnols qui voyage a travers le monde dans leur combi: onevanonelife.
Jorge is a mechanic who spent 5 years on this full options van (shower, fridge, freezer…). We are a little bit jealous. Jorge and Pedro have a quick look at our kombi and both agree: we can drive it that way. They start to disassemble it and Peter translates that it seems to be fixable but that we need to get some pieces from Santiago which will take a bit of time. Anyway it's midday, lunch time. And Pedro invite us for lunch at his place. We all jump in his car and drive to his casa. Pedro, Peter, Jorge, Amaury and I. When we arrived at Pedro's casa we discover that Jorge and his wife Sofia are living there while they're waiting for their van to be fixed. And that Peter also sleep there the night before on an air bed in the living room. We are all having lunch out there. Pedro the mechanic and all his clients, on the same table, at his place.
​​​​​​​
orge est mécano et a passé 5 ans sur ce van toutes options (douches, frigo , freezer…) On est un peu jaloux. Jorge et Pedro jette un bref coup d'oeil sur notre Combi et sont d'accord: on ne peut pas rouler comme ca. Ils commencent à le démonter et Peter nous traduit que tout est réparable mais que par contre il faut commander des pièces à Santiago ce qui peut prendre un peu de temps. Mais bon il est midi, c'est l'heure du déj, et là, surprise générale, Pedro nous invite à manger chez lui. Nous montons dans sa voiture et partons tous ensemble direction sa casa. Pedro, Peter, Jorge, Amaury et moi même. Arrivé chez Pedro nous comprenons que Jorge et sa femme Sofia vivent la bas en attendant que leur van soit réparé. Et que Peter a également dormi la bas le soir précédent sur un matelas dans le salon. Nous déjeunons tous la bas. Pedro le garagiste, et ses clients, à table chez lui... improbable.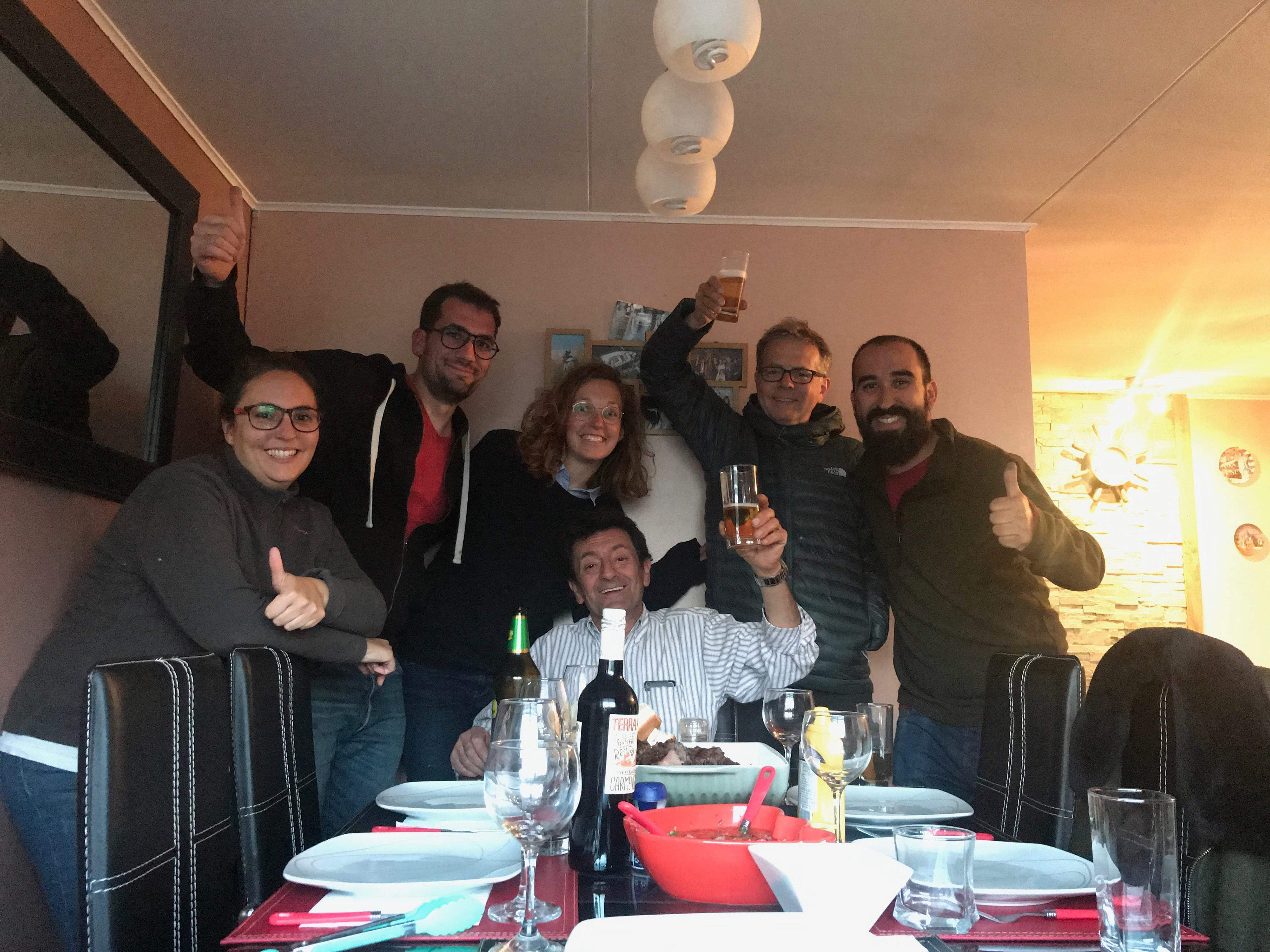 We're back to the garage in the afternoon. Pedro and jorge keep dismantle the Kombi. The list of stuff to change keeps growing but seems ok. But they both agree on one thing: the motor is in a really good shape. Phew! We just need to wait for the pieces from Santiago. At night Pedro re-invite us at this place for dinner, with everyone else. After dining at his place he drives us back to our Kombi in the garage where we'll spend the night.
L'après midi retour au garage. Pedro et Jorge continuent à démonter notre Kombi. La liste des choses à changer est assez longue mais simple. Et ils sont d'accord sur une chose. Le moteur est en très bon état. Ouf! Nous devrons donc juste attendre l'arrivée des pièces de Santiago. Le soir Pedro nous invite tous à retourner dîner chez lui. Puis il nous ramène dans son garage ou nous allons nous coucher dans notre Kombi... dans son garage.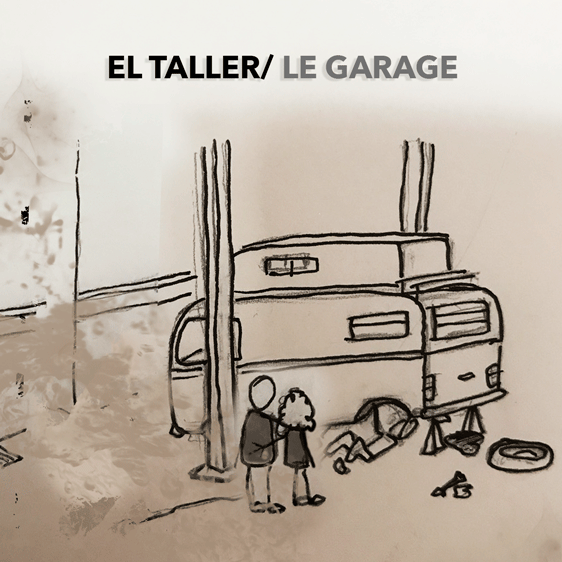 Since it, Peter is gone from Pedro's place, it's 4x4 has been fixed so he's back on the roads. We took his place on the air bed in Pedro's living room. We live at Pedro's casa. We're now quite used to it, this life with the 5 of us. Pedro, Jorge, Sofia, Amaury and I. We learnt to cook empanadas, ceviche, gazpacho, centolla (a giant sea spider from Patagonia).We have lunch and dinner all together in a english/ spanish/ french mix. Not easy, but we're having really good fun.
Jorge and Pedro are teaching us mechanic basics: today we know how to empty an air filter, how to grease a brake mechanism and to check the battery state.
Pedro and Sofia are sharing with us their recipes. We're making waffles for them.
Amaury gives Jorge Photoshop lessons.
Pedro, in addition to fix our Kombi and to host us, also help us in our administration process to solve the Kombi's documents. Thanks to him, we're now the official owners of George!
Amaury has rename Pedro: El Patron! And everyone seems to have caught this nickname.
Depuis Peter est parti de chez Pedro, son 4x4 réparé, il a repris la route. Et nous avons pris sa place sur le matelas pneumatique, dans le salon de Pedro. Nous vivons donc chez Pedro. Nous nous sommes vite fait à cette vie à 5. Pedro, Jorge, Sofia, Amaury et moi. Nous apprenons à cuisiner des empanadas, des céviche, de la centolla (araignée de mer géante Patagonienne). Nous déjeunons et dînons ensemble tous les jours en essayant de communiquer dans un mix anglais/ espagnol/français car aucun d'eux ne parle anglais.
Jorge et Pedro nous donne des cours de mécanique: nous savons aujourd'hui vider un filtre a air, graisser un mécanisme de frein et vérifier l'état d'une batterie.
Pedro et Sofia me donne des cours de cuisine.
Amaury leur donne des cours de Photoshop.
Pedro en plus de réparer notre Kombi et nous héberger, nous à aider dans nos démarches
pour régler nos problèmes de papiers. Nous sommes aujourd'hui officiellement les propriétaires de Georges. Sans lui pas sur que cela aurait été possible tant l'administration Chilienne est complicado.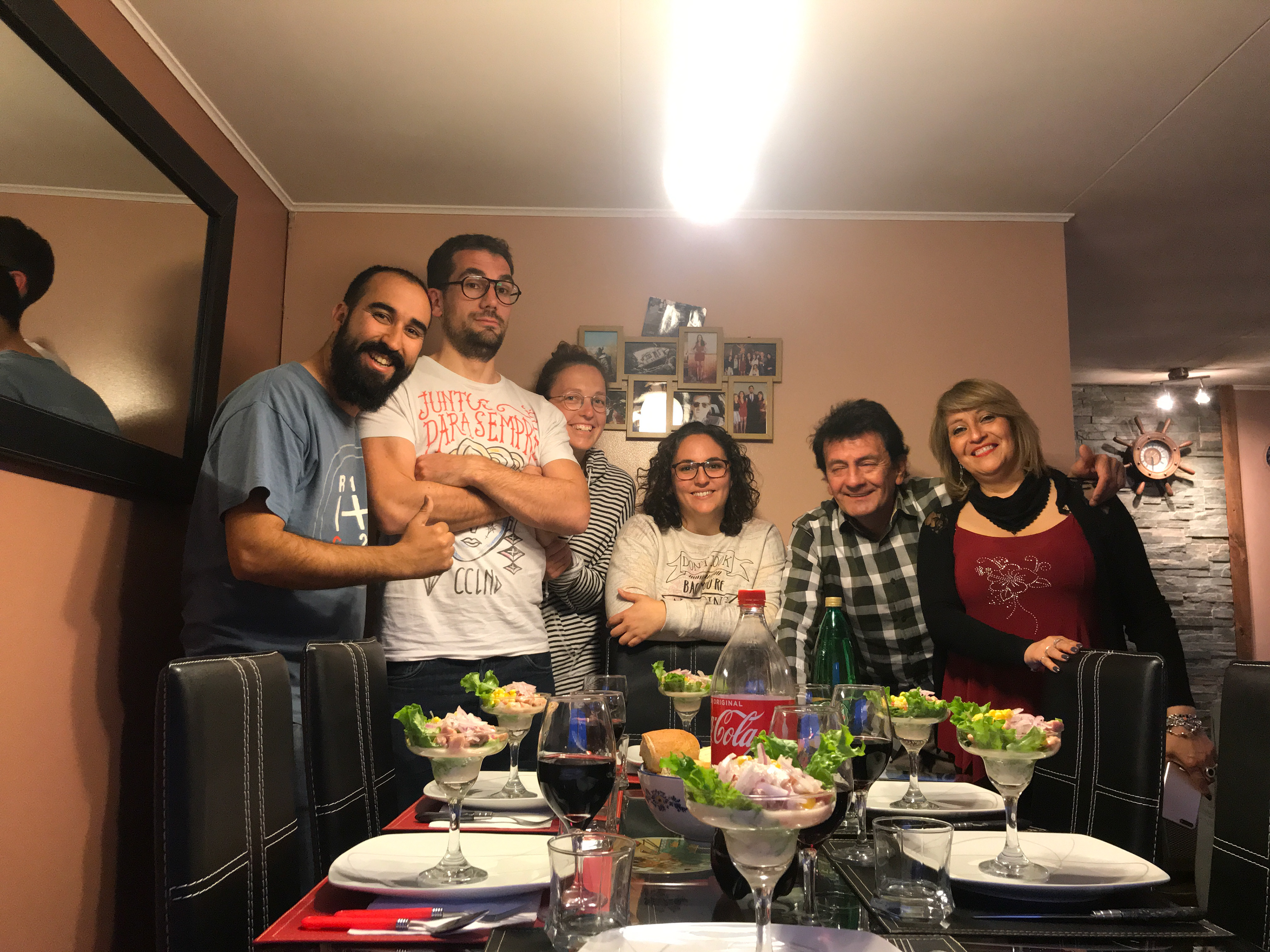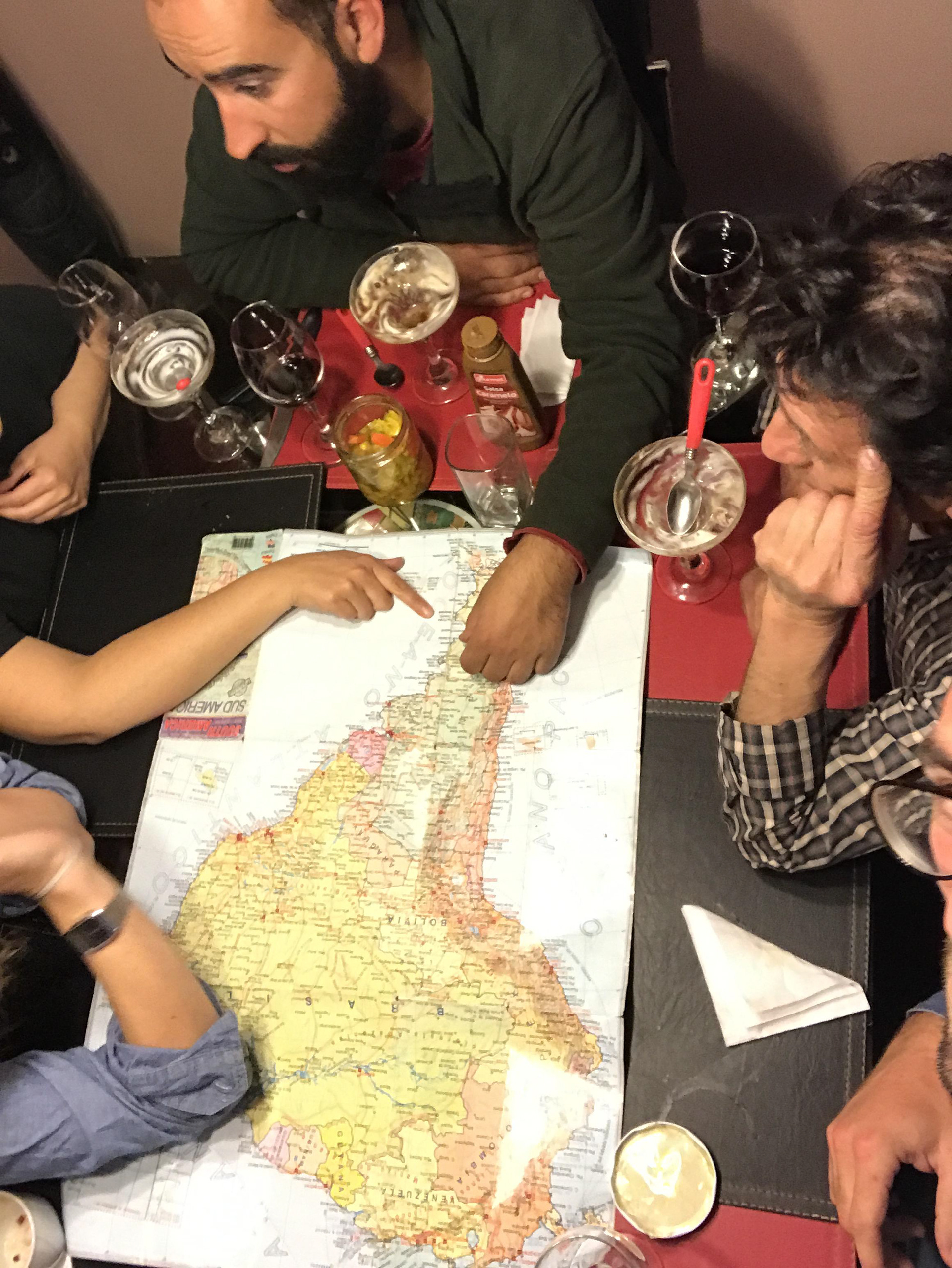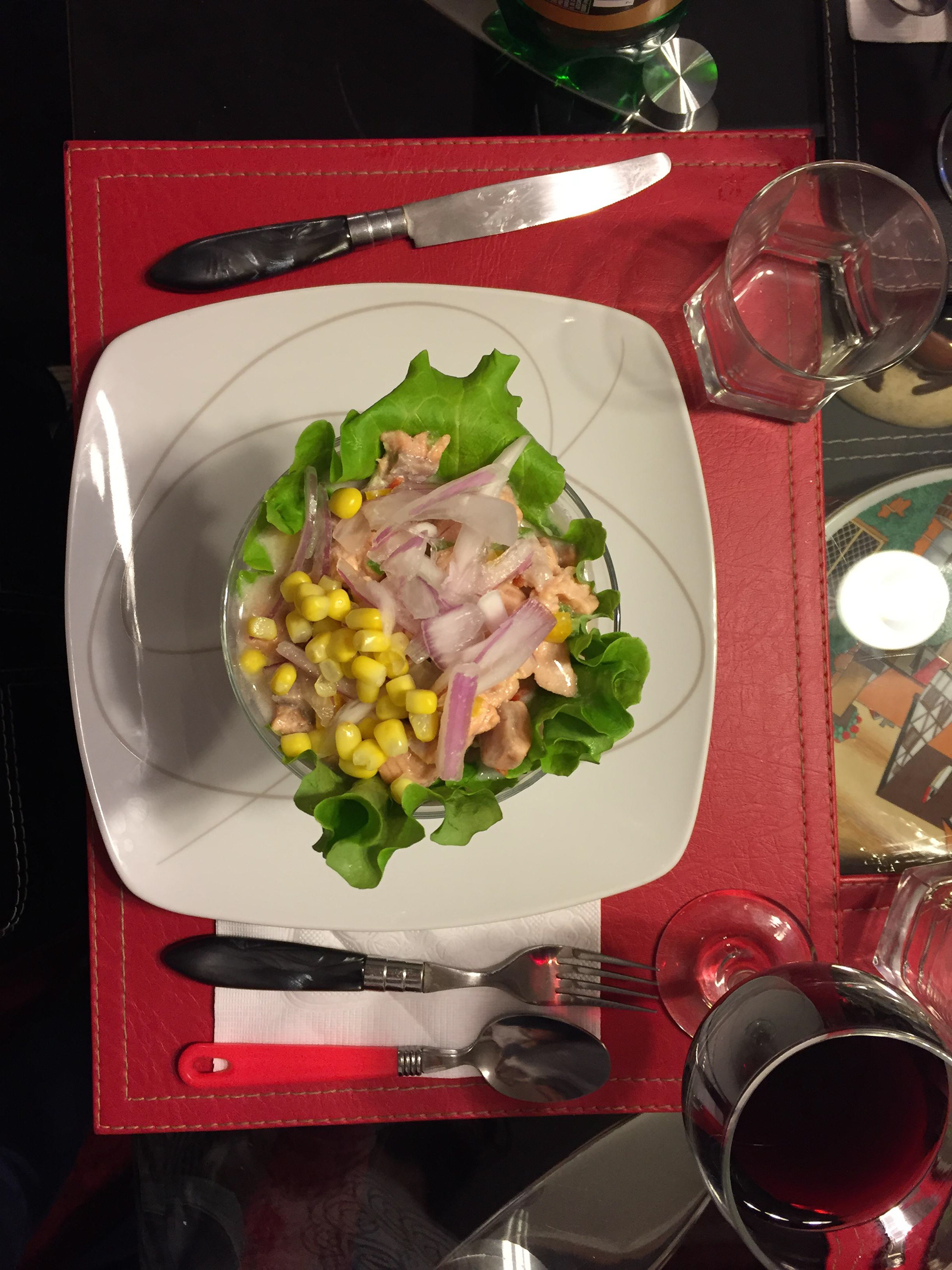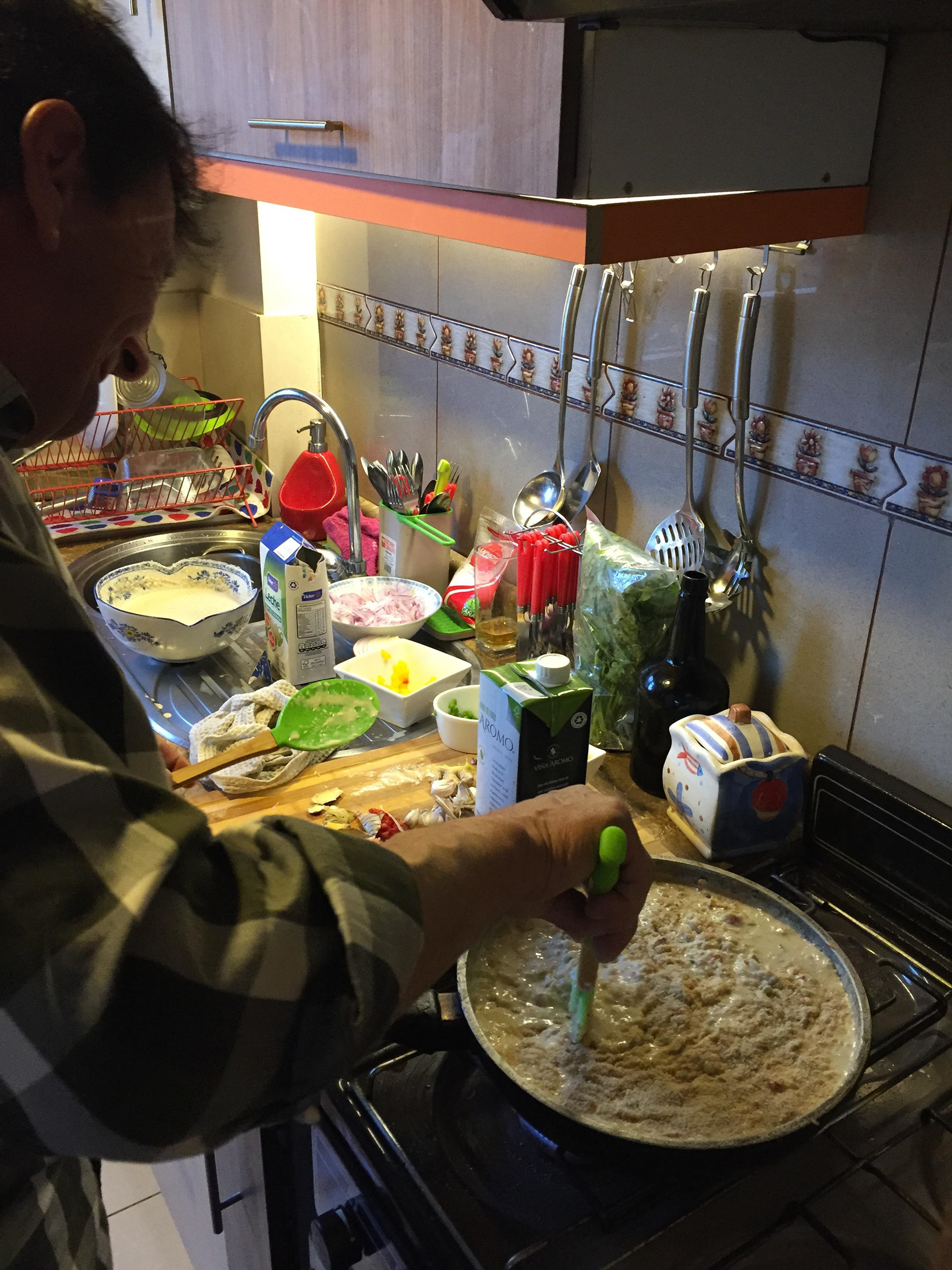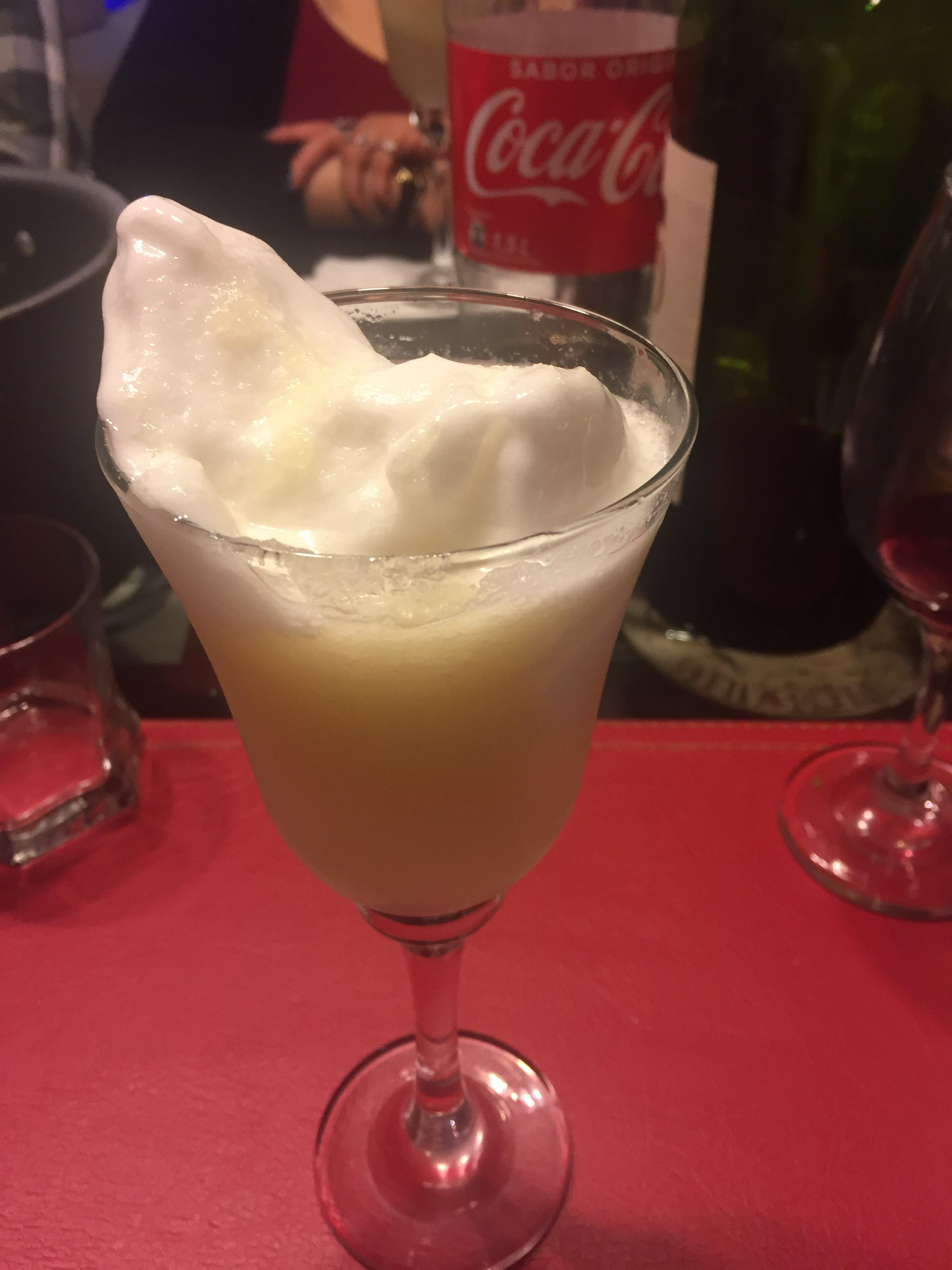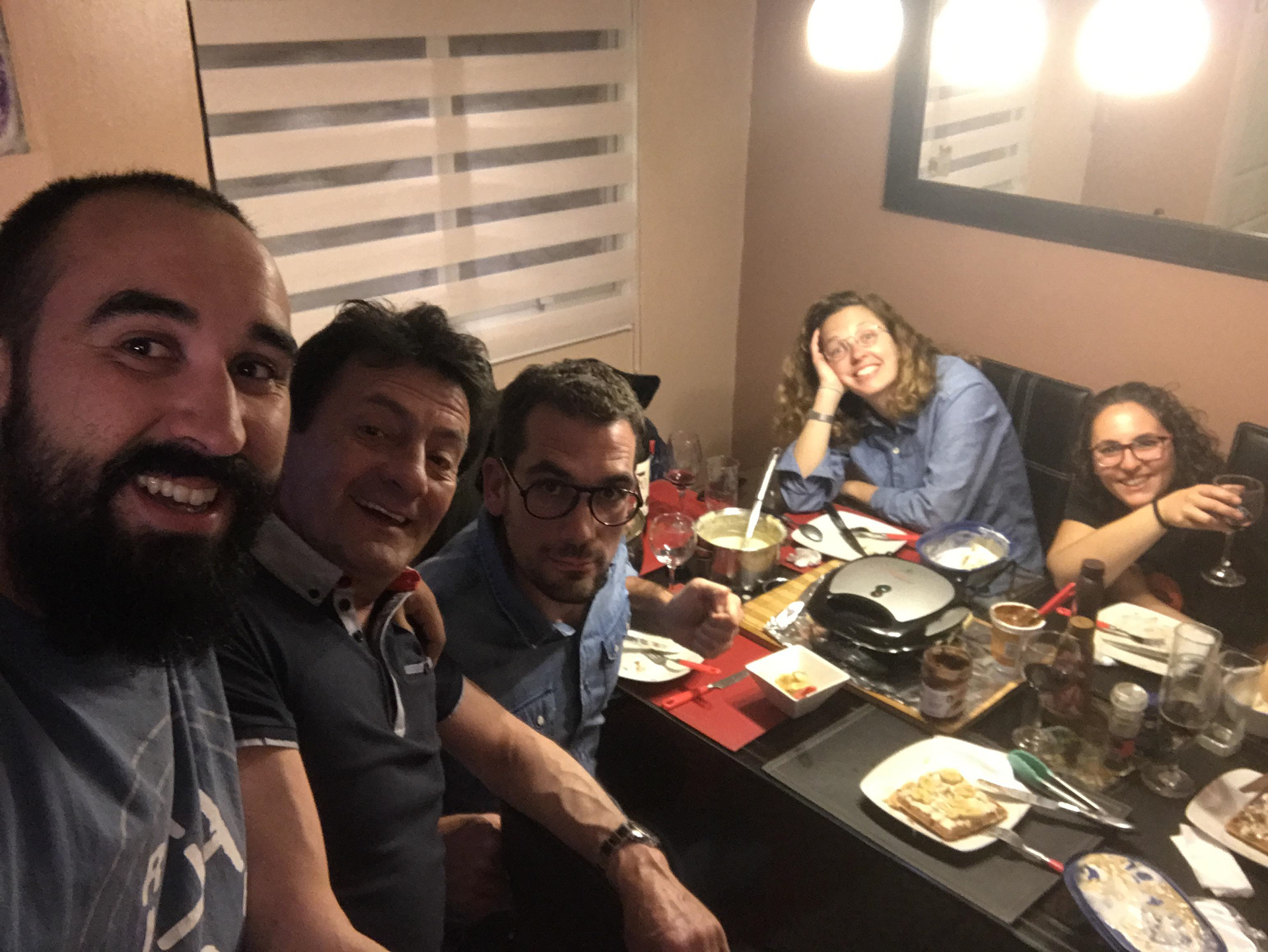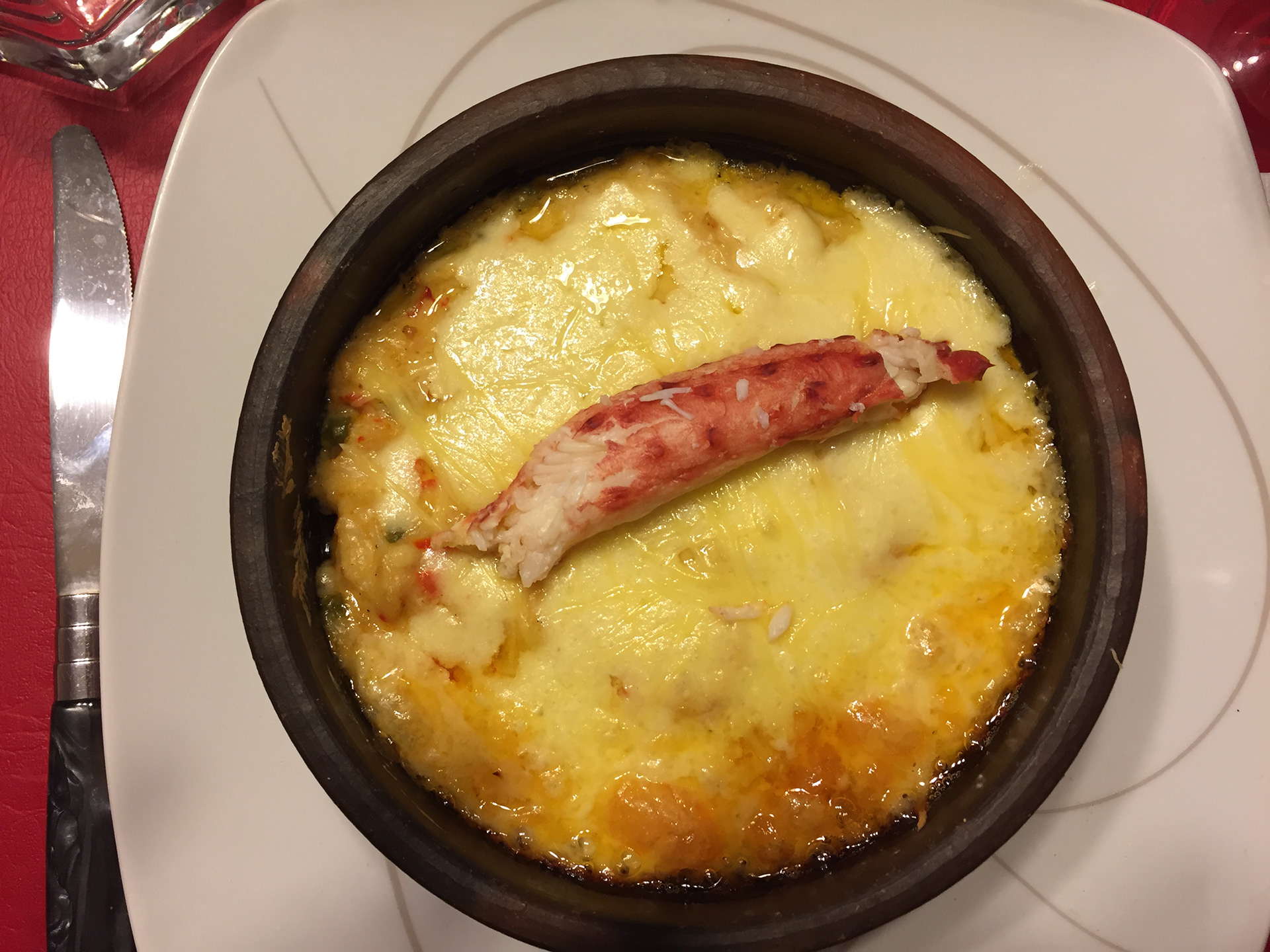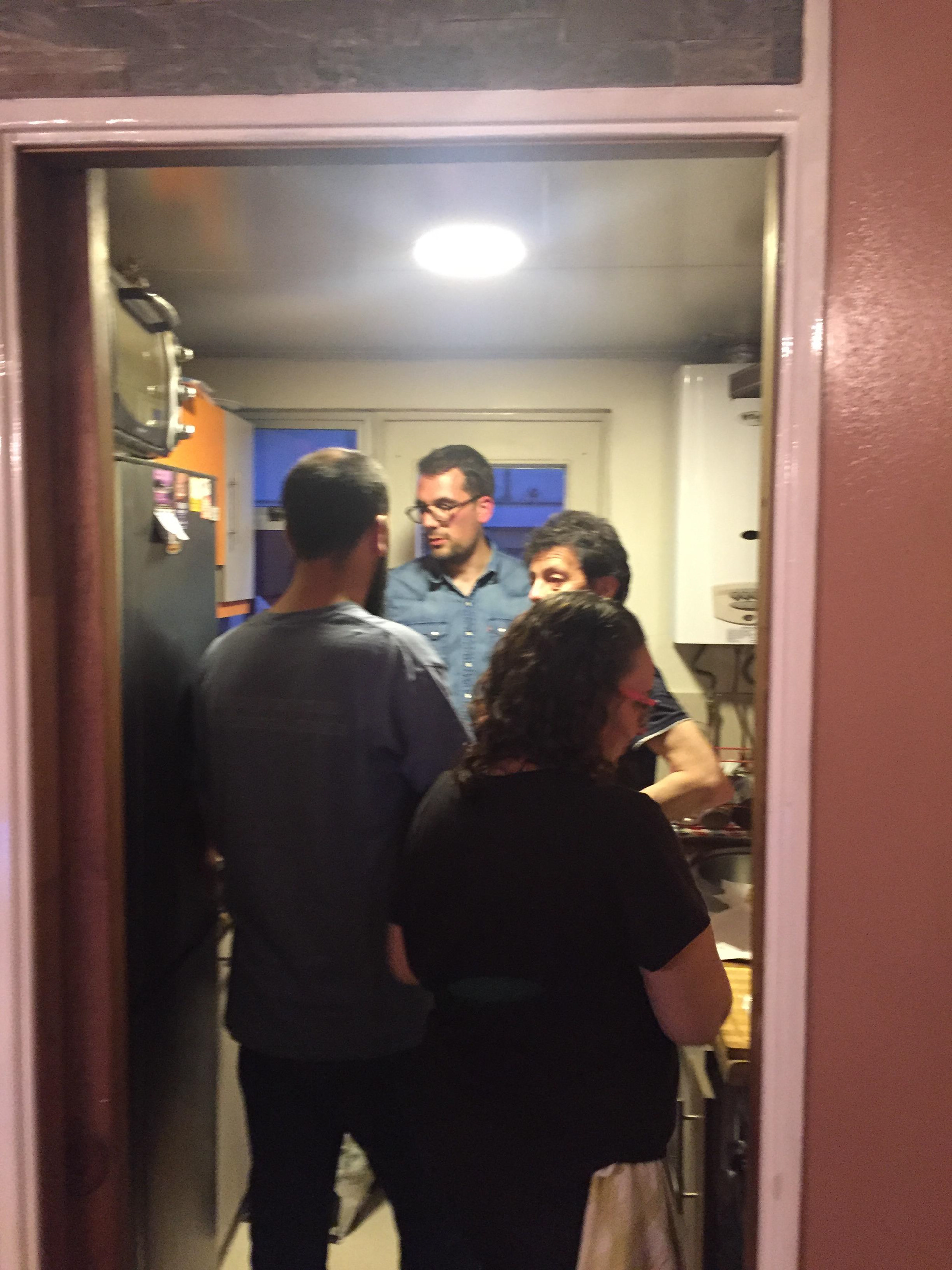 Today is Sunday and Pedro is still working on our Kombi. Ok it is not going to be free. And we are a bit mad at Lucille and Guillaume for it, cause it could have been dangerous for us. But with those misadventures we met Pedro, Jorge and Sofia. And everyday we keep saying to ourselves " But do you realise we are living at our mechanic!"
Aujourd'hui c'est Dimanche et Pedro travaille encore sur notre Kombi. Alors oui cela ne va pas être gratuit. Et nous en voulons un peu à Lucille et Guillaume de nous l'avoir laissé ainsi. Mais nous avons rencontré Pedro chez qui nous habitons aujourd'hui. Et tous les jours on se redit "Non mais on vit chez notre garagiste!".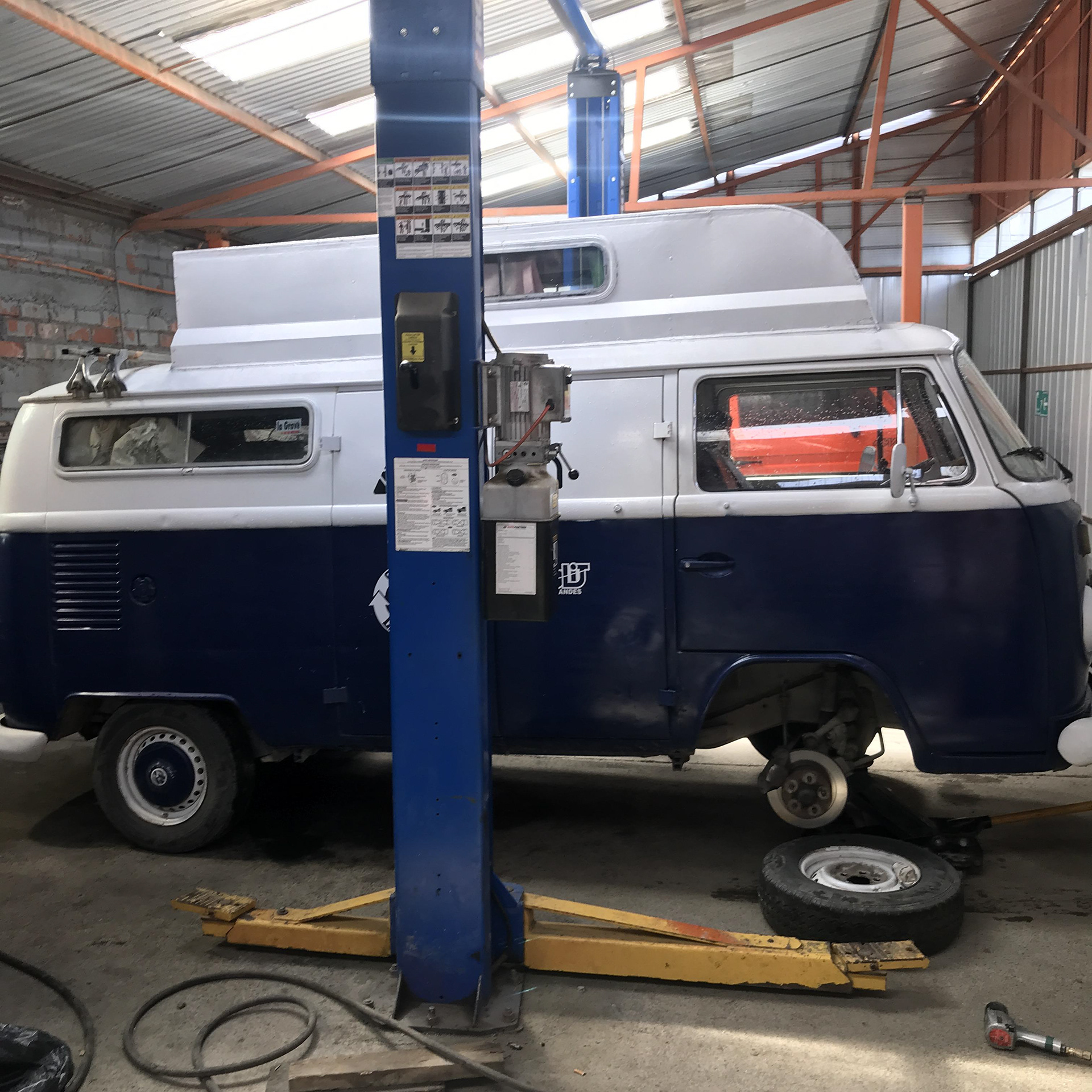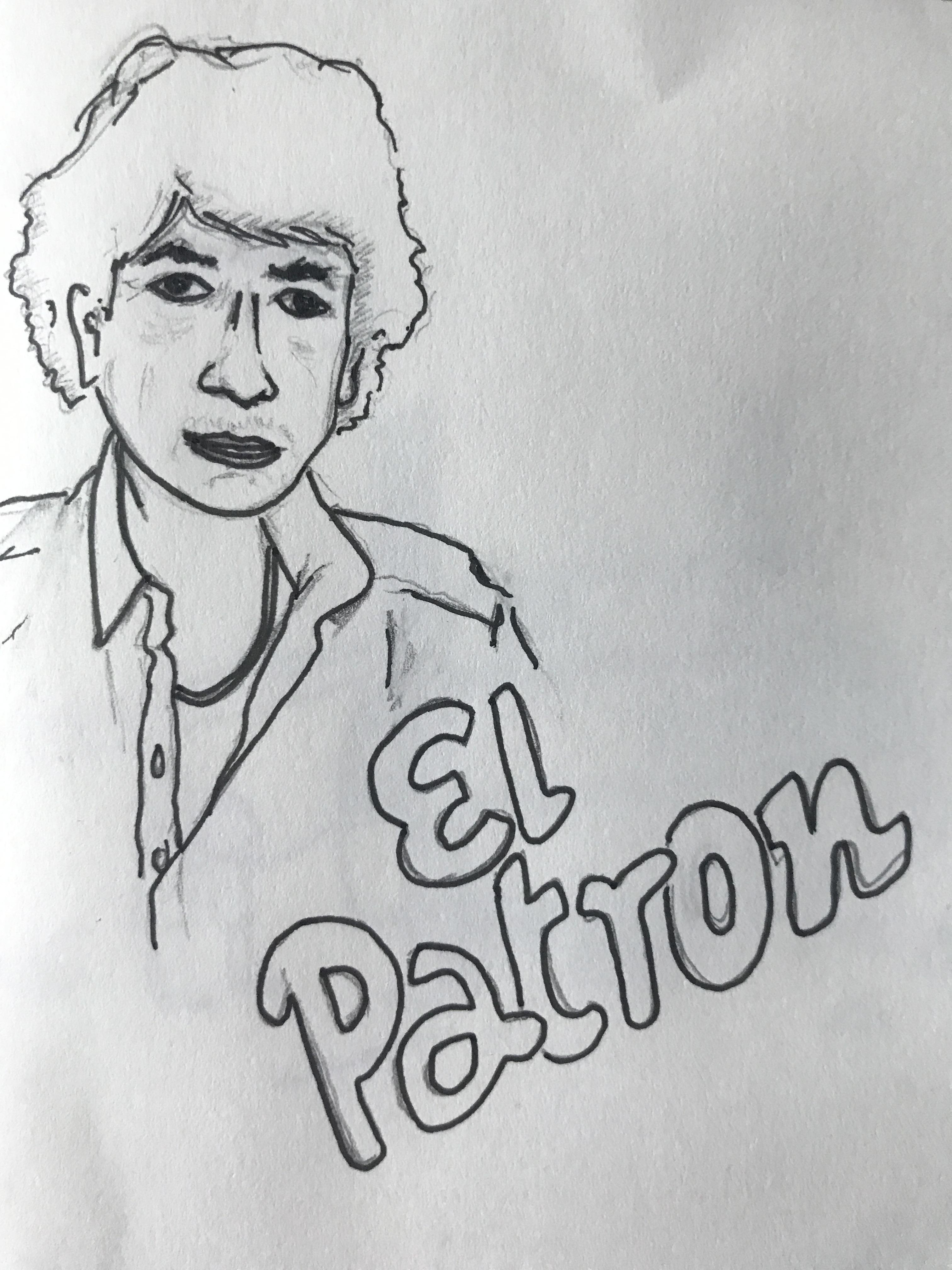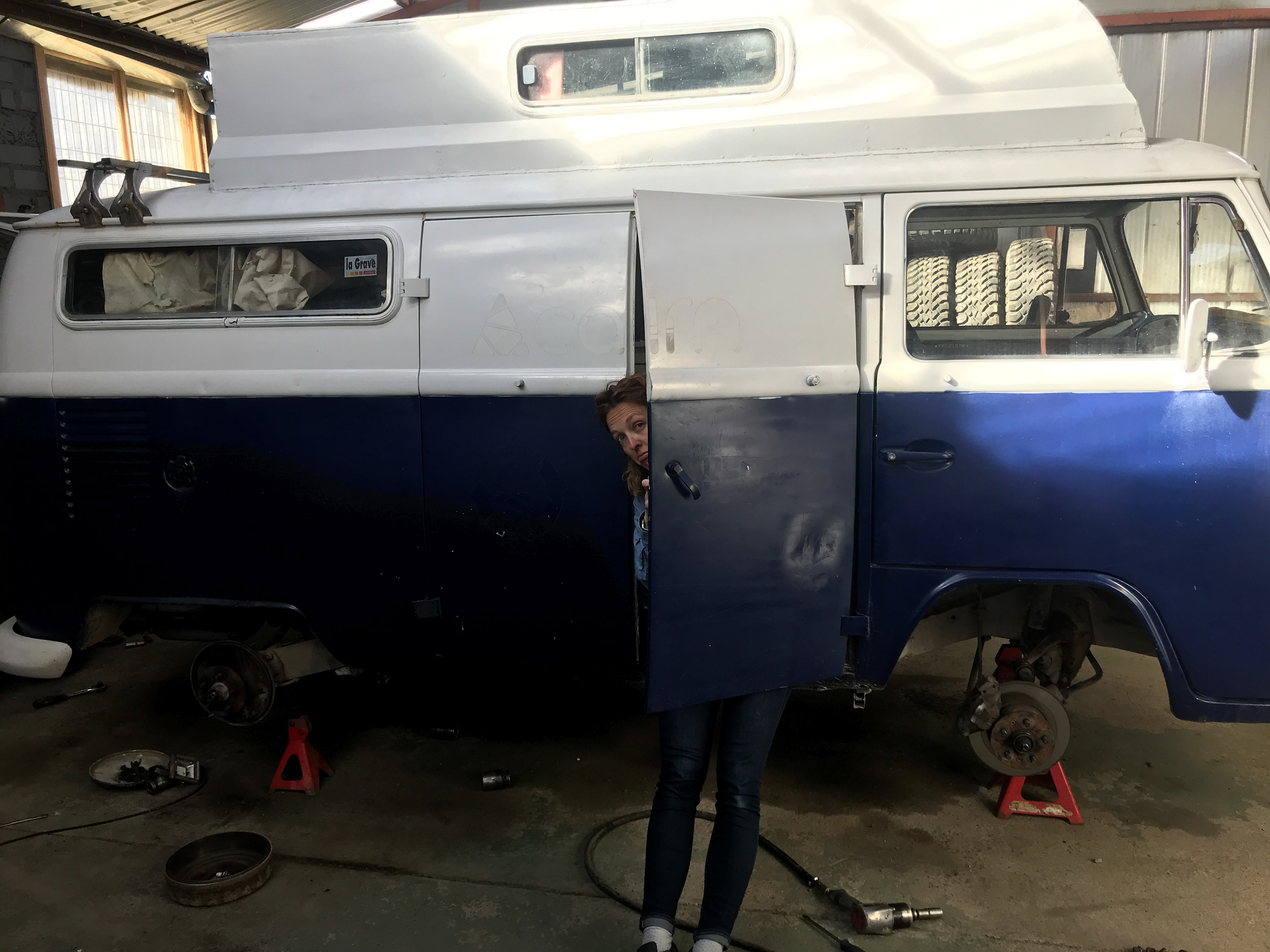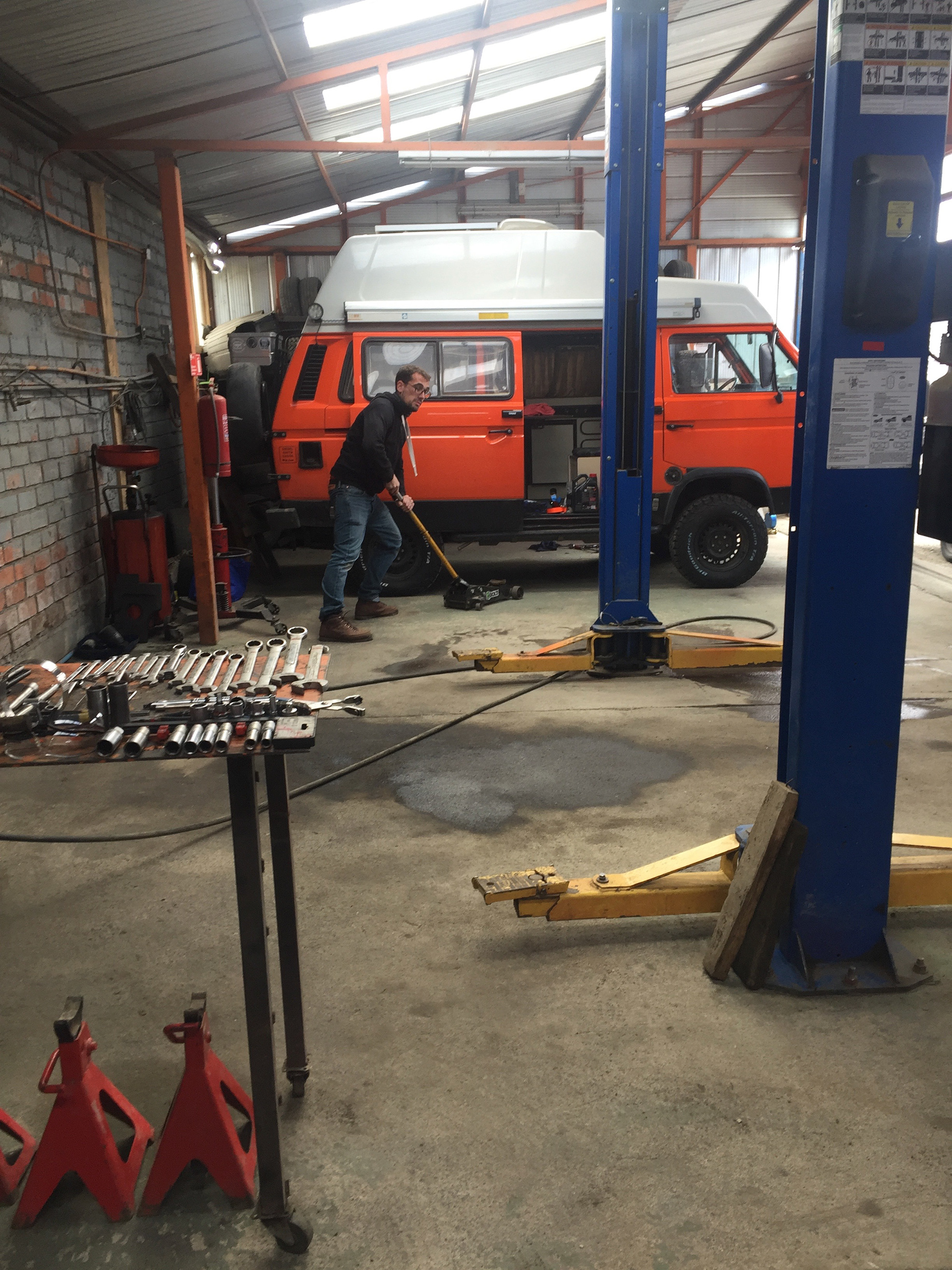 So yes we are still in Punta Arenas, in Chile.
But as Jorge says " Es Parte del Viaje".
We received the pieces from Santiago. We should be able to leave on Wednesday or Thursday.
But when we'll be leaving, we'll already feel different.
Donc oui nous sommes toujours à Punta Arenas, au Chili.
Mais comme dirait Jorge "Es Parte del Viaje".
On a reçu les pieces. On devrait pouvoir repartir Mercredi ou Jeudi.
Mais on sait déjà qu'en partant on sera déjà différent.