A few month ago we took the decision to leave London to travel across South America on a van.
When we took the decision of leaving the most frequent panicked question we've received was "But what are you going to do with all your stuffs?" Clearly the question was legitimated by the fear to see our stuff fill up all the available attics or basement of our relatives. Fair enough. But no panic, as this time we made the decision to leave everything behind. And to only keep the basics.
"But isn't it going to be hard to get rid of all your belongings ?"
Il y quelques mois nous avons pris la décision de quitter Londres pour traverser l'Amérique du Sud en van. En annonçant cela à nos proches leur première réaction paniquée fût " Mais qu'allez vous faire de toutes vos affaires ?". Ils avaient peut être peur de nous voir envahir leurs greniers et caves disponibles de nos cartons. Mais pas d'inquiétude, cette fois, nous avons pris la décision de nous séparer de tout. Ne garder que l'essentiel.
"Mais ca ne va pas être difficile de vendre tout ce qui vous appartient ?"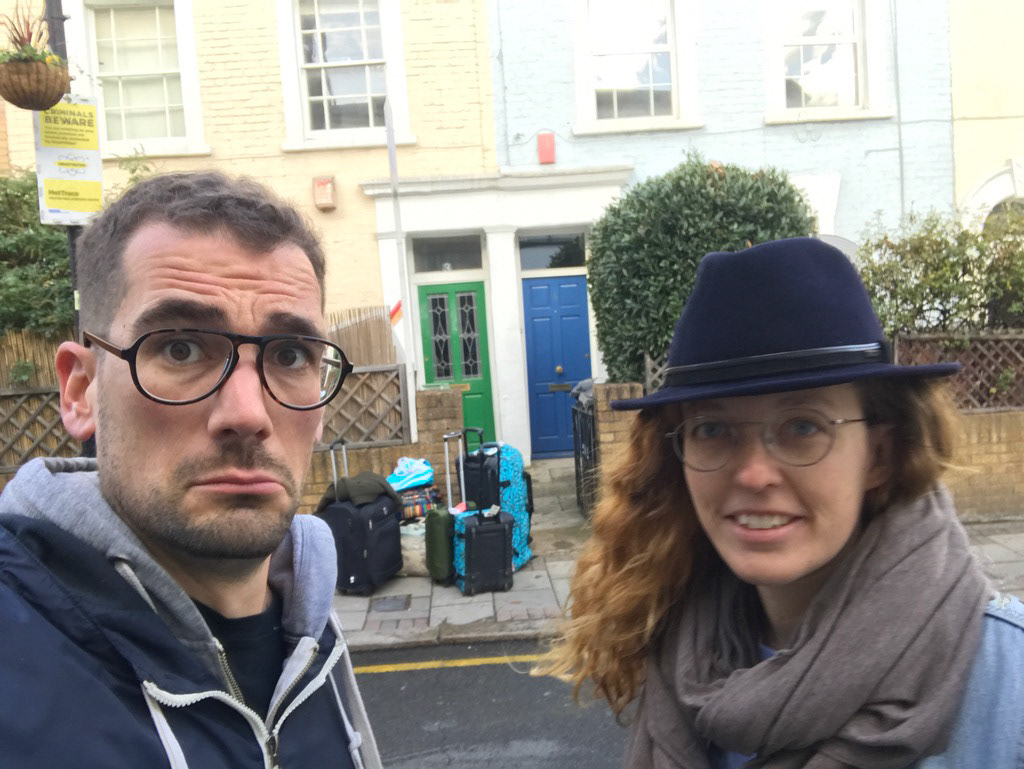 We did not own a flat. Neither a car. Nothing consequent.
But after 3 years in London, we did own quite a bunch of random stuffs:
A giant Playmobil, a surfboard table, a bowling skittle or a pallet sofa.
There was quite a lot to do before ending up with only 4 suitcases each.
- Could be given to a charity shop (15 bin bags)
- Could not be given to a charity shop- direct to trash ( 20 bin bags)
- Could potentially be sold
For the last one we've used all the online available option for second hand reselling (Gumtree, Shpock. Ebay. Facebook MarketPlace…). We've learnt that online you can sell everything, only if you have time on your hands.
Nous ne possédions ni appart'. Ni voiture. Rien de conséquent en soi.
Pourtant après 3 ans de vie Londonienne nous avions déjà accumulé pas mal de choses tel qu'un Playmobil géant, une table planche de surf, une quille de bowling ou encore un canapé en palettes.

Avant de se retrouver avec 4 valises chacun en tout et pour tout, la route fut longue.
Nous avons commencé par faire le tri entre:
- Ce qui pouvait bénéficier a un charity shop (10 sacs poubelles)
- Ce qui pouvait partir directement dans un sac poubelle (environ 15 sacs poubelles)
- Et enfin ce qui pouvait être vendu.
Pour ecouler la dernière catégorie nous avons ecume tous les sites et apps de vente d'occasions existants à Londres (Gumtree, Shpock, Ebay, Facebook MarketPlace…). Sur Internet on peut vous le dire, tout se vend, c'est vrai, mais ca necessite un peu de temps.
We opened our doors 7/7, even after midnight for a late sneakers buyer…
We've welcomed some potentially big buyers with homemade waffles. They did not leave with anything and we've been told weeks later that they've chosen to get everything from IKEA… Whatever.
The most expected buyers of our Super King Size bed with its pallets structure decided to come and pick it up on the day when I had a bug I was just to weak to leave it…
The ones who come for only a stall and left our place with a sofa, a table, a champagne bucket and 3 frames… the ones who makes you happy to see a bit of your place going to their place.
Even our Goodbye Party became an "Everything Must Go" party! Where all our friends had to leave with a piece of our place.
Until the day before we left we had people popping in to pick up the last remainings. But when it was time to close the door we knew we were successful.
Everything Went (can we say that…)!
Nous étions ouverts 7/7, parfois meme apres minuit pour une paire de sneakers en 47,5…
Nous avons eu des gros acheteurs potentiels reçus avec des gaufres maisons qui sont finalement repartis les mains vides nous informant par la suite qu'ils avaient fait le choix de visiter un IKEA…
Les acheteurs tant attendus de notre matelas Super King Size et sa structure en palettes ont eux choisi de venir le chercher un jour ou je ne pouvais physiquement pas le quitter car clouée dedans avec 40 degrés de fièvre...
Ceux qui viennent pour un tabouret et repartent avec un canapé, une table, un seau à champagne, 3 cadres… et qui vous rendent heureux de voir un peu de chez vous partir chez eux.
Nous avons même profité de notre soirée d'adieu pour organiser une brocante géante sous la thématique  "Tout doit disparaître" ou tous nos invités étaient incite de repartir avec un morceau de chez nous.
Jusqu'à la veille du départ nous recevions des visiteurs pour venir chercher les derniers objets restants. Mais au moment de claquer la porte nous savions que nous avions réussi.
Tout a disparu. (Et au passage nous avons récolté £3600).
​​​​​​​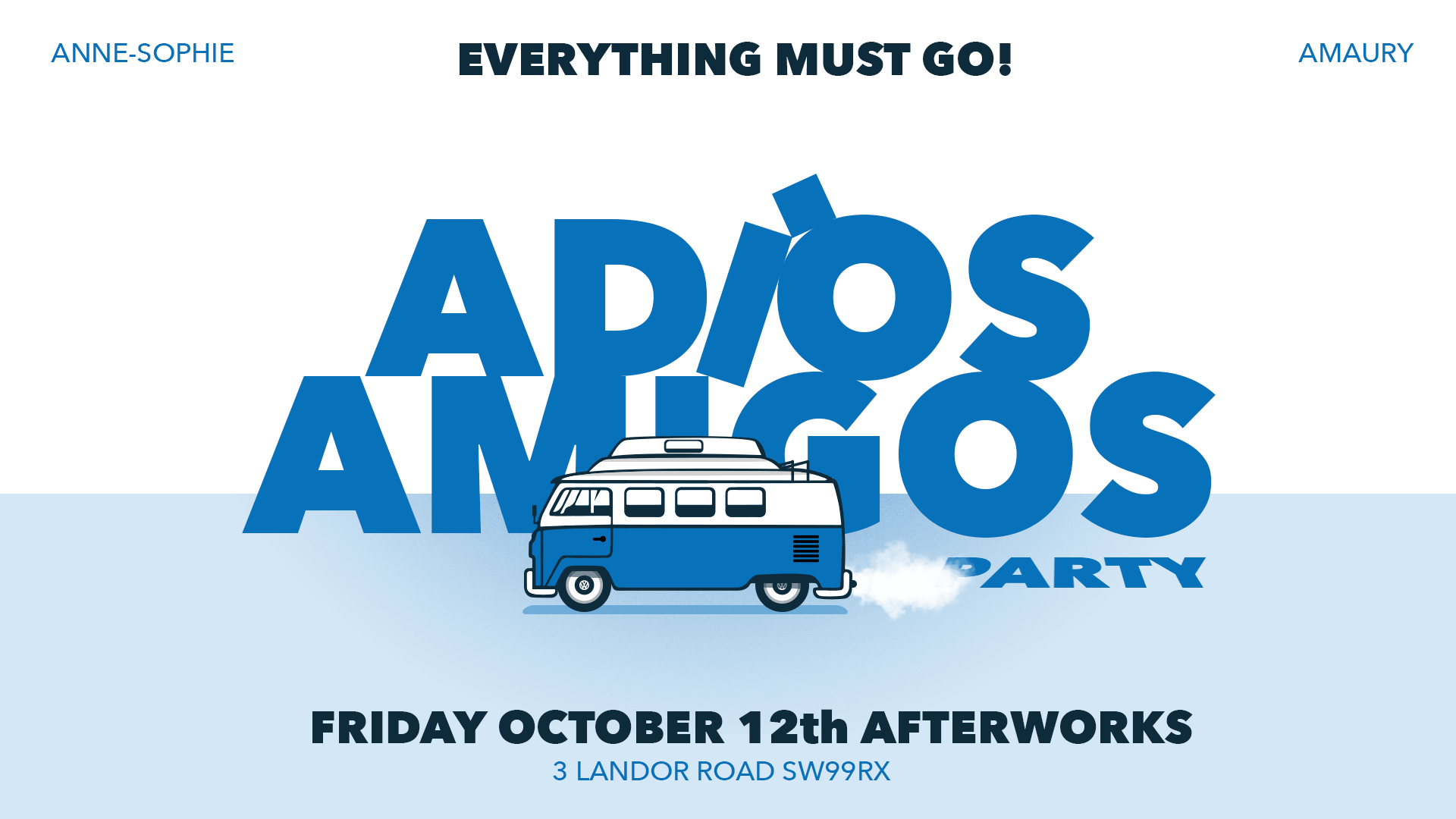 To sum up and answer the question: "Isn't it difficult to get rid of all your belongings?"
Knowing that all our life fit in 4 suitcases. And that we are going to live for an unlimited time with only 20kg each. It just feels good.
Are we then joining the Minimalists growing squad? We don't know yet but yes we do not own much but so far we're not missing anything.
En résumé pour répondre à la question: "Mais c'est pas difficile de se séparer de tout ce qui vous appartient?"
Savoir que notre vie tient dans 4 valises et qu'on part vivre avec 20kg chacun pour une periode indeterminee ca nous fait vraiment du bien. Je sais pas si nous intégrons ainsi le gang des minimalistes mais le bilan est qu'aujourd'hui nous n'avons plus grand chose mais que jusqu'ici nous ne manquons de rien. Bon ok on est partis que depuis 4 jours, ca va!