Sur les routes que nous sillonnons depuis plus de 6 mois nous avons croisé de nombreux voyageurs en Kombi comme nous. La tradition veut que lorsque nous croisons d'autres membres de ce gang, appelé Kombinauta, nous nous faisons chacun visiter notre maison. Et parmi les intérieurs de Kombi qui nous ont fait rêver (Darle la Vuelta, Mercedes et David…) un nom se cachait toujours derrière: Walter! Il faut que vous passiez au refuge Kombinauto de Walter a Mendoza. Ok rendez vous pris, nous notons sur notre route: faire un stop chez Walter à Mendoza et puis on verra bien ce que l'on y fera…
Qui eut cru que nous passerions un mois et demi dans ce refuge. Et qu'en le quittant nous aurions les yeux plus que humides…
Wow. Where should we start?
During these last 6 months on the road we've met many travellers in a Kombi like us. Everytime we do meet another member of this community, called Kombinauta, we visit each other home. Among the interior we've loved (Darle La Vuleta, Mercedes y David…) one name was always behind: Walter! Walter is the man who's specialised in doing furniture for Kombis! You have to visit Walter's Refuge in Mendoza. Alright, we got a plan. To stop by this place in Mendoza and we'll see what'll happen in there.
Who would have imagine we'll spent a month and a half in this place. And that when it'll be time to leave we might even be emotional...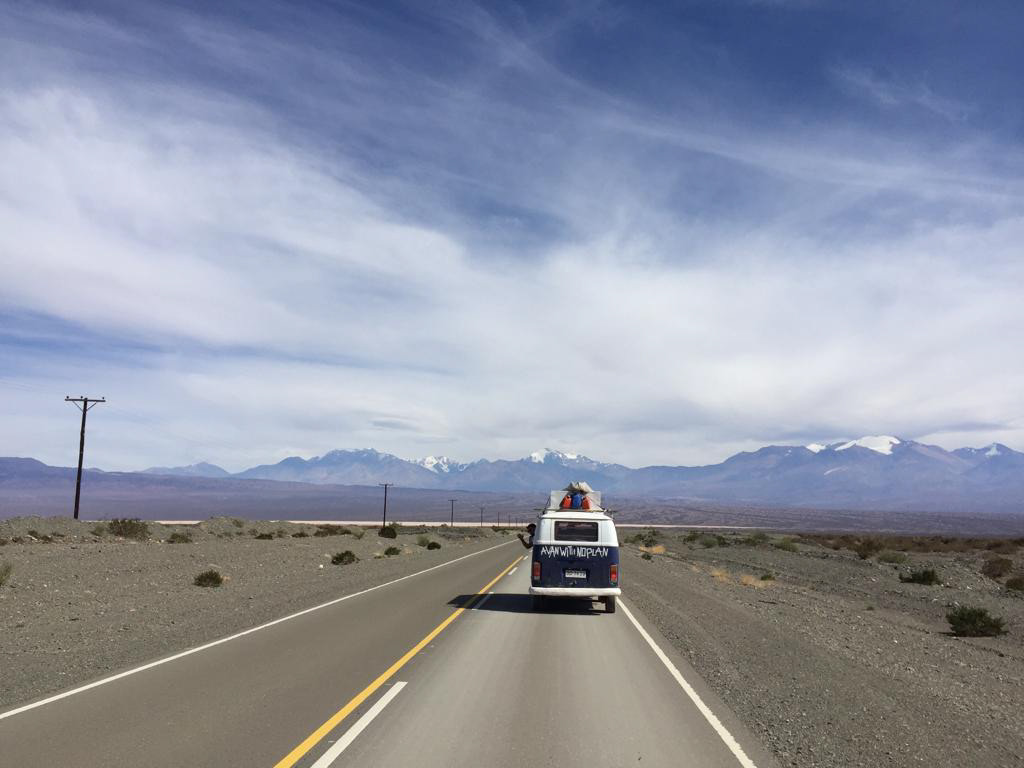 Cet endroit, cette expérience nous a touchés, émus, ouvert et nous aimerions vous faire vivre ce que nous y avons vécus ces dernières semaines. Pour cela il va falloir laisser de côté pas mal de préjugés et essayer de nous suivre dans ce voyage. Si vous nous avez suivi jusqu'ici on vous fait confiance.
This place, this experience touched us, opened our minds and we'd love to let you experience what we've lived these past few weeks. Let your prejudices aside if you want to immerse yourselves in this experience. If you've been following us until now we do trust your capabilities to do so.
Le refuge Kombinauta de Walter et sa famille à Mendoza.
Situé dans les vignes, entouré par les Montagnes de la Cordillère, à 15 km du centre de Mendoza en Argentine, Walter et Judith ont ouvert un lieu comme nous n'en avons jamais encore connu. Ce n'est ni une ferme, ni un garage. Mais un très grand espace libre ouvert à tous les voyageurs en Kombi et Camioneta (oui la communauté Kombi n'est pas complètement exclusive). Sur ce terrain ils y vivent dans une maison en famille avec Genaro, Andres et Bruma leurs 3 enfants. Et leurs 8 chiens! (❤️ Kouchi Kouchi dédicace).
The Kombinauta Refuge of Walter and it's family in Mendoza.
Located in the vineyards, 15 km away from the center of Mendoza, Walter and Judith opened up a place like we've never seen before. It is not a farm, either a garage. But a huge wide and wild space opened to all travelers in Kombi and Van (yes the Kombi community isn't exclusive). They live on this land in a house with their family: Genaro, Andres and Bruma their 3 kids. And their 8 dogs ( Kouchi-Kouchi we miss you).
Et autour de leur maison un immense terrain où tous les Kombis de passage peuvent se garer autour d'une infrastructure en perpétuelle évolution pour les gens de passage comme nous. Et tout ça dans un environnement digne d'une vieille usine de Kombis. Puisque le barbecue est un Kombi pick up, la scène musicale est un Kombi et l'on dénombre encore 4 ou 5 Kombi en retour à l'état sauvage sur ce terrain. L'infrastructure utilisée par les voyageurs a été construite par les voyageurs de passage au fur et à mesure, et avec l'aide de Walter. Il y a donc des toilettes, ou vous versez l'eau vous même mais au final pas si compliqué et quoi de mieux pour réaliser la quantité utilisée à chaque chasse. Il y a aussi une douche (le graaaaal), pour la prendre chaude, il suffit d'allumer un feu qui réchauffe un tuyau. Vous verrez vous appréciez encore plus la chaleur quand elle demande un peu d'effort.
Une grange, nous y reviendrons, ou l'on peut faire des feux dans le cul d'un Kombi!
And around their house, there is a huge and wild field where all the travelling Kombis like us can park. There is also a refuge for us which keeps evolving with the collaboration of Walter and travellers. And all of this in an environment which looks like an old Kombi factory. The BBQ is a Kombi pick up, the scene too and there is another 4 or 5 old Kombis parked around the place. The refuge includes toilets, where you have to put water in by yourselves. Not too complicated and not too bad to notice how much water you're using each time. There is a shower (youhouu), and to take a hot one you need to start a fire which will warm up the water. A good way to enjoy the warm water when it comes from your effort to start a fire.
And a place where we can gather with a homemade cheminee in the back of a Kombi!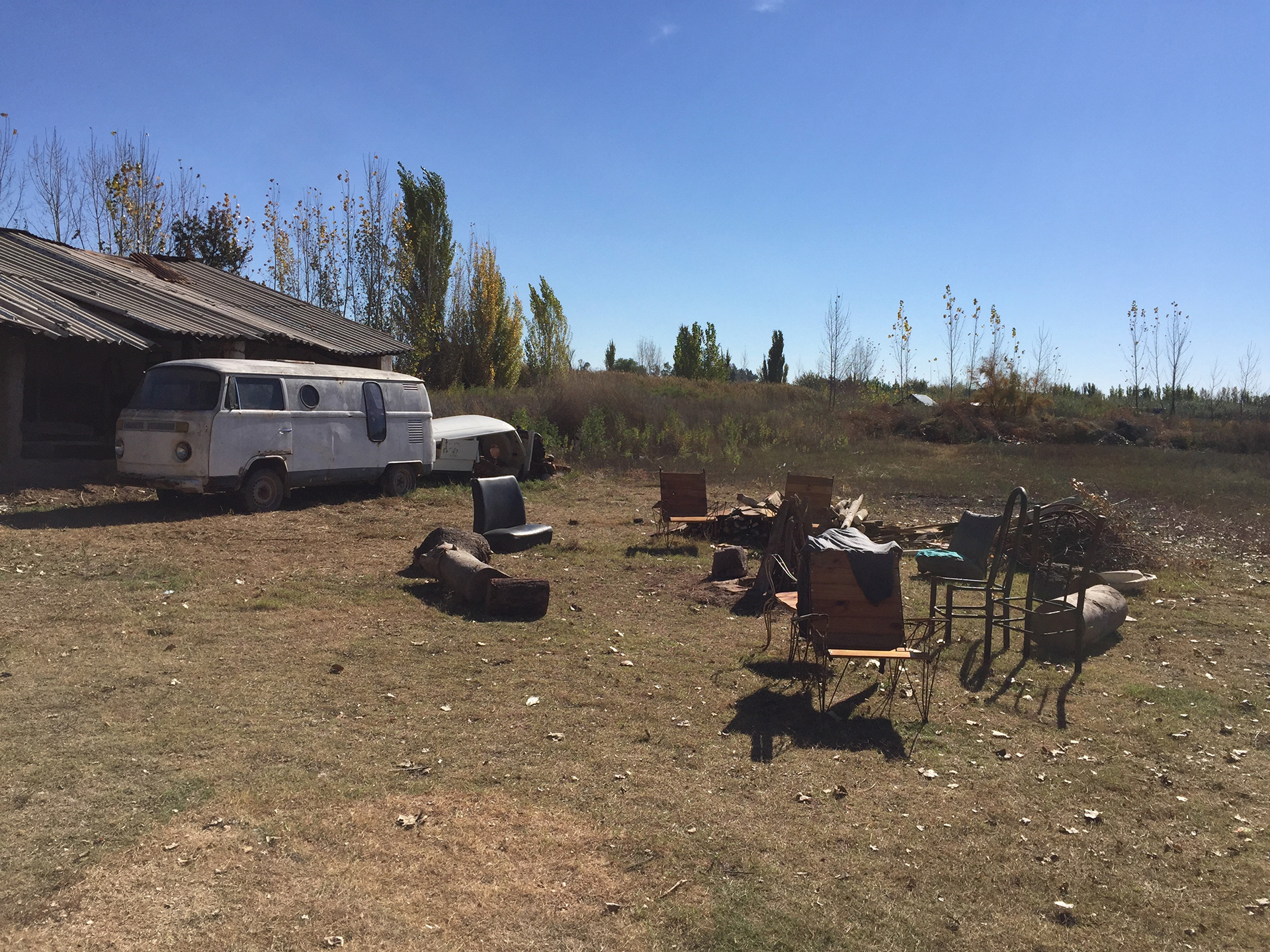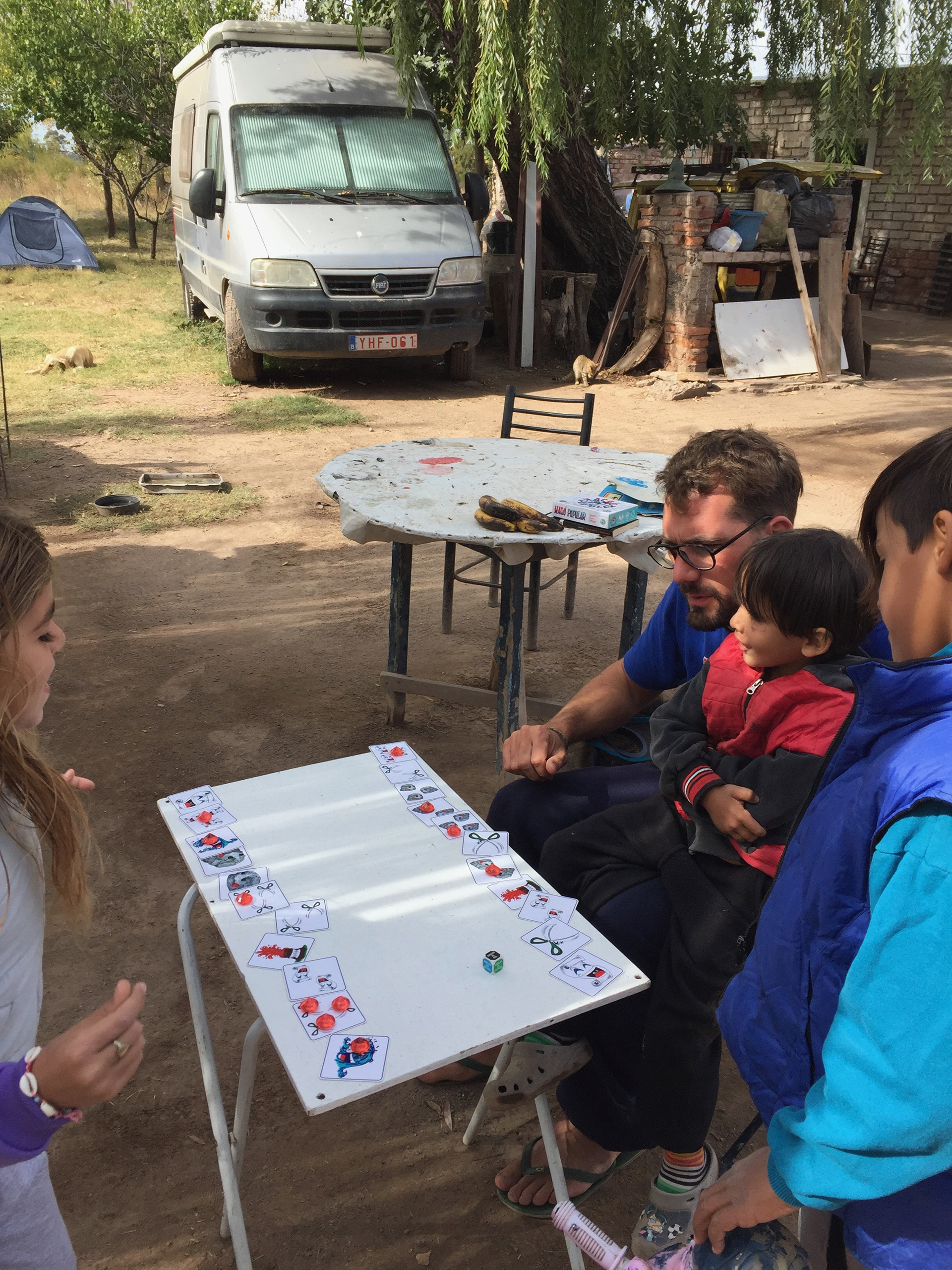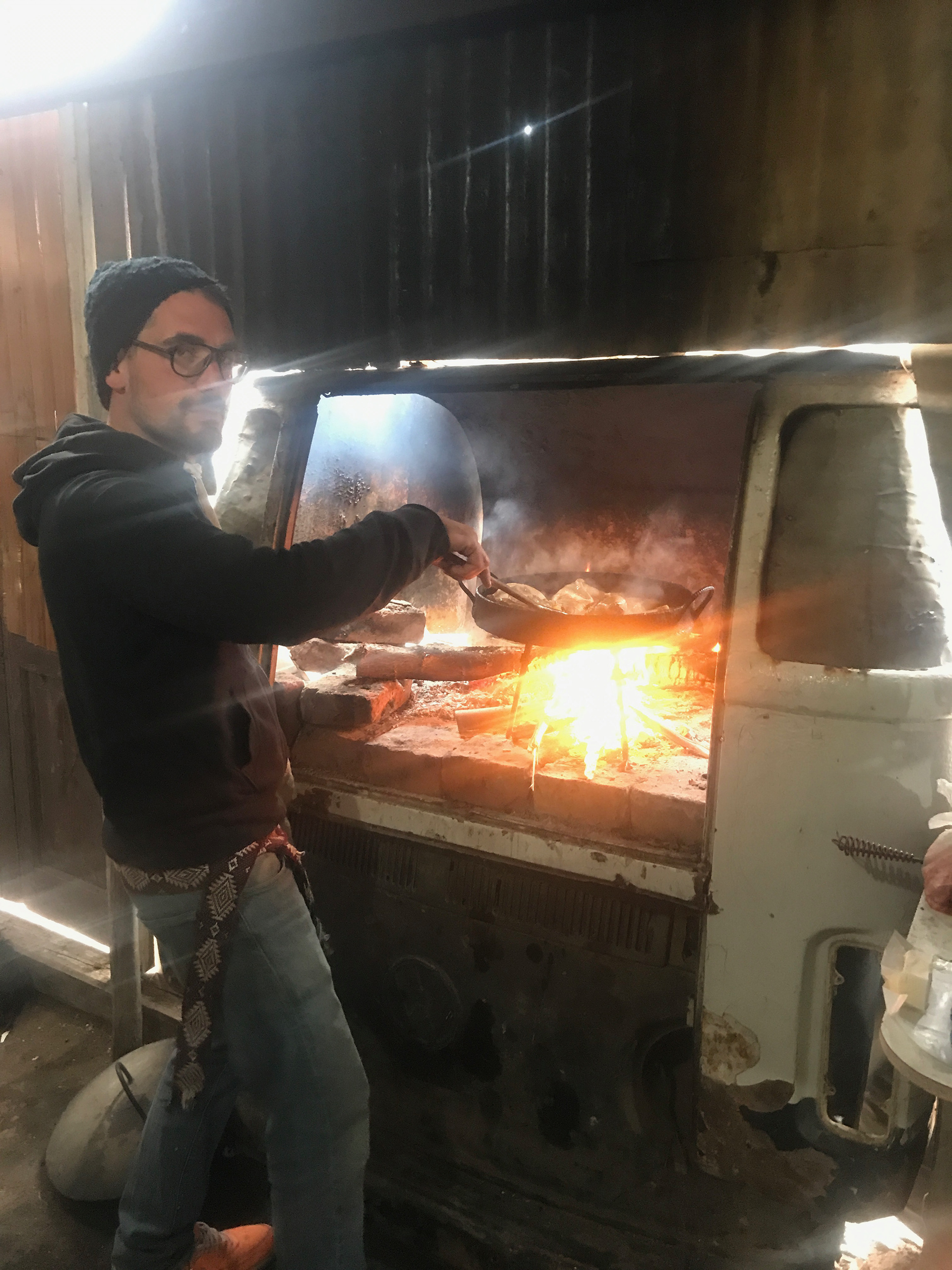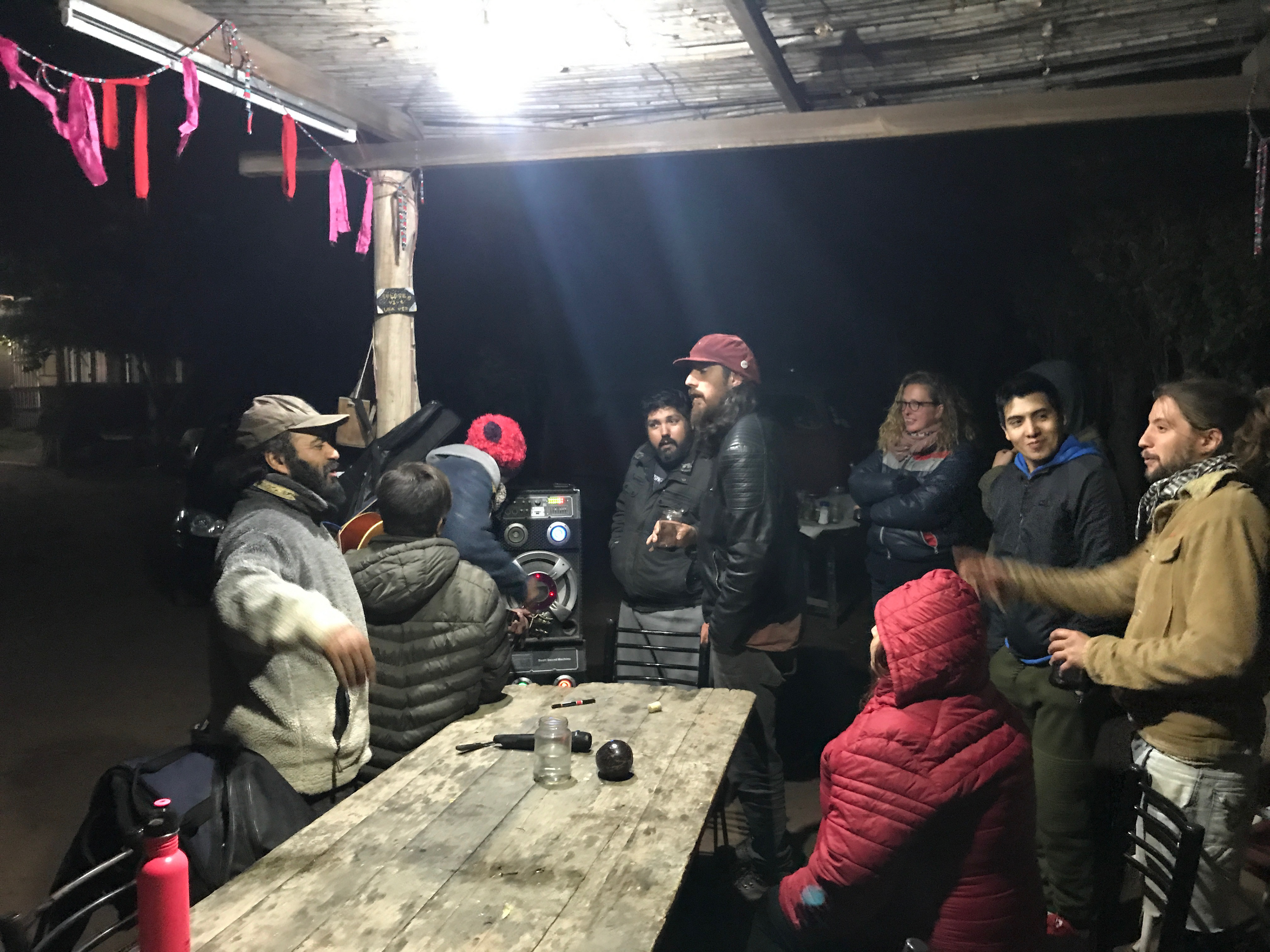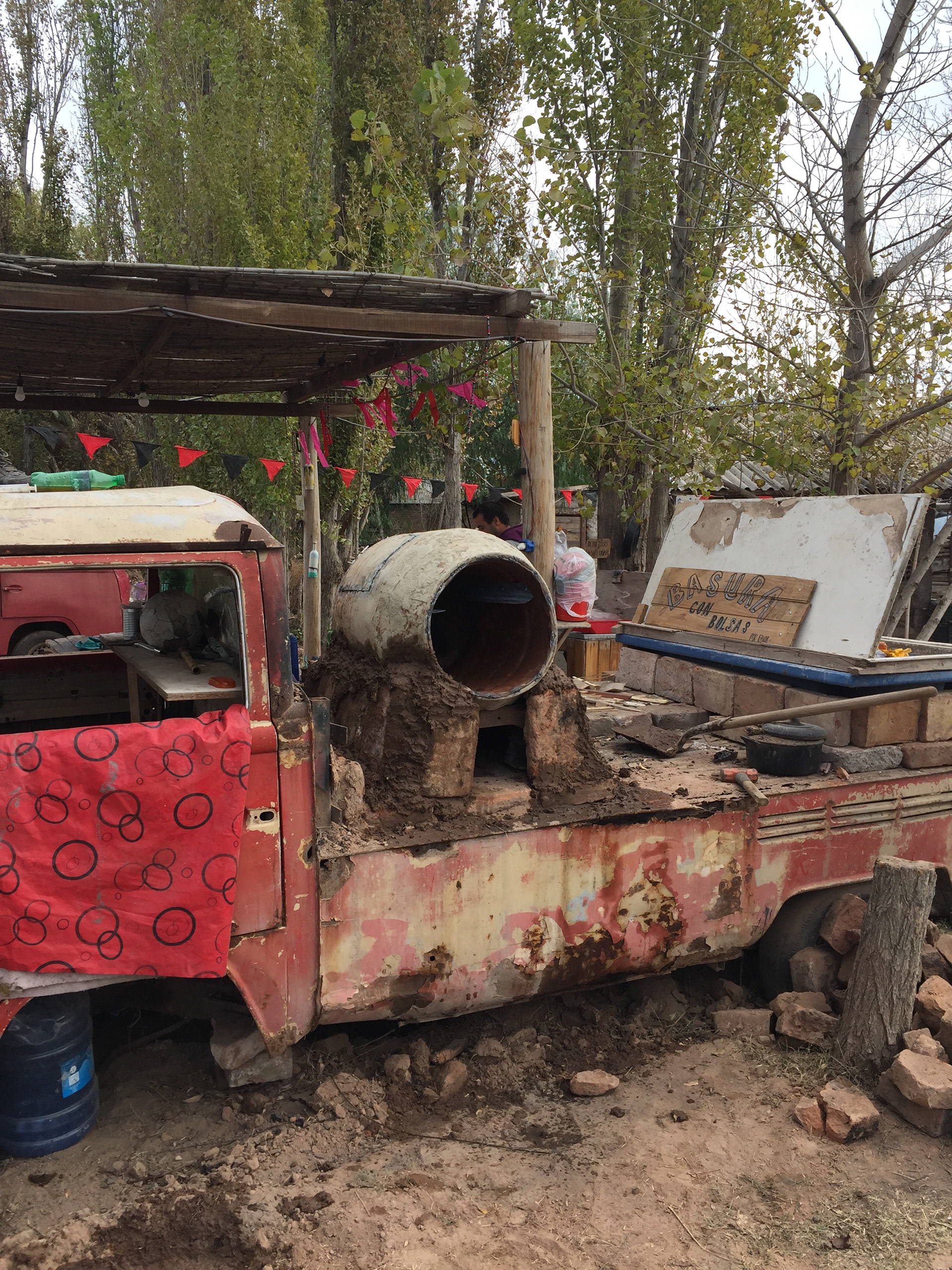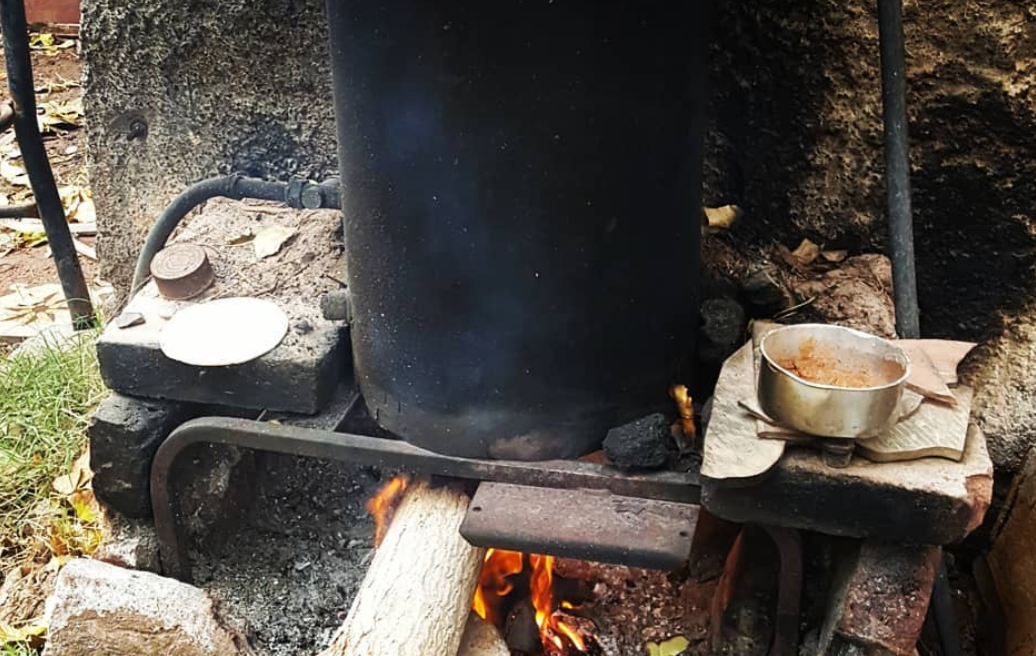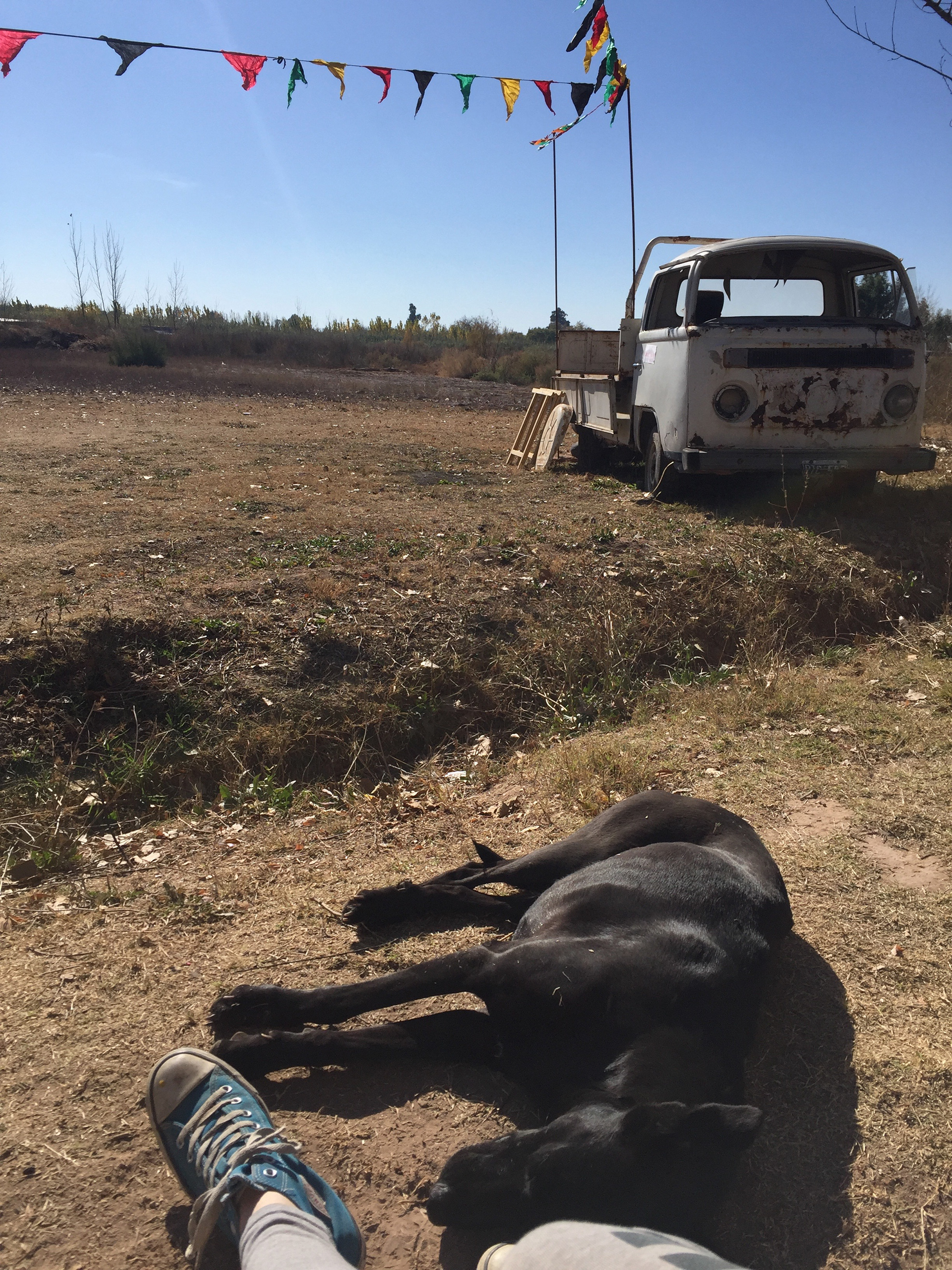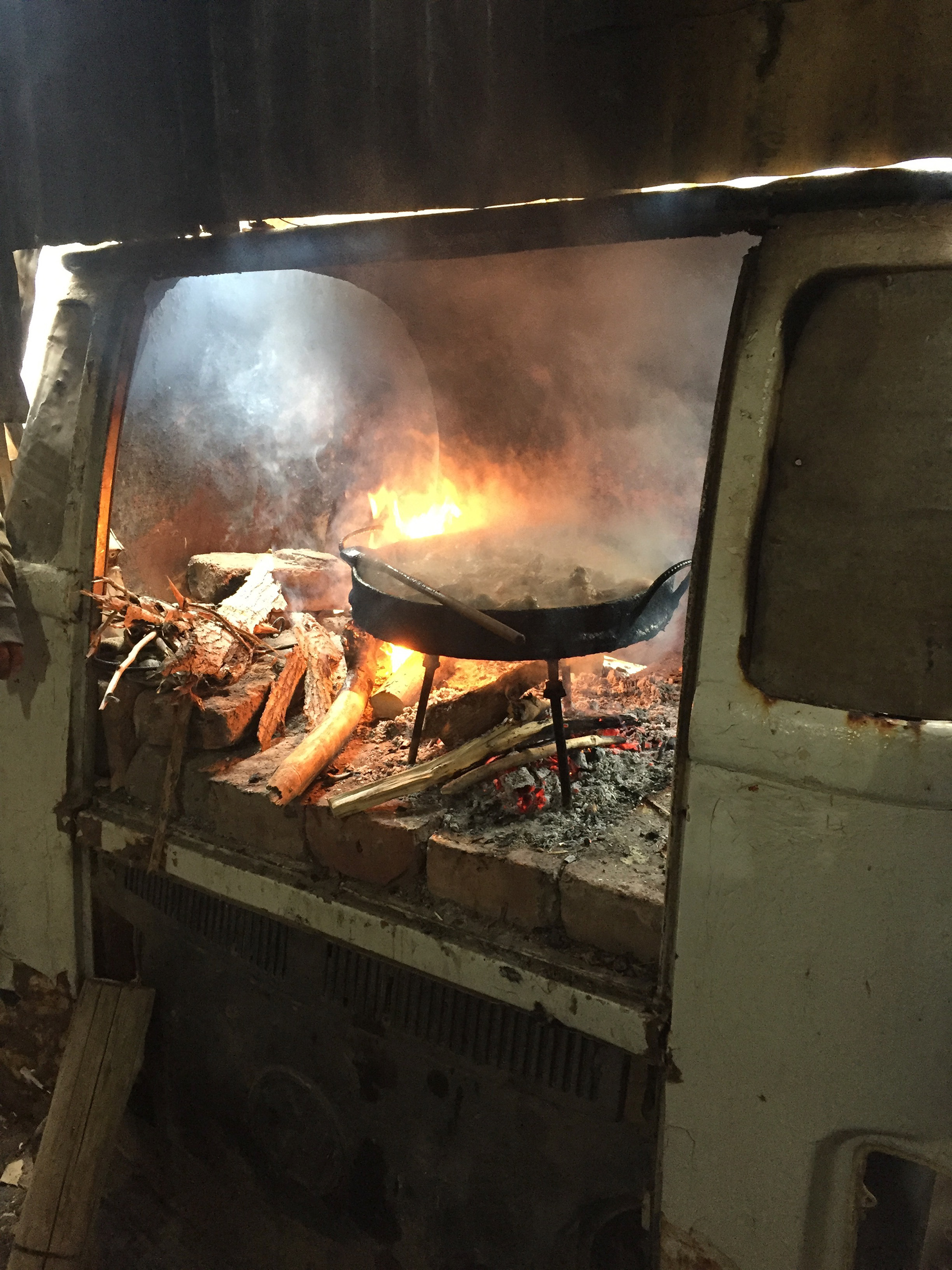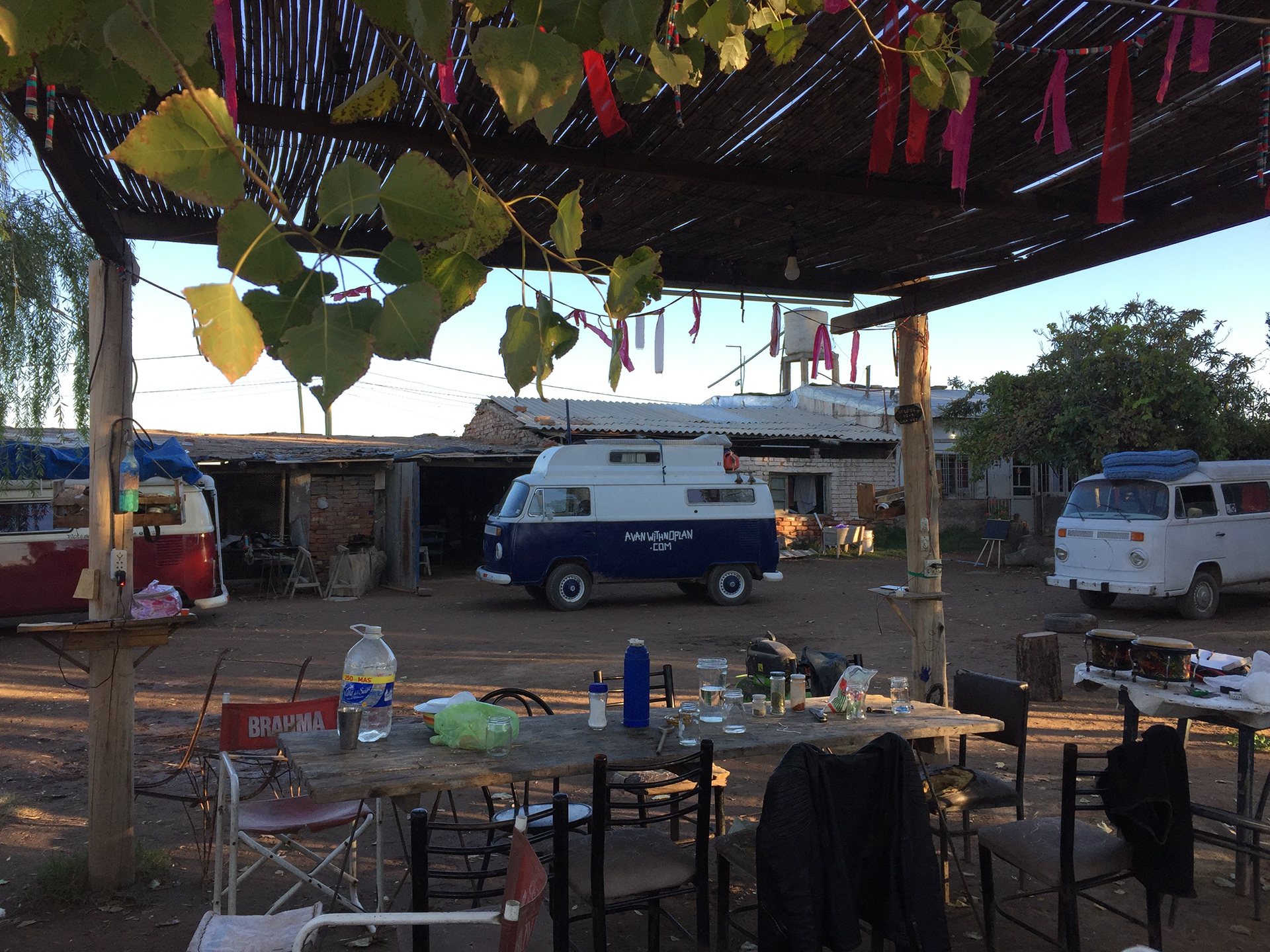 Fin avril nous nous étions donné rendez vous dans ce lieu avec nos amis de la Jugandera Magica, Leandro et Julieta rencontré quelques mois plus tôt à Bariloche. (Pour préparer le lancement d'un jeu autour des Kombis ensemble, mais nous y reviendrons dans un autre article). Nous débarquons donc chez Walter un vendredi soir. Nous sommes accueillis dans une ambiance plutôt calme et familiale puisque deux familles sont déjà sur place: La Rockerita (Colo, José et leurs deux enfants Mathias et Aylin) et une famille de colombiens avec leur petit Dylan. Et 20 minutes plus tard nous voyons débouler un nouveau Kombi bordeaux. Plaques argentines. 4 argentins tous aussi souriants que différents : Mathias et Virgie (Frere et soeur), Chino (Walter de son prénom) et Franco (alias Dic').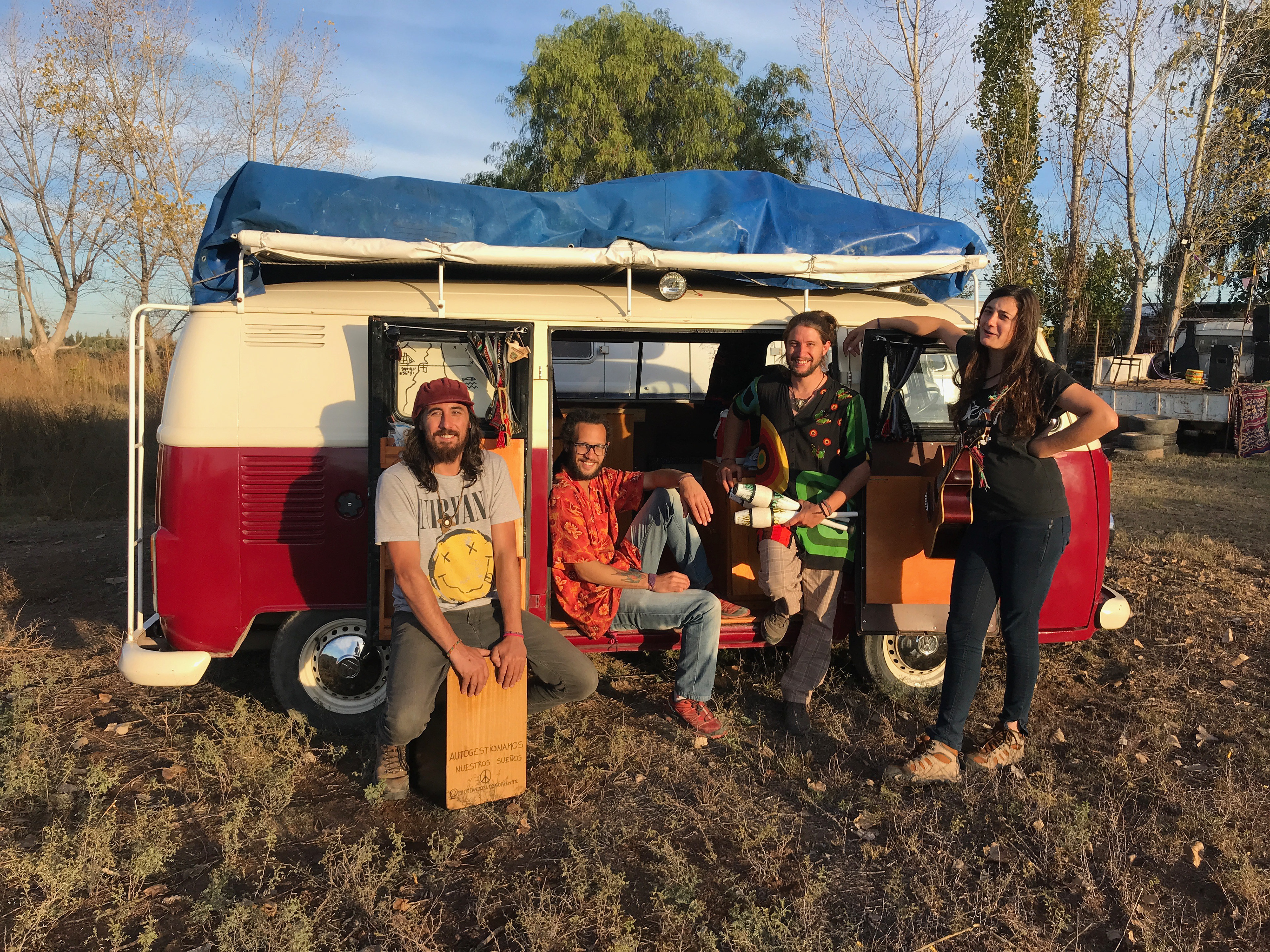 Ensemble ils forment le quatuor: Piloteando El Desoriente . Un quatuor qu'on ne quittera plus pendant les prochaines semaines. Ces 4 ont débuté leur voyage il y a deux mois en quittant leur ville natale de Santa Fe où ils ont vécu en coloc ces dernières années. Et ensemble ils ont nourri ce projet et sont maintenant parti sans date de retour. Ils financent leur voyage en vivant de ce qu'ils aiment: la musique et le jonglage. Du coup dans toutes les villes où ils passent ils jonglent aux feus rouges, jouent de la musique dans les bars et vendent leurs bijoux artisanaux pour continuer leur voyage. Et rien que pour ça on s'est senti tout petit. Parce qu'on ne sait pas faire grand chose de tout ca.
Together they are Piloteando El Desoriente. A quatuor which we will not leave for the next few weeks. These 4 started their trip 2 months ago when they left their hometown of Santa Fe where they've been leaving all together for the past few years. And together they've planned this trip project which does not have a return date. They finance their trip by living their passion: music and juggling. On all the cities they're crossing they go in bars to play music and juggling at traffic lights to gather money to keep travelling. This made us feel really little because if we needed there is not much we know which could help finance our trip this way.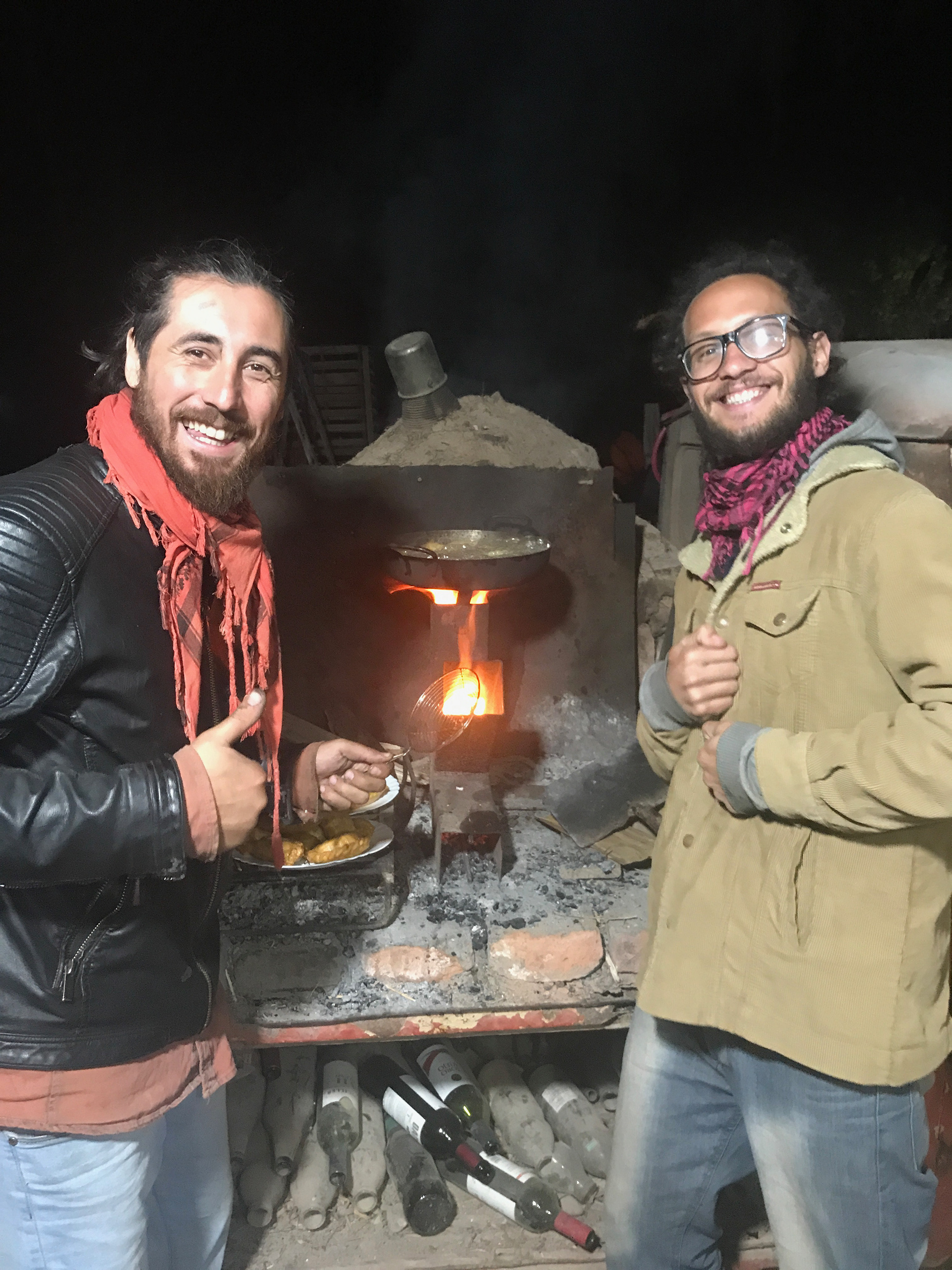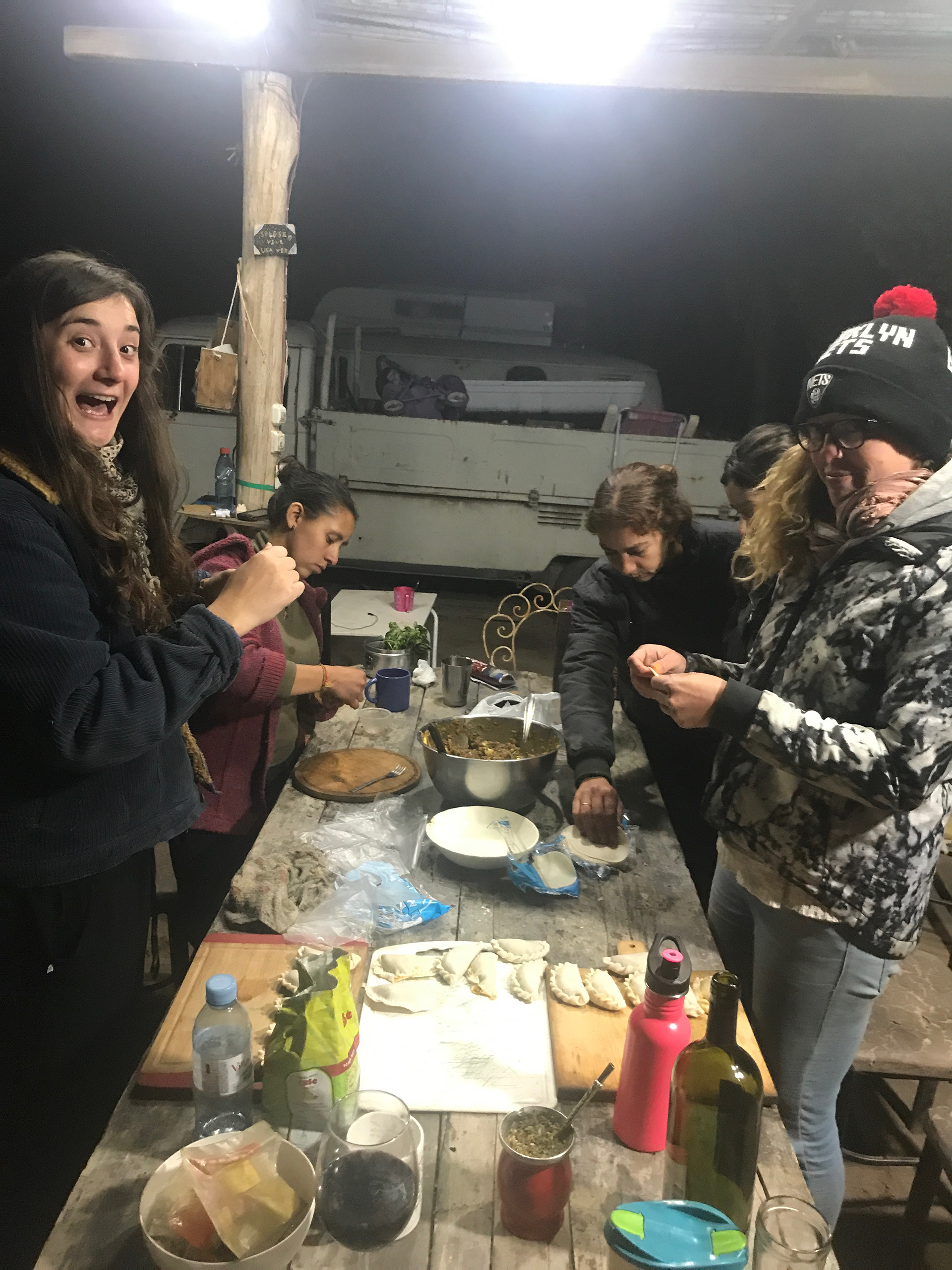 Donc nous avons commencé notre cohabitation tous ensemble dans ce lieu. Vite nous avons emboîté le pas de ces 4 qui ne s'arrêtaient jamais de collaborer à l'amélioration de ce lieu. En les suivant nous avons appris à construire des murs à l'aide de bouteilles de verres usagées, de crottins de cheval et de terre. Oui Oui! Presque chaques soirées étaient rythmées par un repas Argentin au coin du feu. Le plus suivant un Guiso au disque. Soit un grand disque en fonte (déjà rencontré à Bariloche) mis directement dans le feu dans lequel on ajoute tout ce qu'on veut. Le plus souvent des légumes, un peu de sauce, des féculents et puis c'est l'Argentine quand même donc il y a souvent un morceau de viande (Choripan, Poulet…). Et comme nous étions à Mendoza, chaque repas était forcément accompagné de son verre de vin rouge (souvent servi dans un ancien pot de Nescafé recyclé) à partager. Sur ce point pas de changement face à nos précédentes expériences, un verre n'est pas personnel il se fait tourner autour de la table ou de l'asado. Essayez vous verrez c'est plus chaleureux, et peut être un peu plus difficile de contrôler sa consommation…
This is how we started our cohabitation together in this place. Rapidly we follow those 4 whose never stopped imagining and acting to make this place a better one. By working together we've learned how to build a wall with used glass bottles, horses shit (yes!) and mud. And each evening we got the chance to experience a new Argentinian meal. More often a Guiso cooked in the disco. The disco we've already experienced in Bariloche. A huge metal disc which can be put directly in a fire. And on it we can put vegetables, pasta, rice and as it's Argentina after all more often meat! And as we were in Mendoza ( the international city of Wine) almost each meal where shared with a glass of red wine ( drunk in an old Nescafe bottle) to share. On this point nothing changed from our experience in Bariloche. A glass isn't personal you have to share it around the table or the asado. Try it you'll see it's a warmer experience but it's also more difficult to keep control of how much you're drinking...
This is how our days passed. During the day we were working collaboratively for the refuge and at night we've shared unique moment with those 4. And many time we got the chance to be invited in Walter's house to try Judith's meals. Yummy! And quite nice to get in their warm home because if we arrived in April under the sun, quite quickly we had to double up the layers. As winter comes quite fast and can be quite cold with minus 11 degrees at the worst times.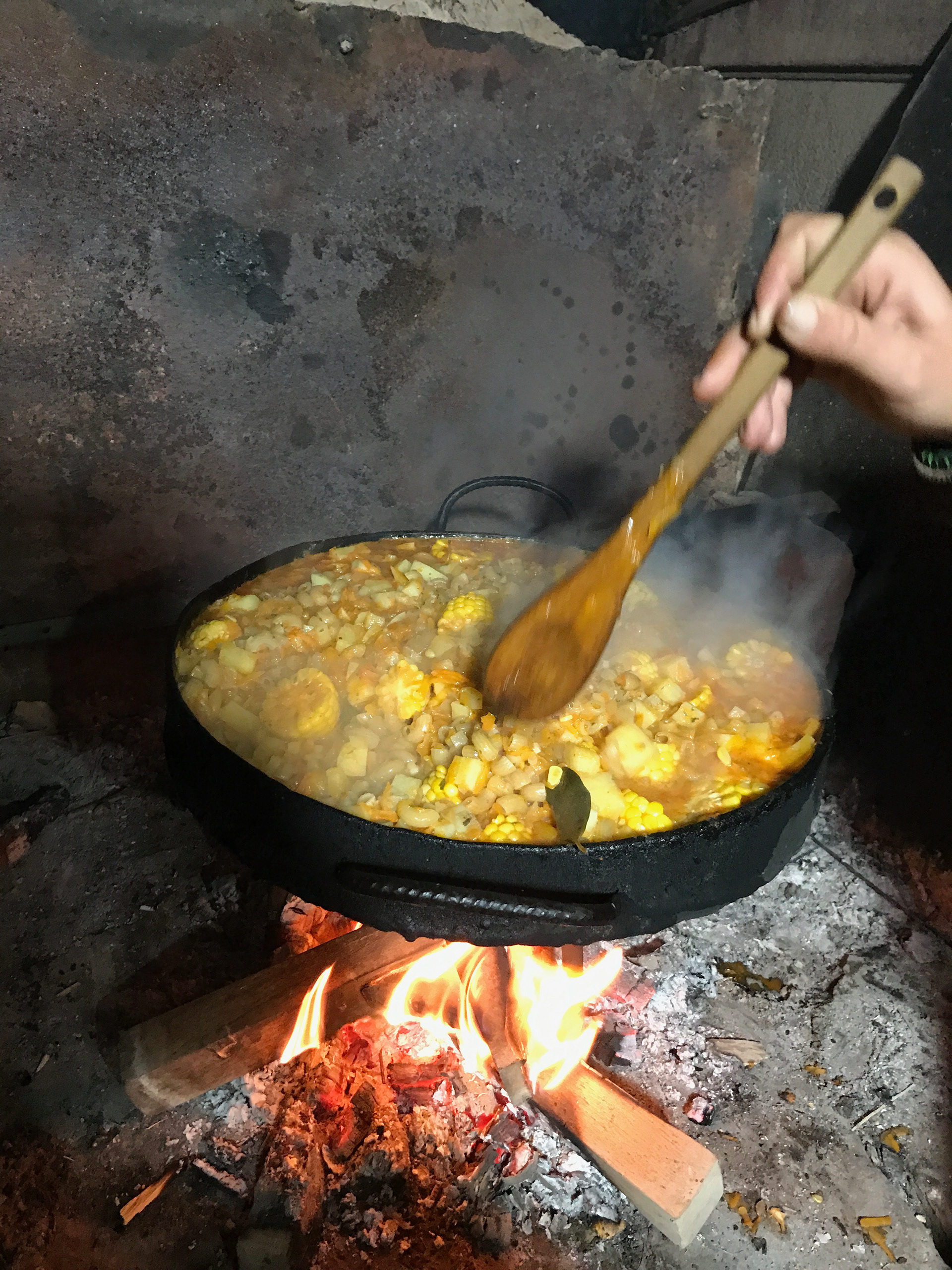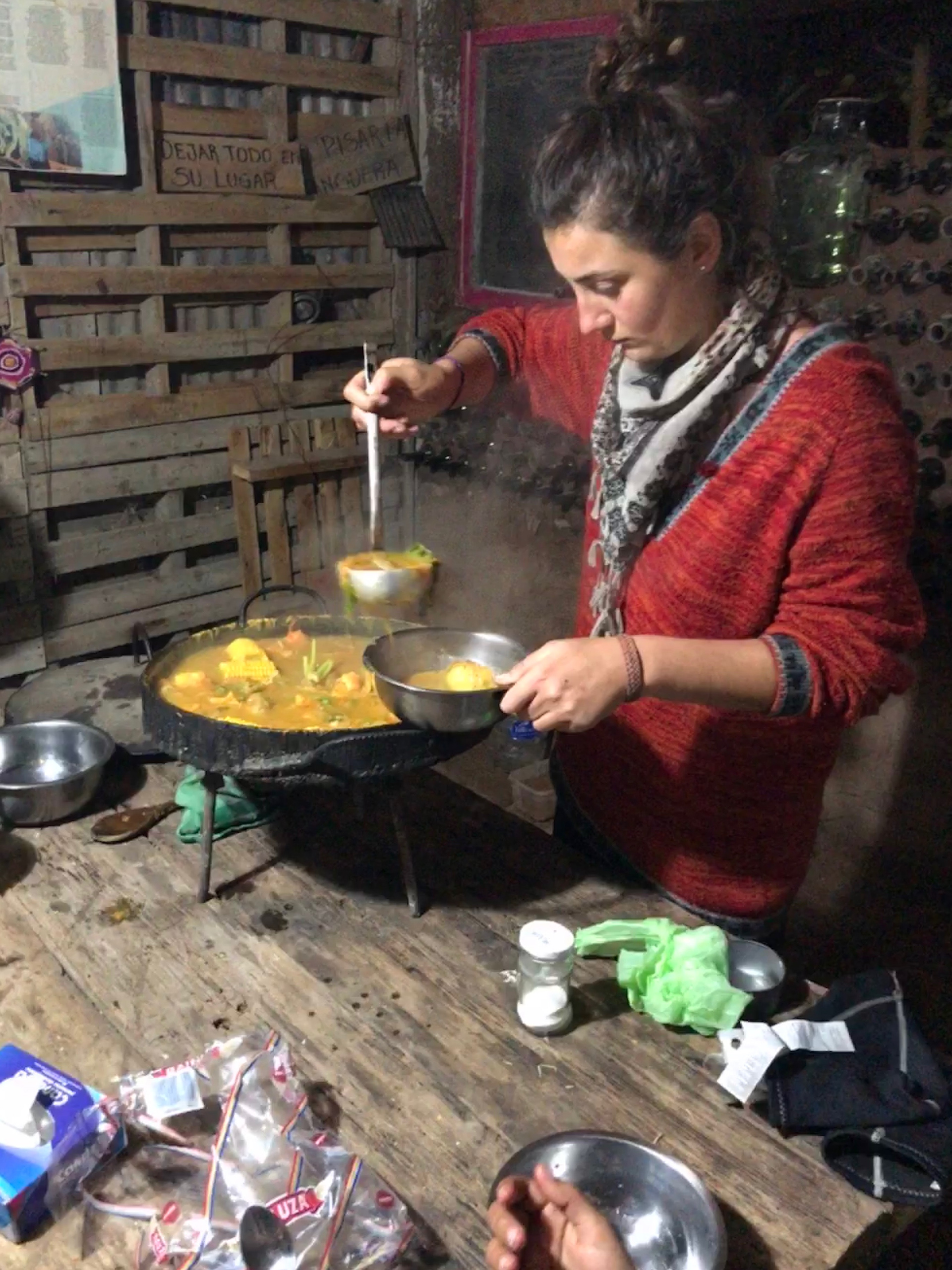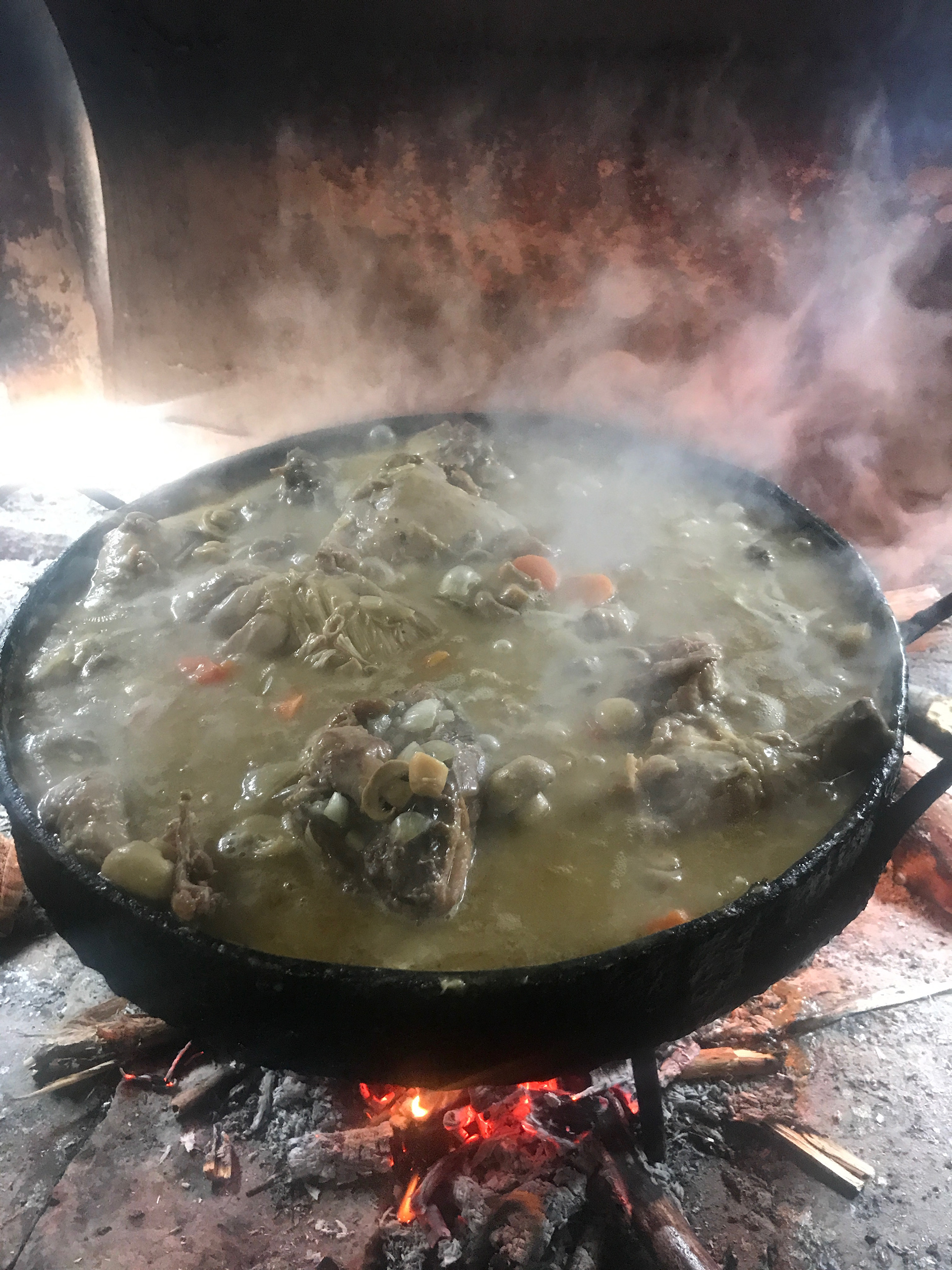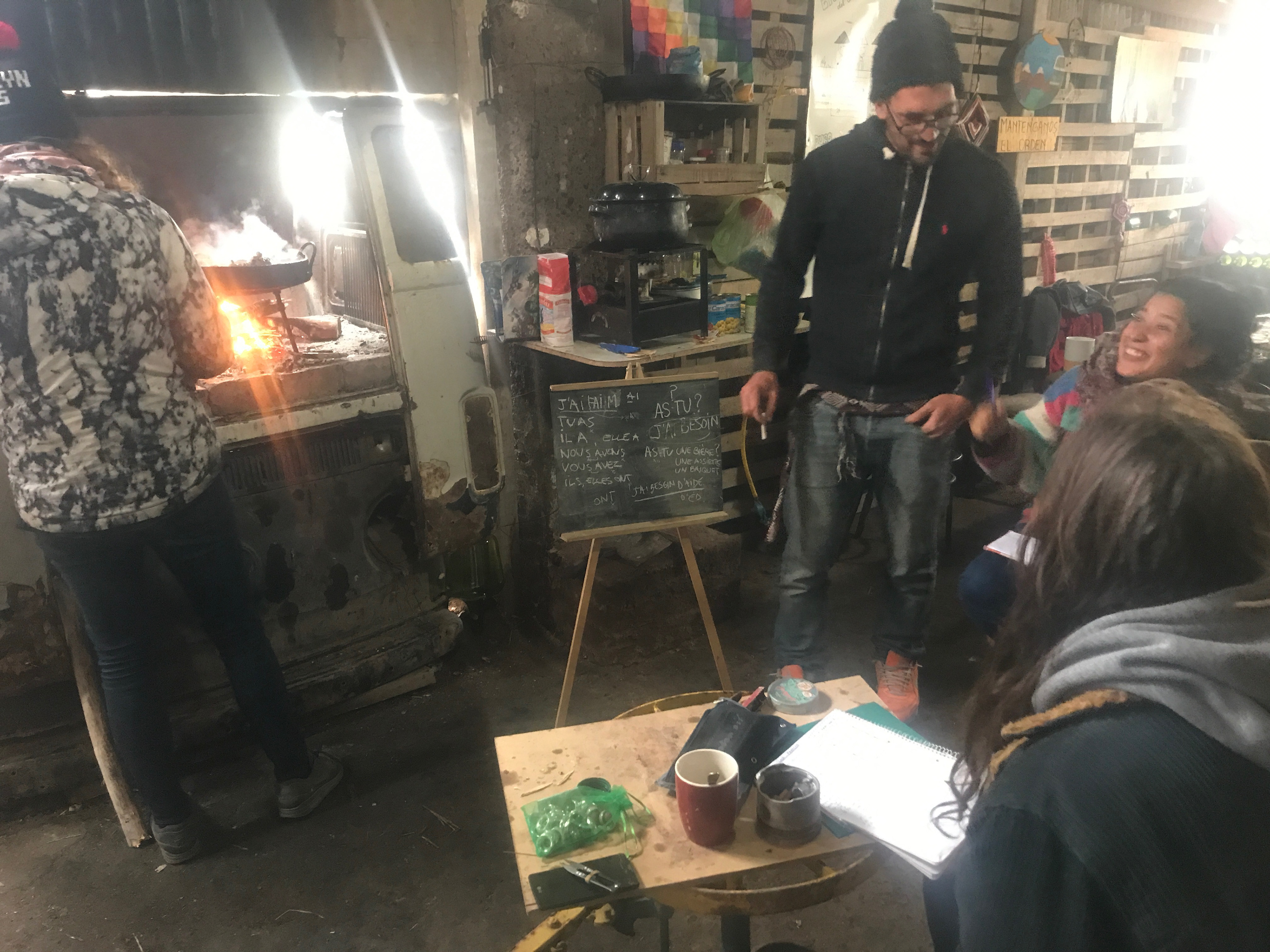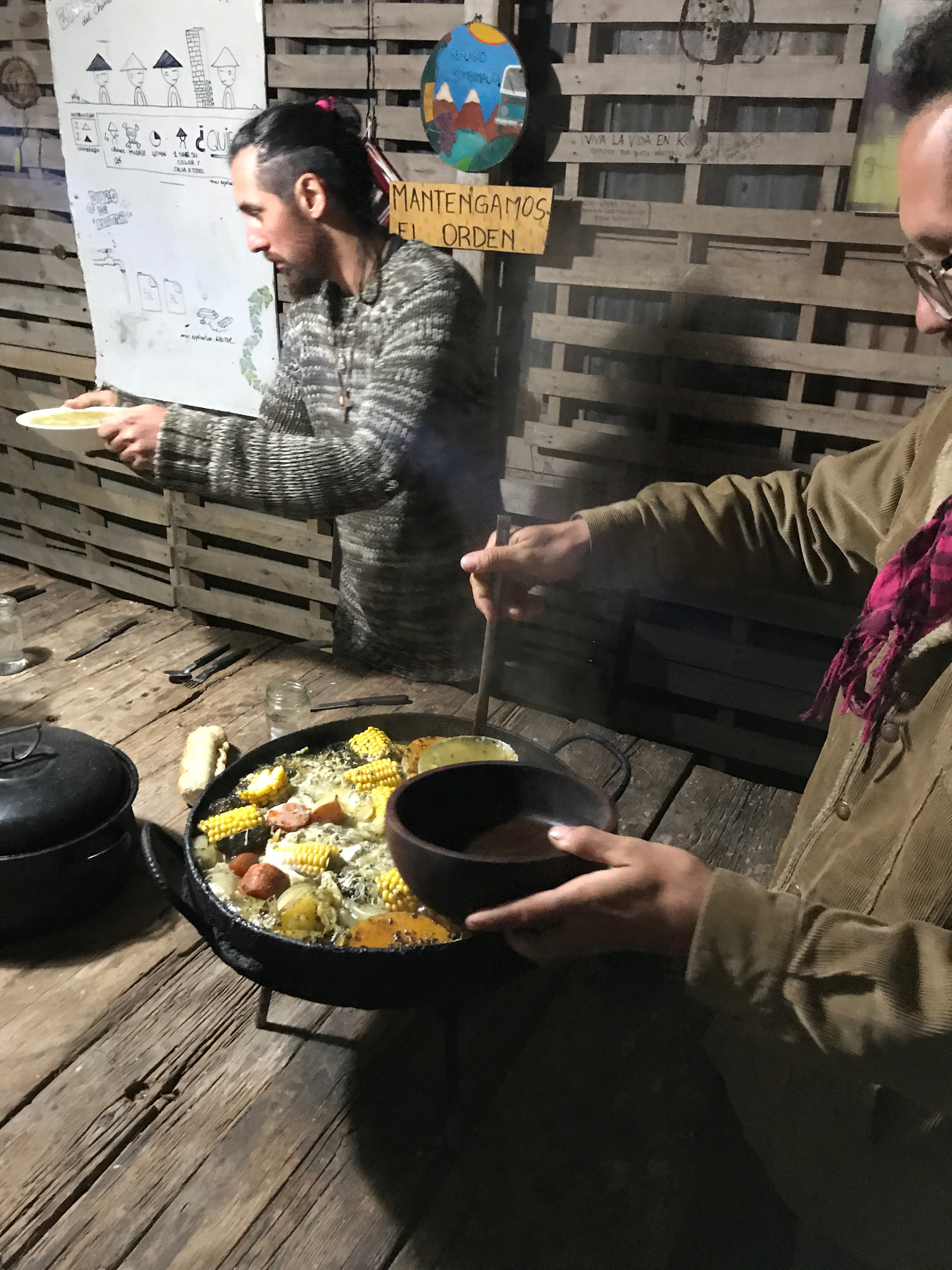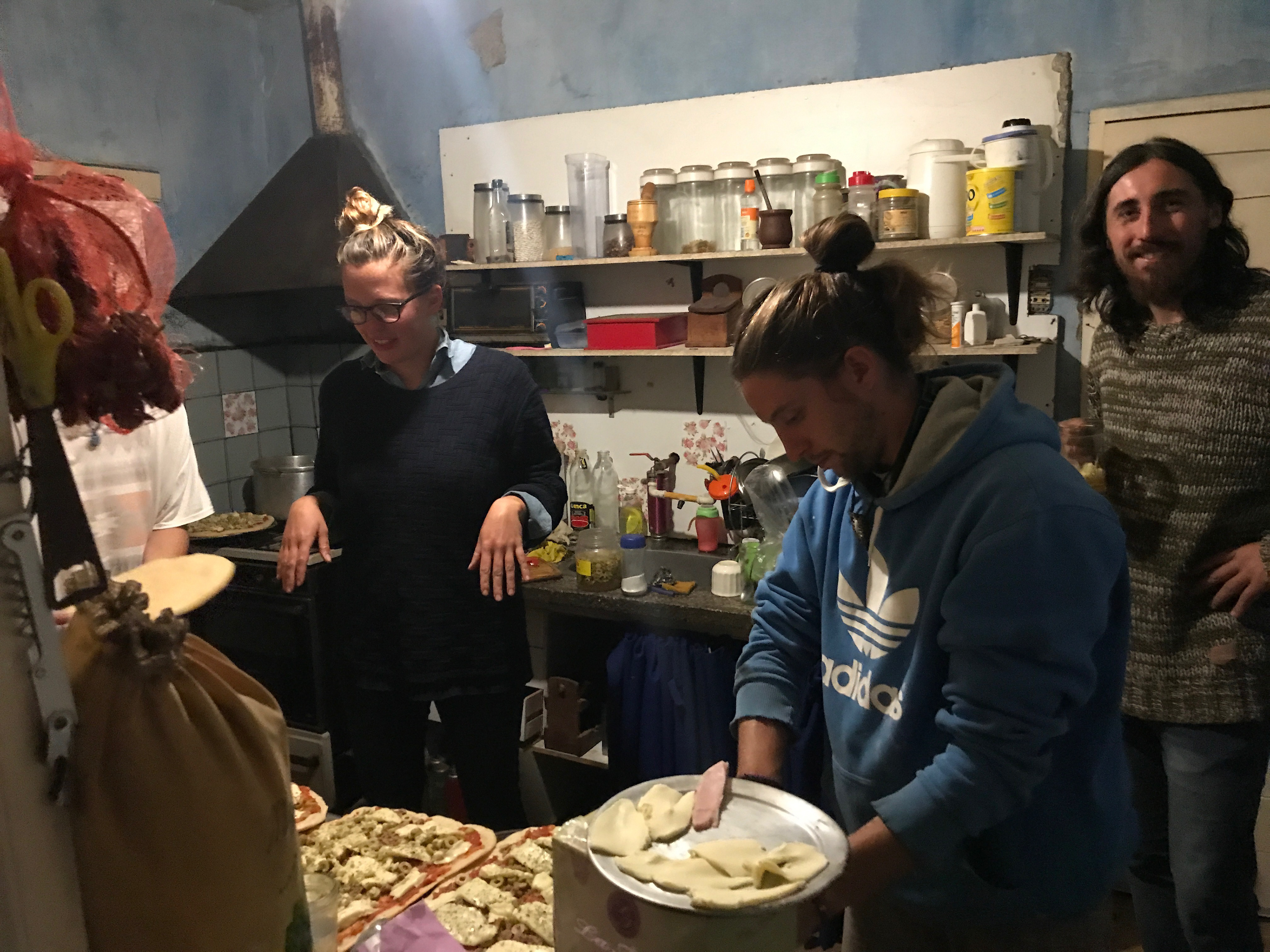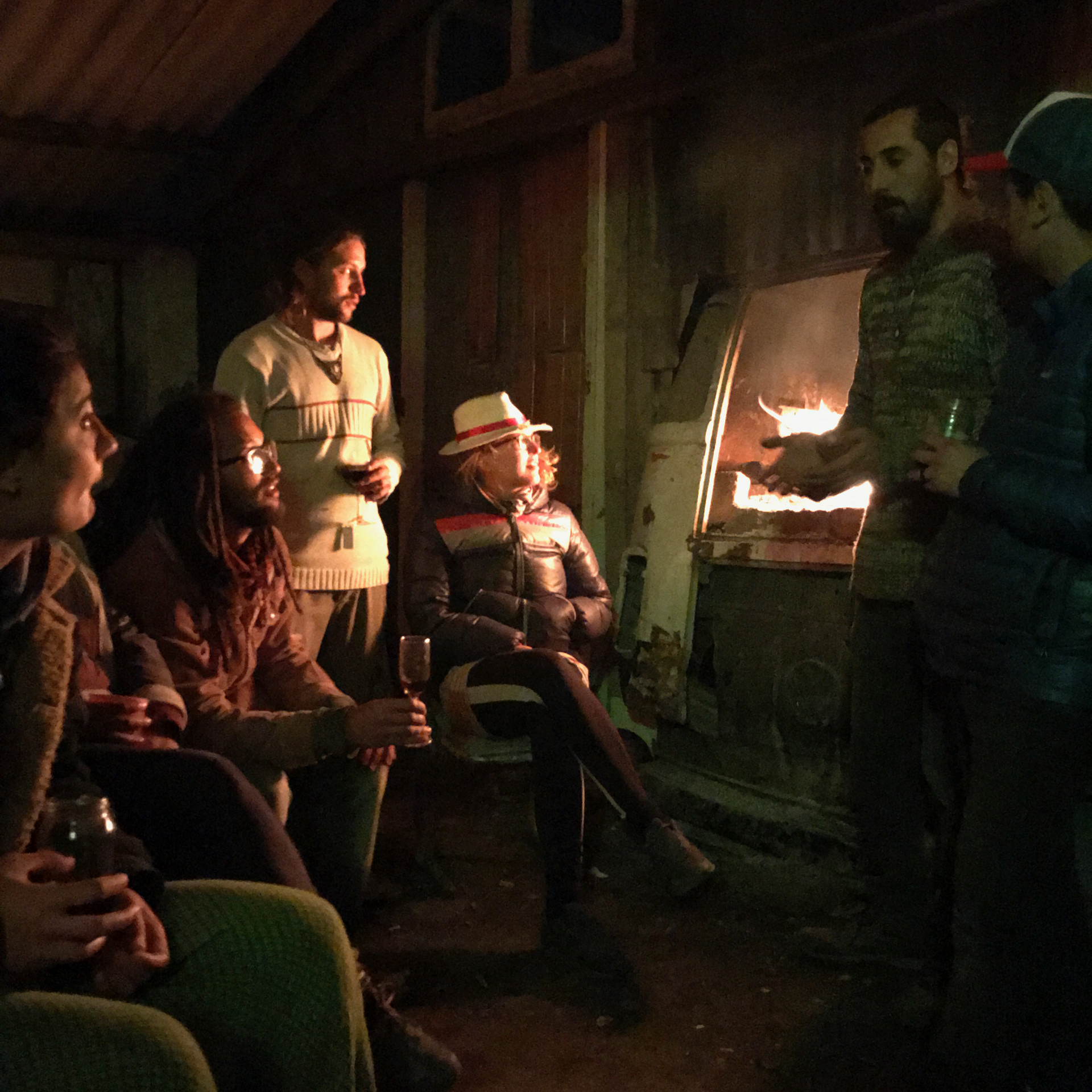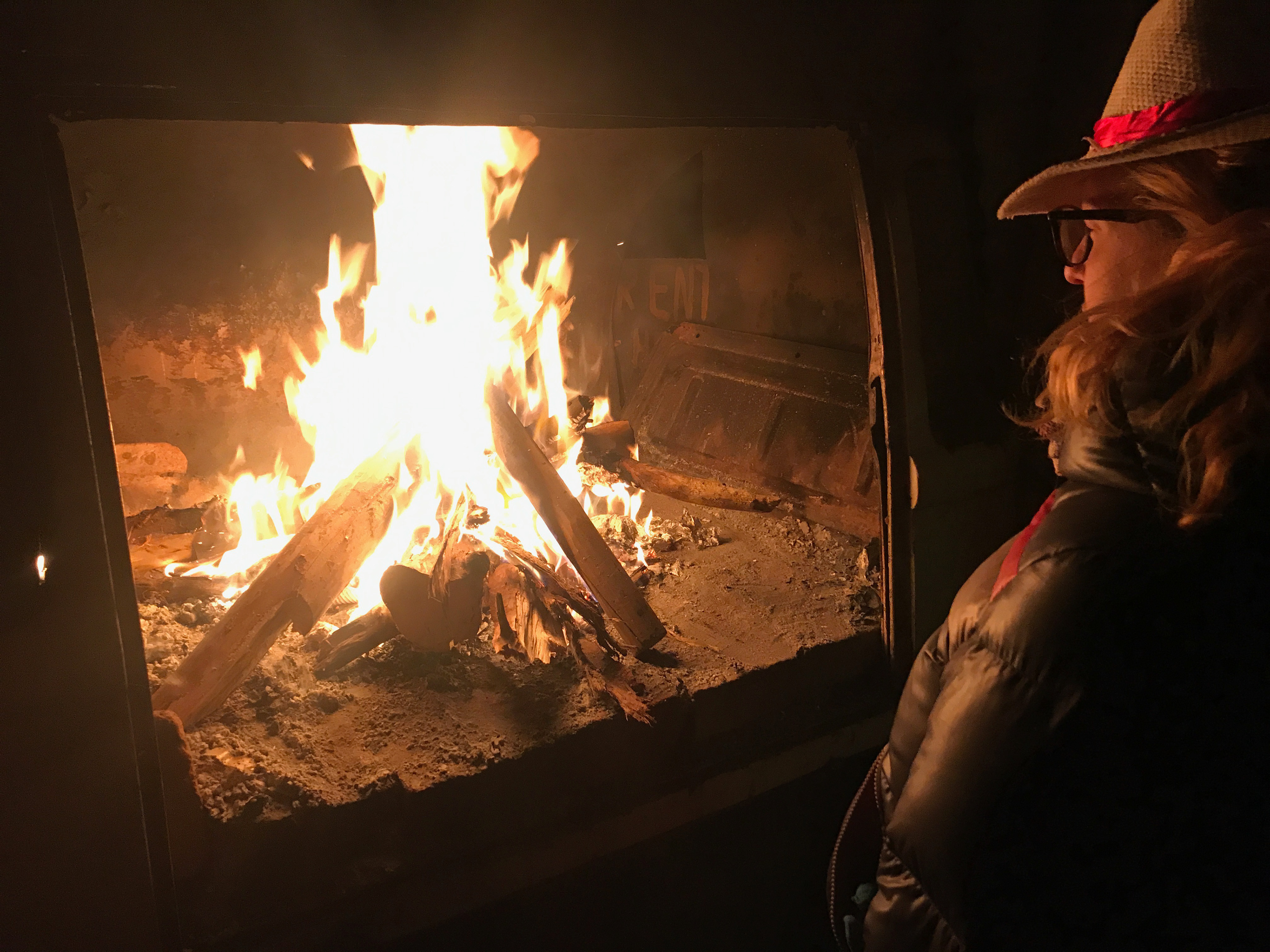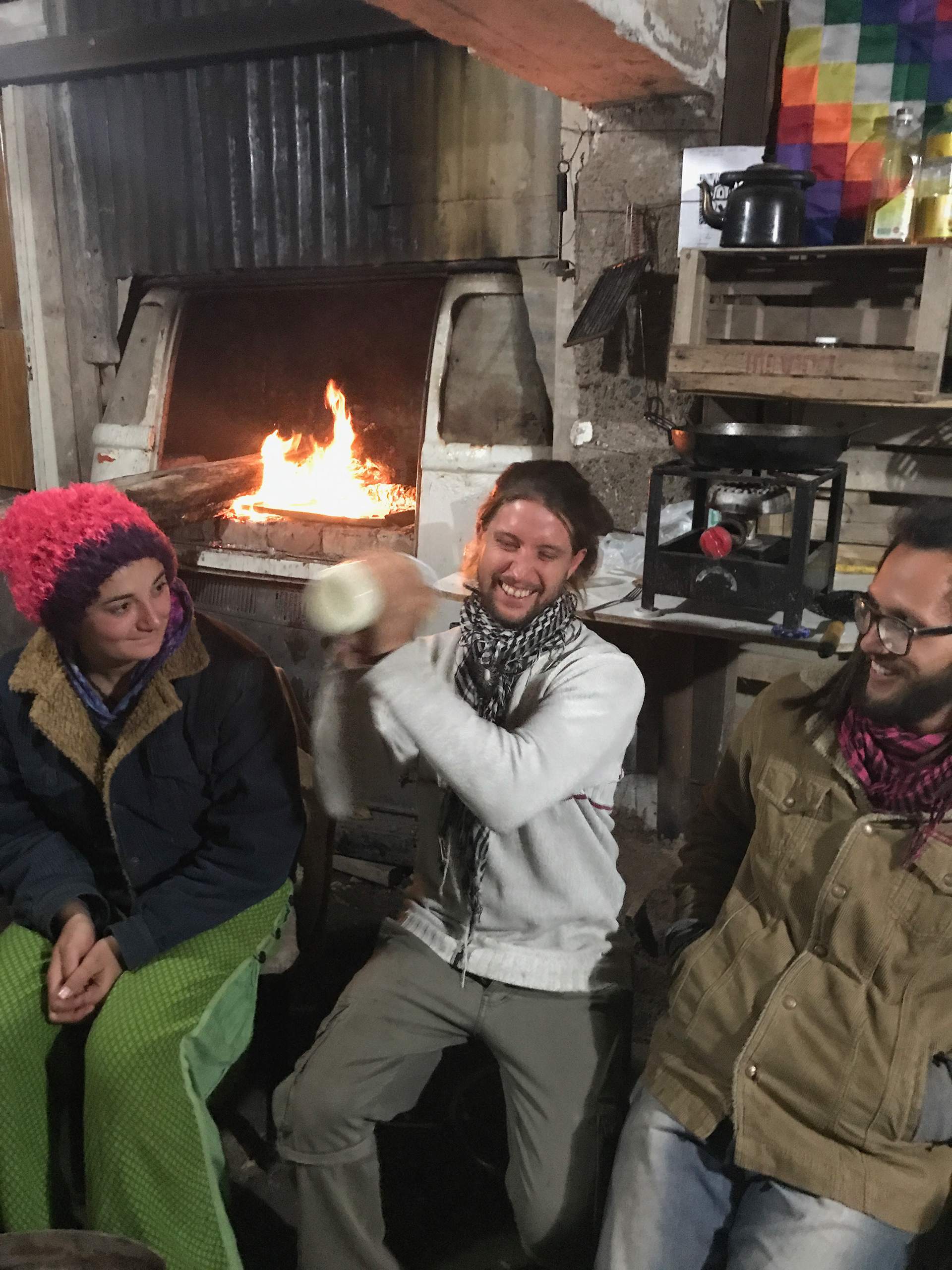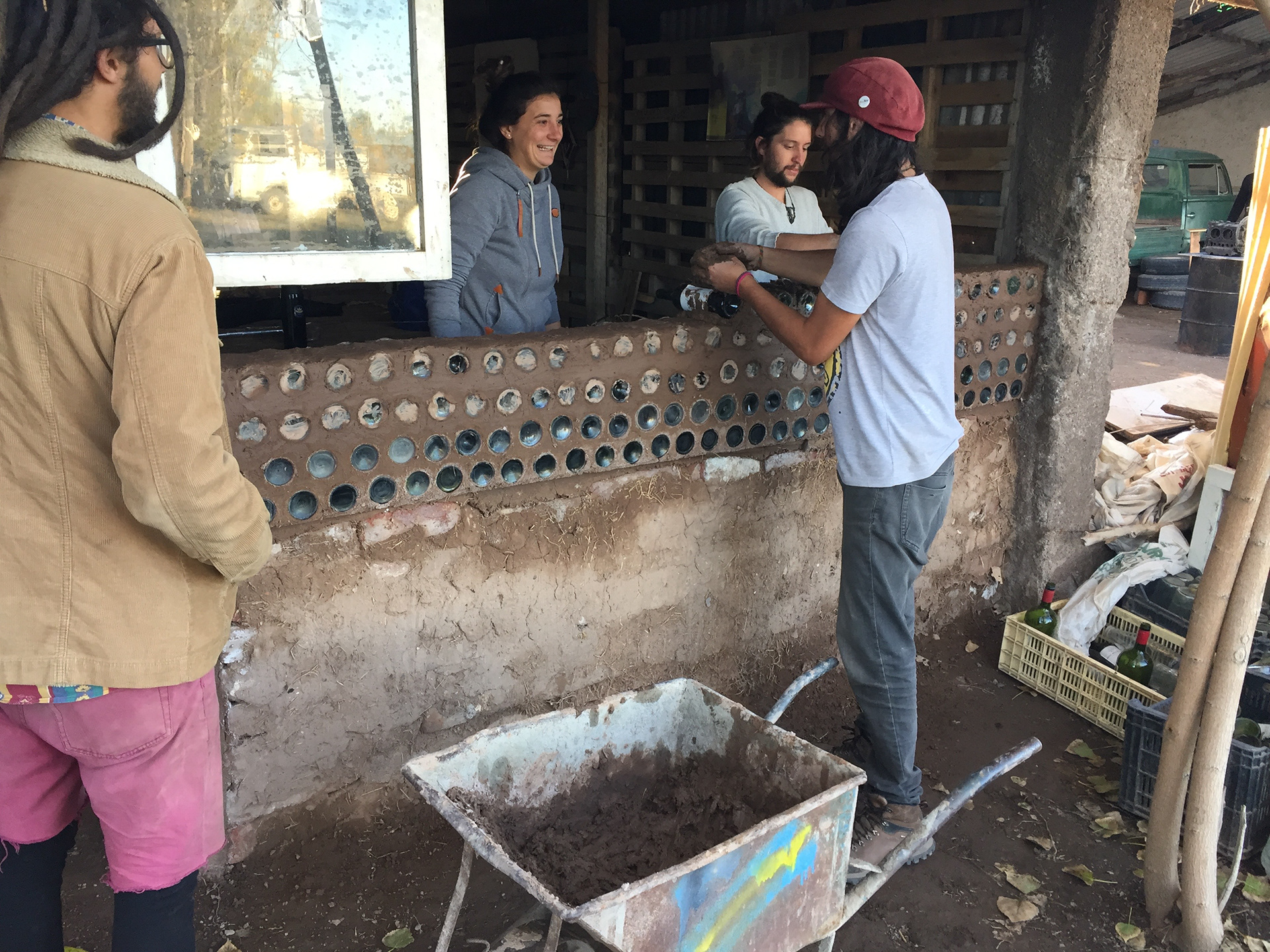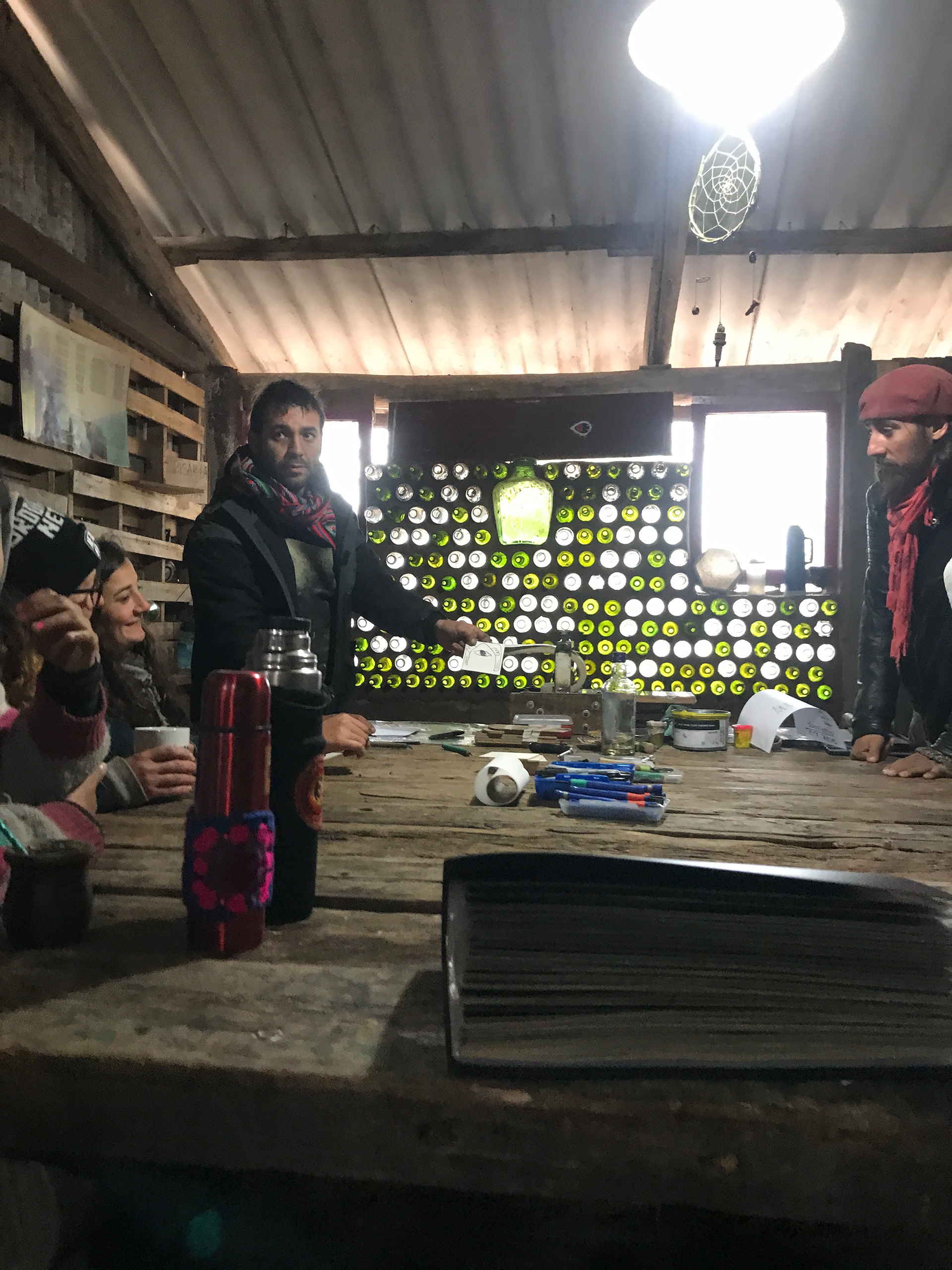 Rapidement nous entamons des travaux de rénovation dans notre Kombi! Puisque c'est quand même le métier de Walter! Avant tout on se met d'accord sur la globalité du projet et signons ensemble un bon de commande… je plaisante bien entendu, on se serre juste la main et c'est parti! On change tout! Chaque jour Amaury travaillera dans l'atelier ou tout le matériel professionnel est à disposition de chacun. Conception et réalisation du meuble de cuisine, des meubles de coins, des panneaux latéraux avant et arrières, des volets, des rideaux, des rangements de portes, de nouveaux sièges, un nouveau pare-buffle, nouvelles tables ainsi que quelque retouches peintures et beaucoup de vernis …. Voici ce qui en fil rouge nous a occupé une bonne partie de nos après midi quand Walter était disponible….
And we also started to renovate our Kombi, as this is what Walter does best!
With no formal contract we just discussed, agreed to change everything and there we go. Everyday Amaury worked (and played around) in the workshop where Walter's got all the professional material everyone can use. Imagine and realise the furniture is quite a task where you have to think about the fact that it isn't a normal kitchen. It's a kitchen on wheels! We're now the lucky owner of a van with a new kitchen, a rotative seat, a new table… It took days and days to finish, varnish and install. This is also what occupied us everyday when Walter was around.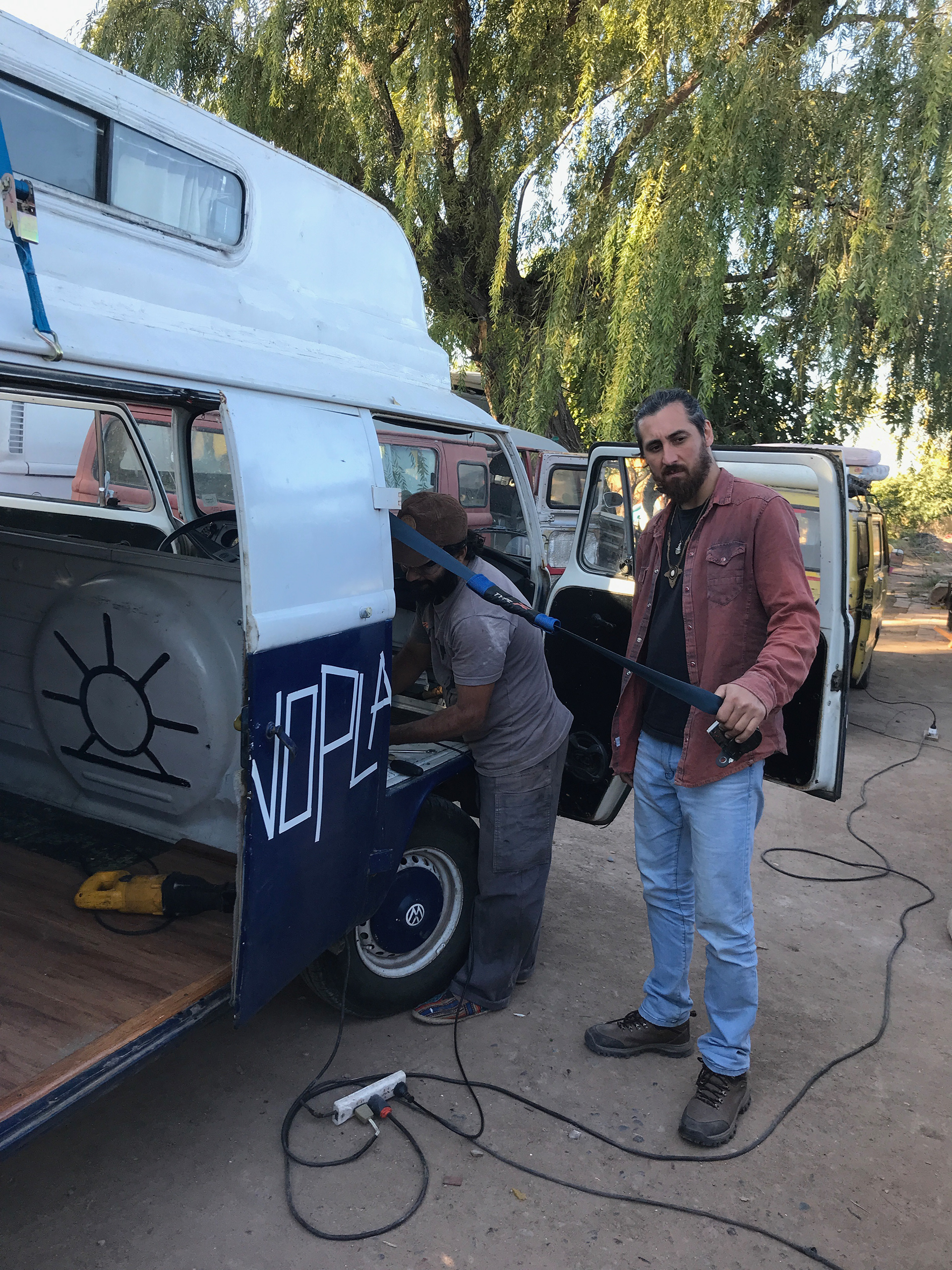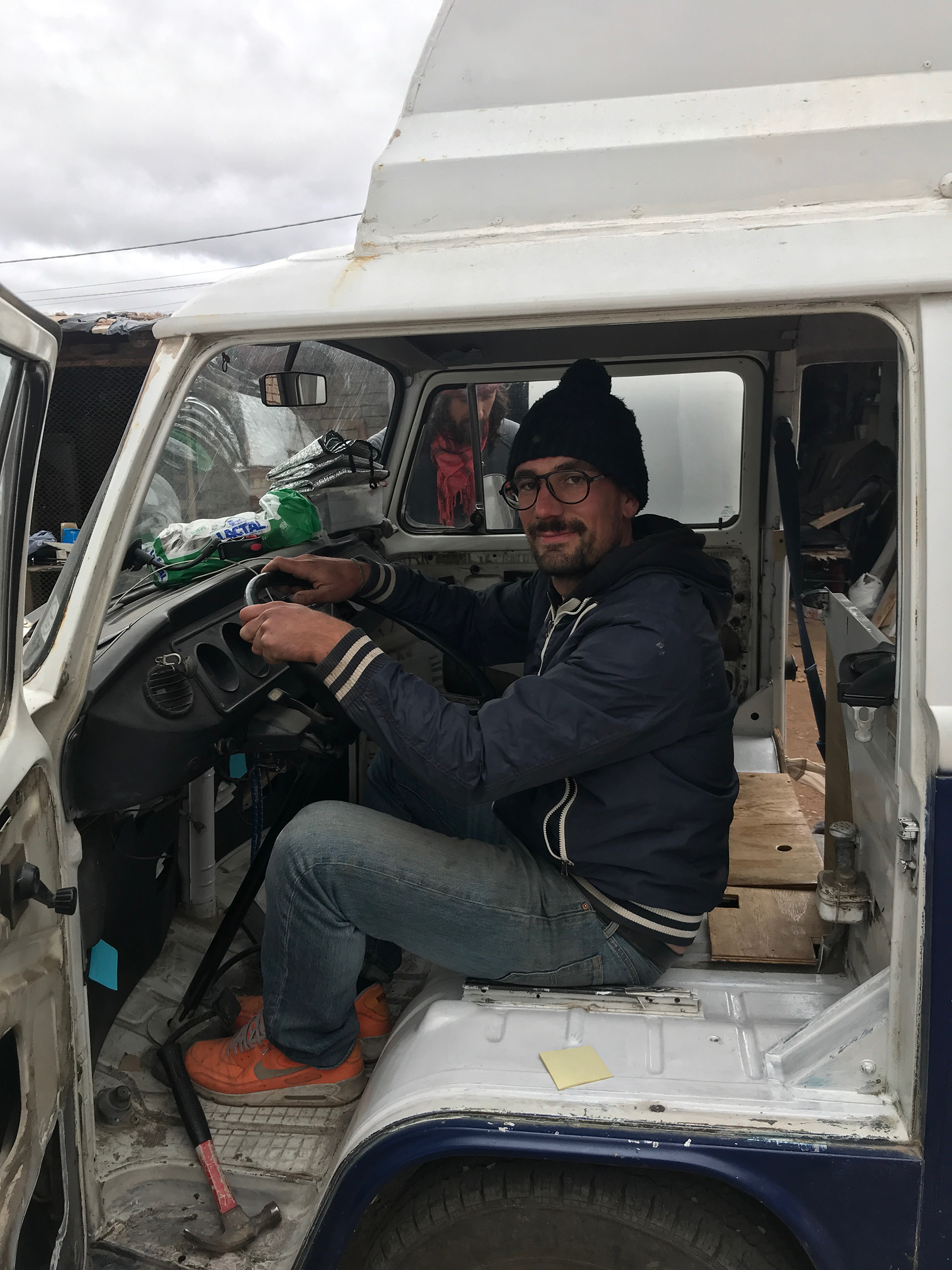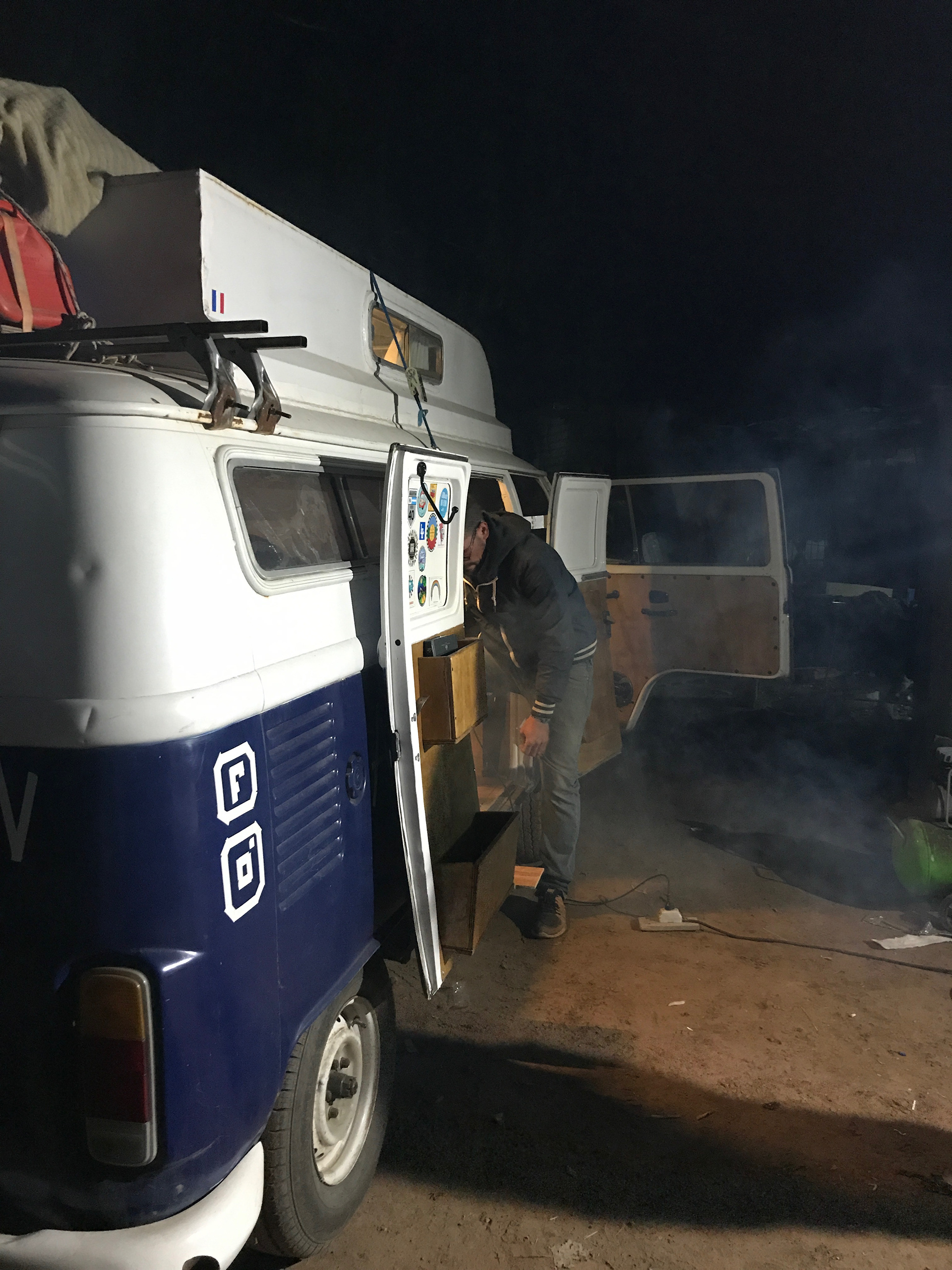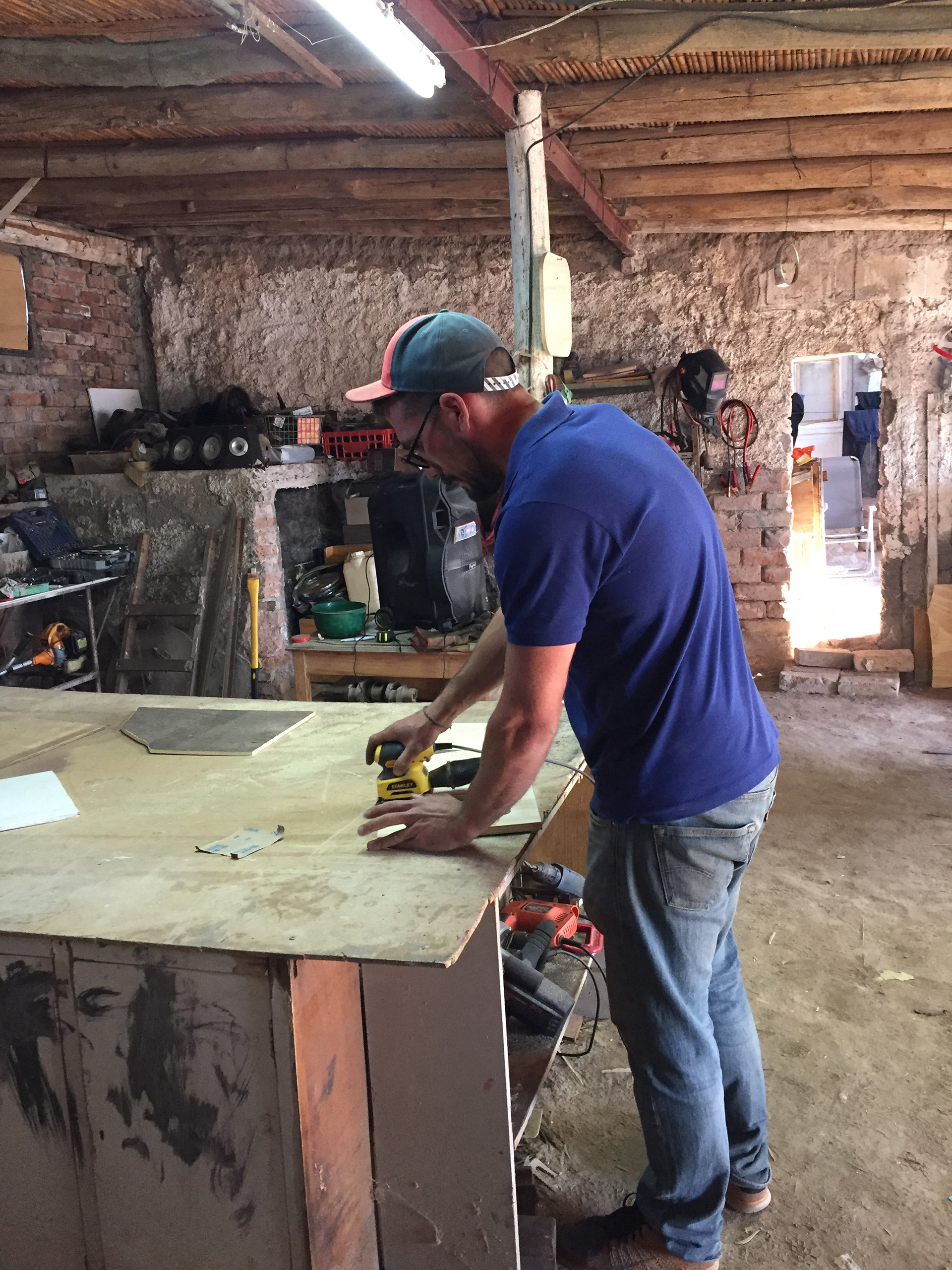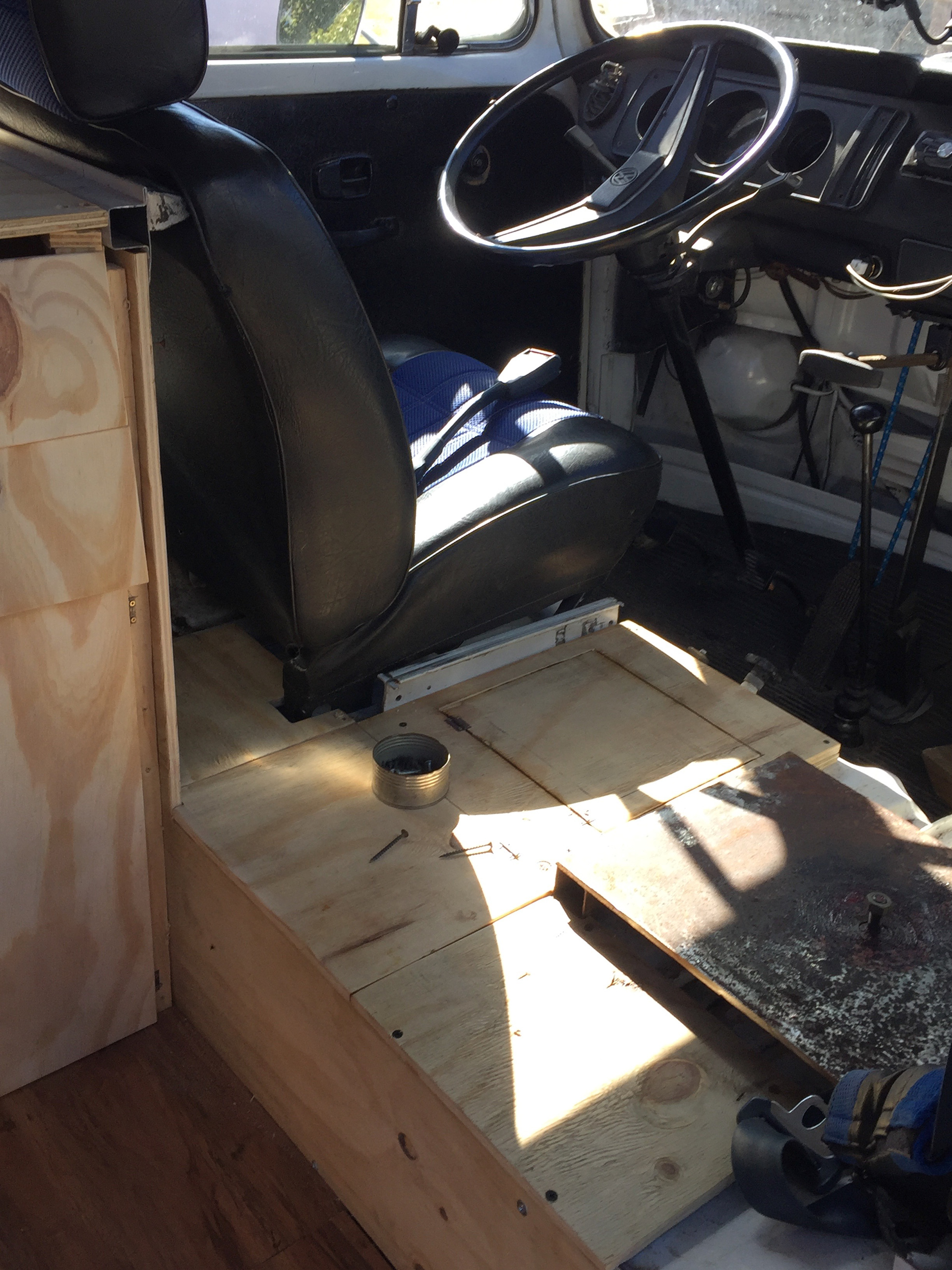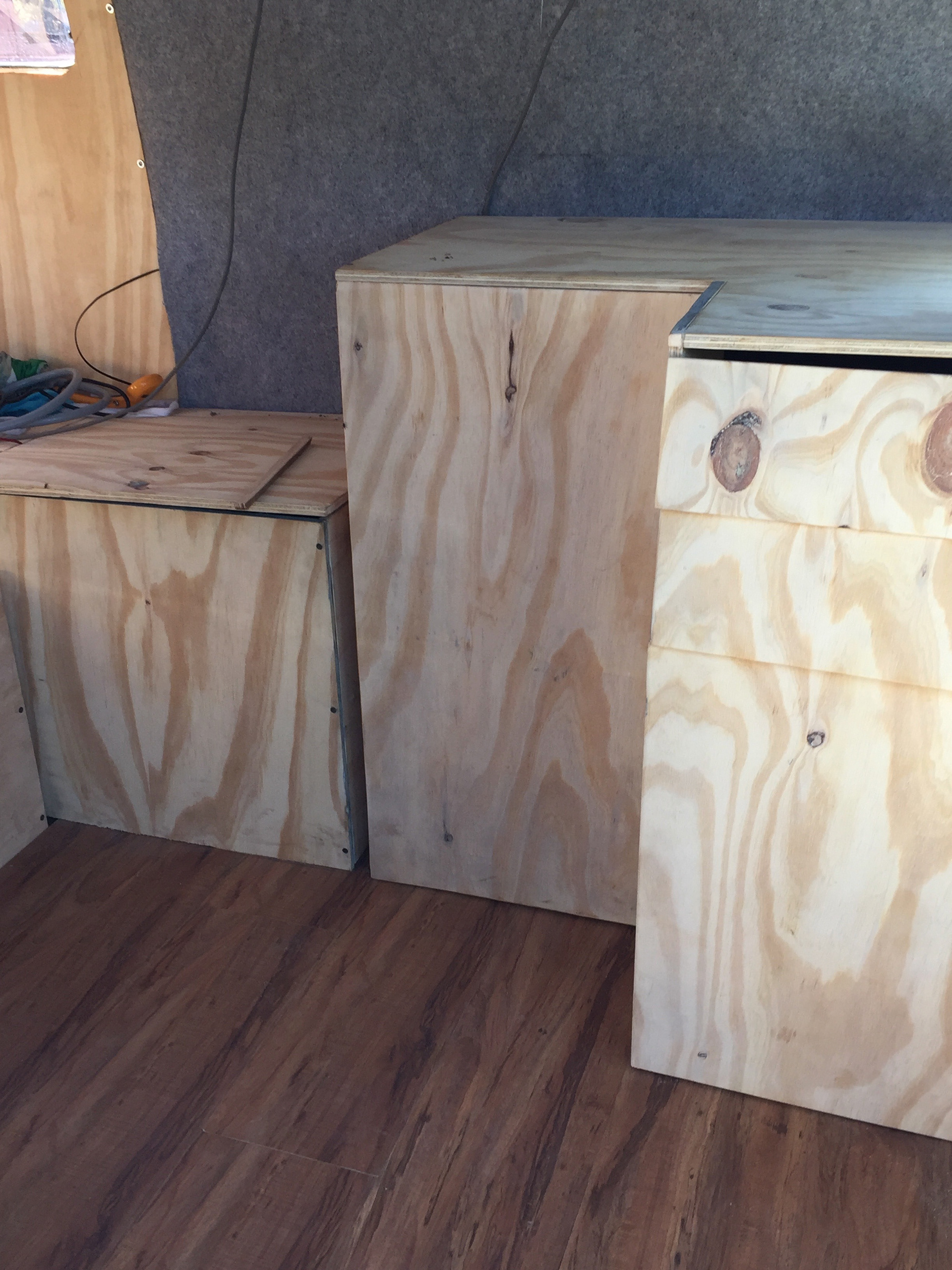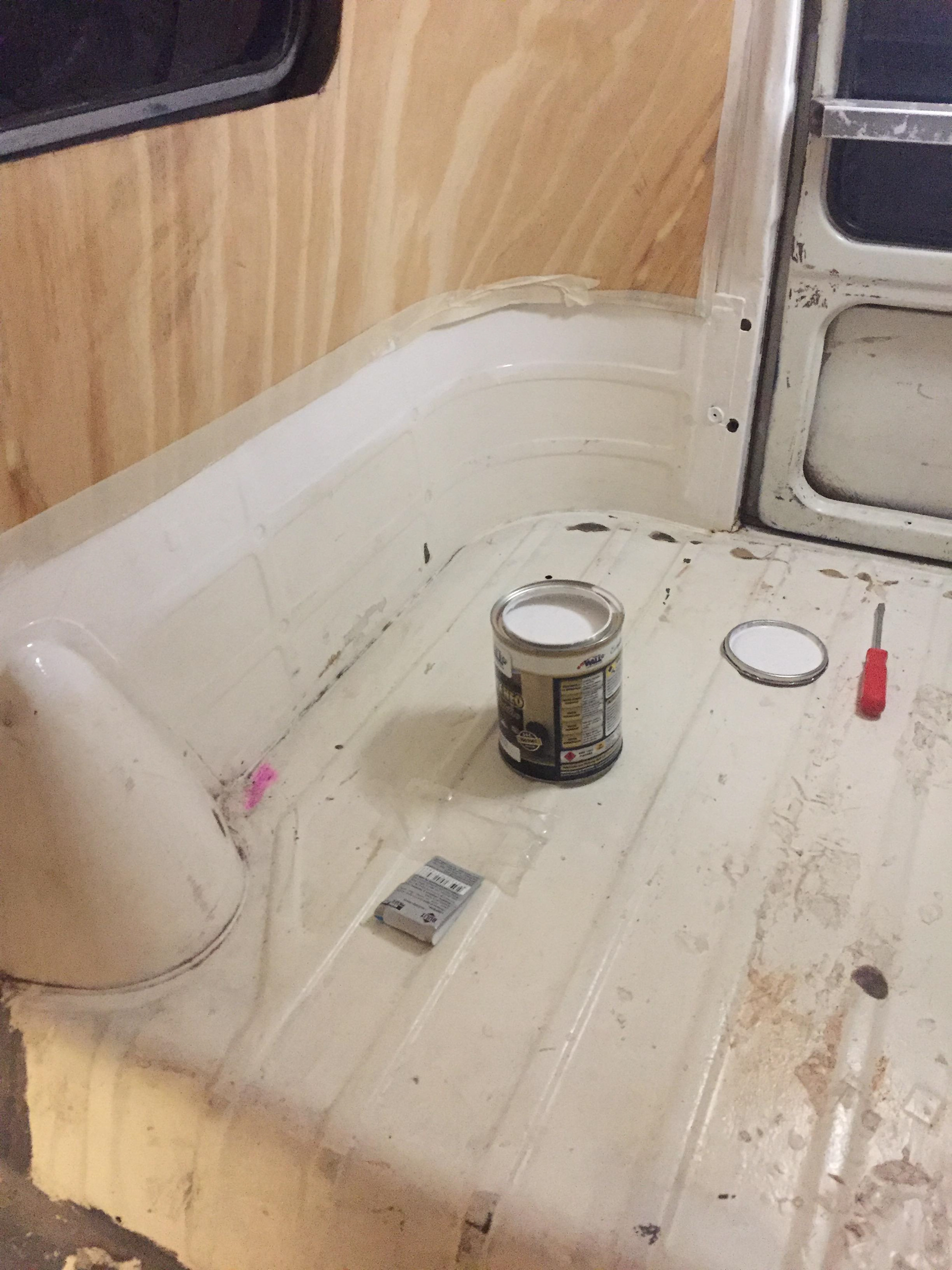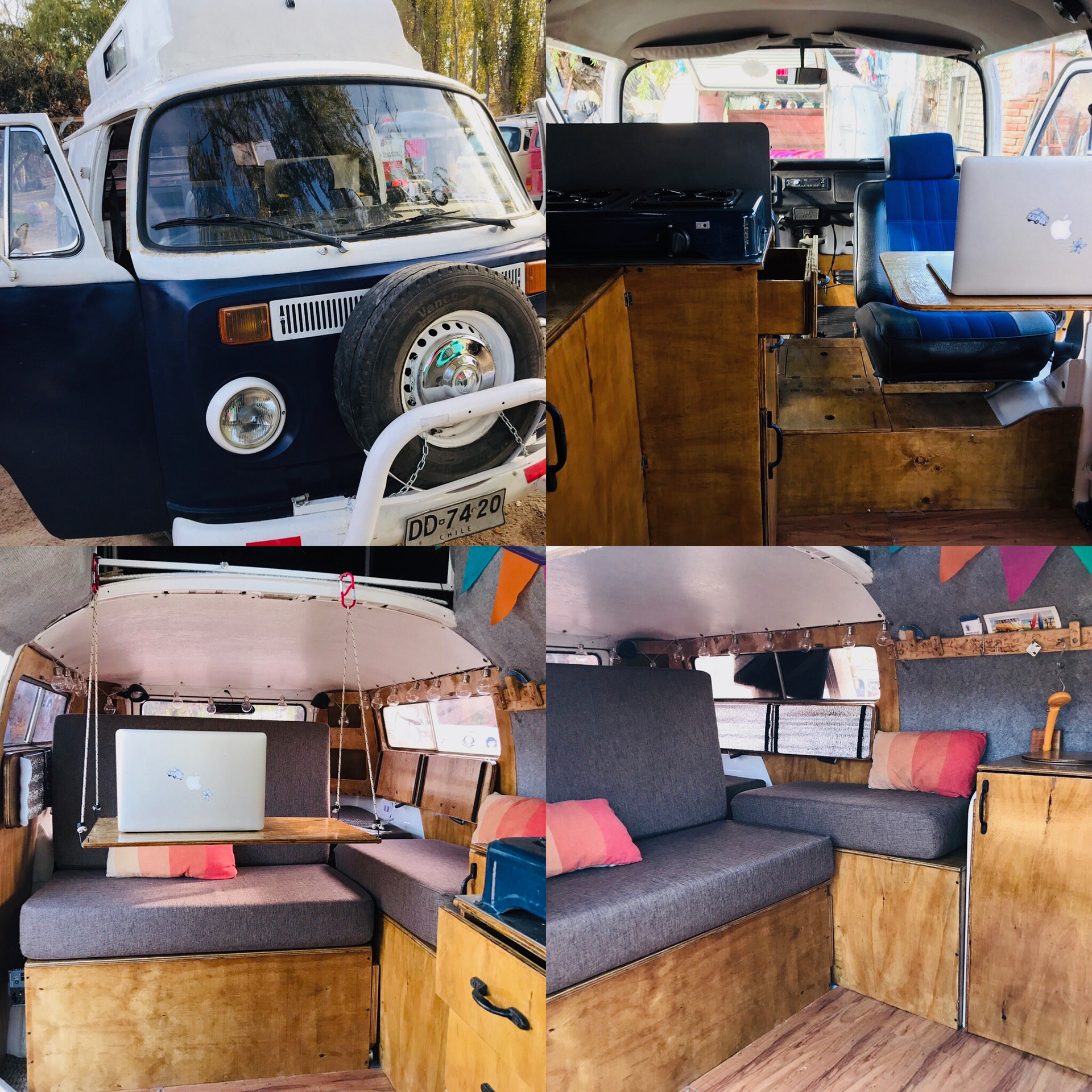 Avec un peu de retard, deux semaines qu'en même, nos amis de la Jugandera arrive enfin <3. Nous voyons également débarqués de nouveaux arrivants Chiliens: Pedro et Jocelyn. Presque chaque jour de nouveaux Kombis débarquent en provenance de Colombie, France, Suisse, Costa-Rica… et repartent après quelque jours.
Tous ensemble nous faisons vivre ce lieu incroyable où chaque jour nous apprenons, nous changeons. Pedro nous donnera la chance de partager sa passion pour la Xilographie et Jocelyn nous initiera au massage thailandais. La Jugandera habille le lieu de leurs couleurs et leur magnifique état d'esprit. Nous jouerons même toute une journée lors de la Journée international du Jeu (le 28 mai).
With a bit of a delay on this initial meet up date (2 weeks) our friends from La Jugandera finally got there <3. And we've also seen new long stay travellers arriving from Chile: Pedro and Jocelyn. And almost every 2 days we met new travellers only staying for a few days: Colombians, French, Swiss, CostaRicans…
All together we made this place where we've learnt new stuff every day. Pedro share with us its passion for Xilografia and Jocelyn gave us the chance to try Thailandese Massage. La Jugandera also managed to dress up the place with their colours and their party spirit to make us all play for the international game day on May 28th.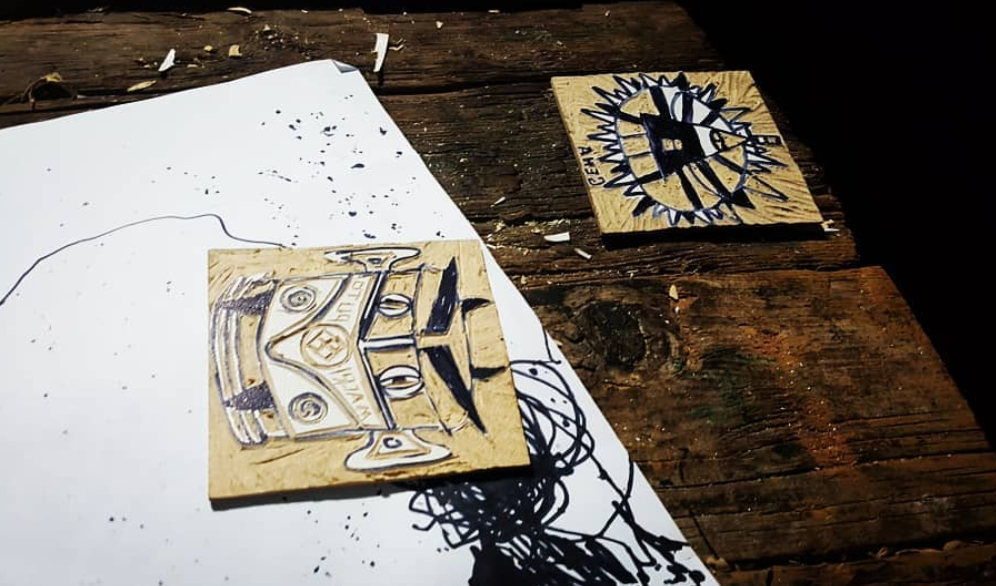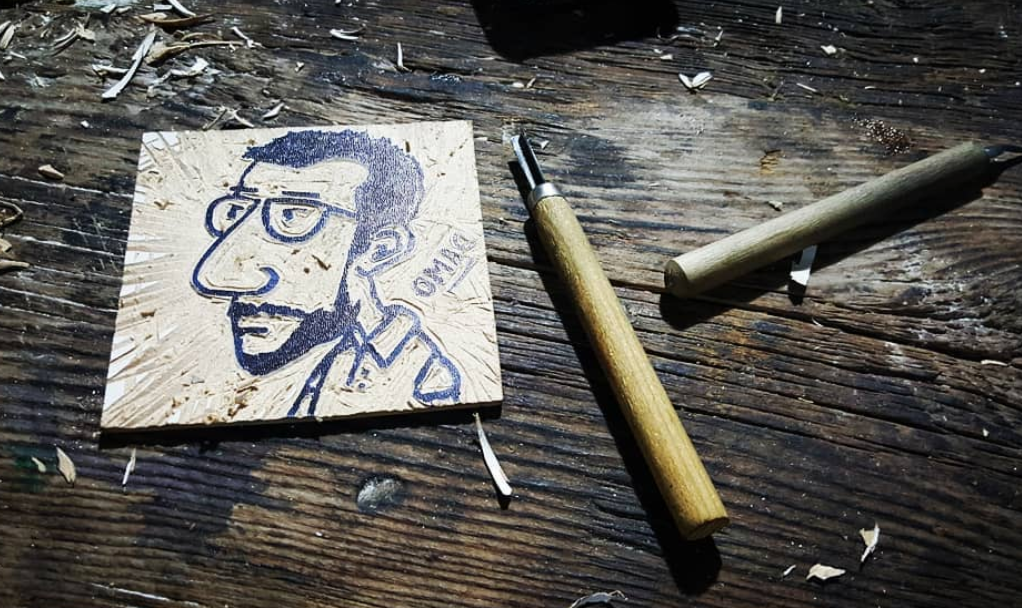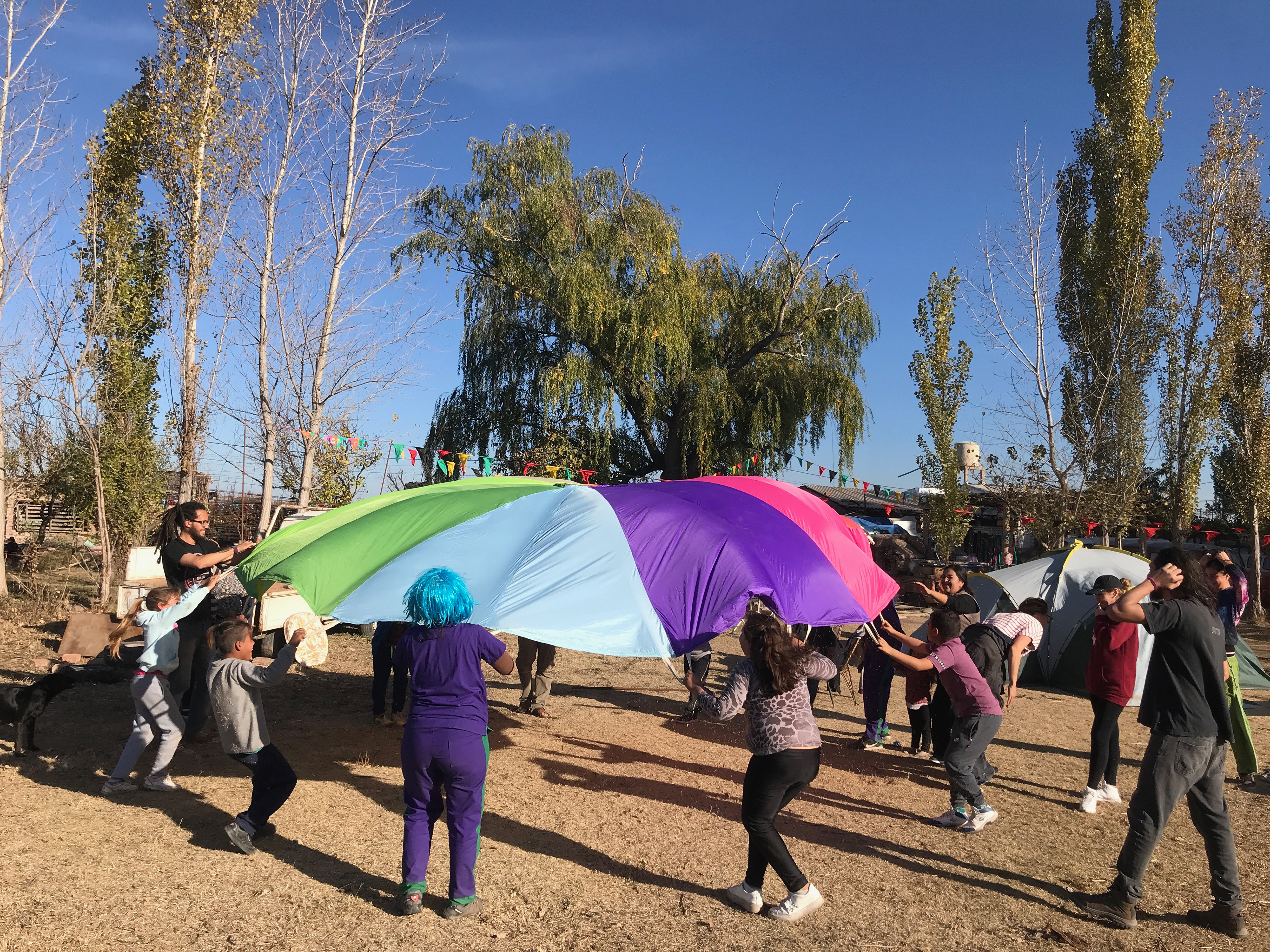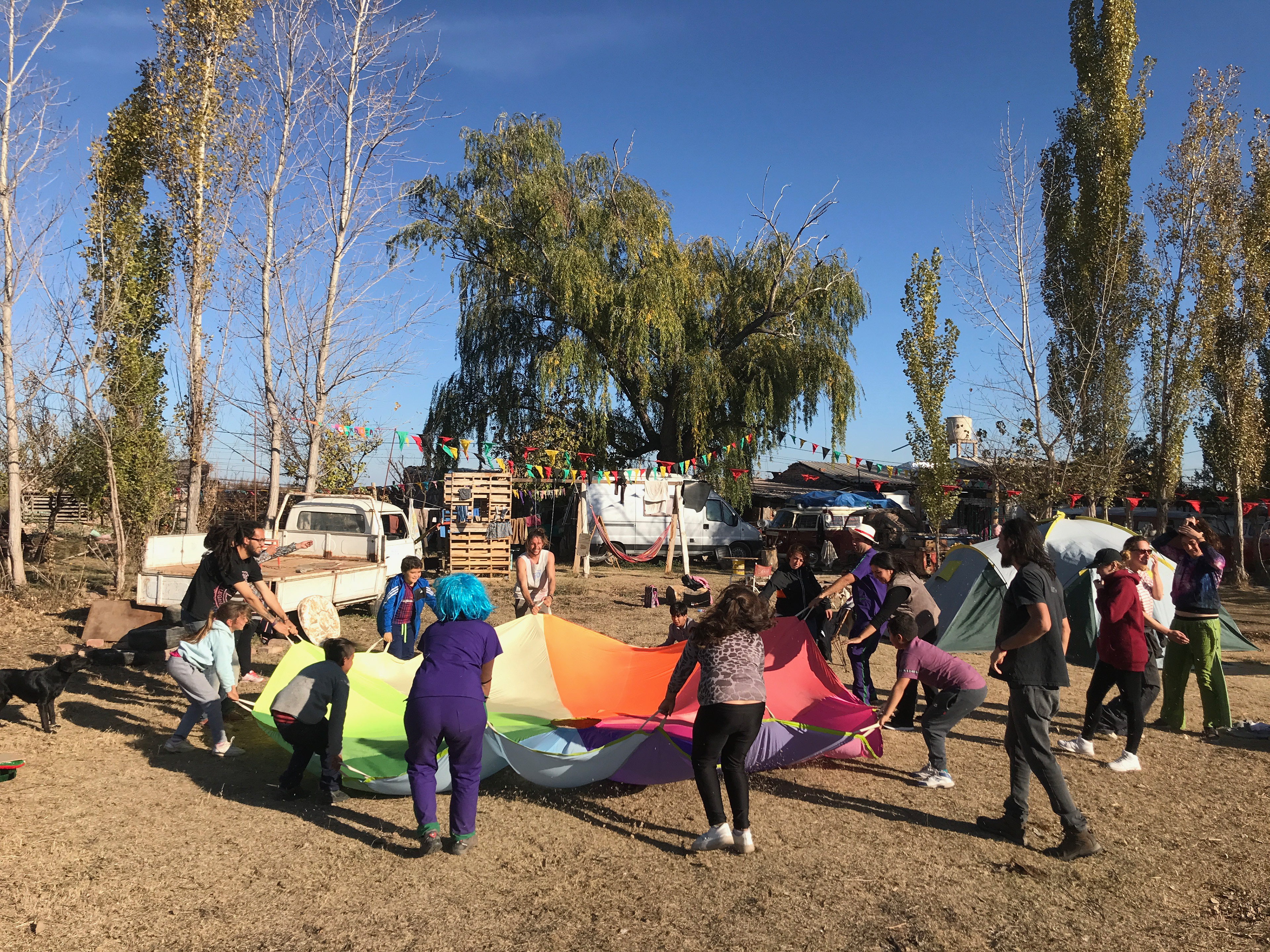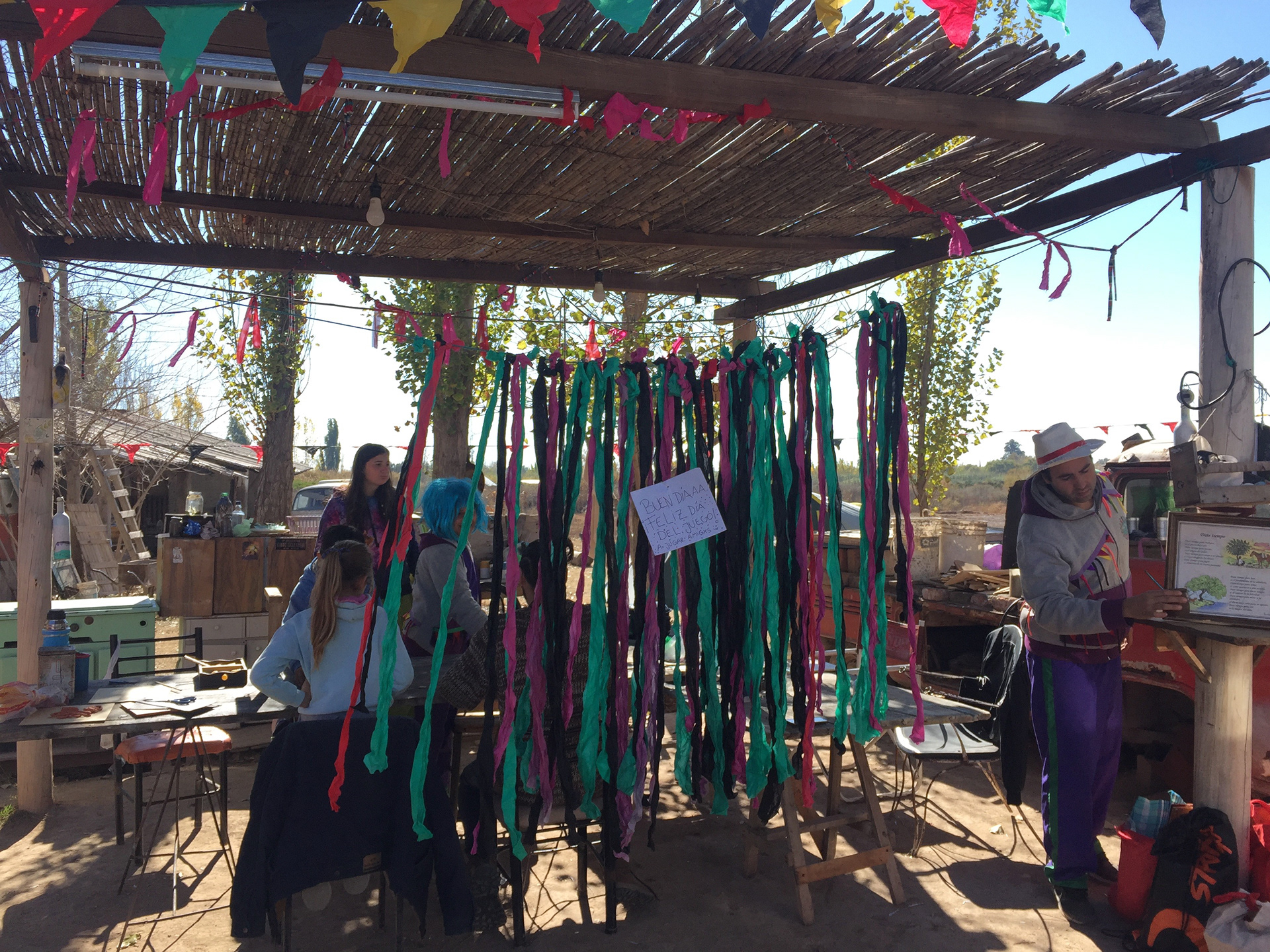 Ici la simplicité n'est pas une qualité c'est un pré requis. Vous n'impressionneriez personne parce que vous apportez une bouteille de vin (ce que nous avons innocemment fait au départ) ou parce que vous avez voyagé aux quatres coins du monde. On ne sait toujours pas comment décrire ce lieu oú il vous suffit d'être vous. Ce lieu où l'on ne croit uniquement qu'en la Pacha Mama, la terre mère et nourricière. On célèbre et honore traditionnellement la Pacha Mama en la nourrissant de gouttes de vin et de lambeaux de papiers.
Here simplicity is not a quality is a must have. You'll not impress anyone if you bring a bottle of wine to the table (which we initially did) or because you've travelled around the world. We're still not sure how we could best describe this place where you only have to be you. This place where we only believe in "La Pacha Mama", the Mother and nourishing earth. We traditionally celebrate and honored "La Pacha Mama" by nourishing it with drops of wine and pieces of paper.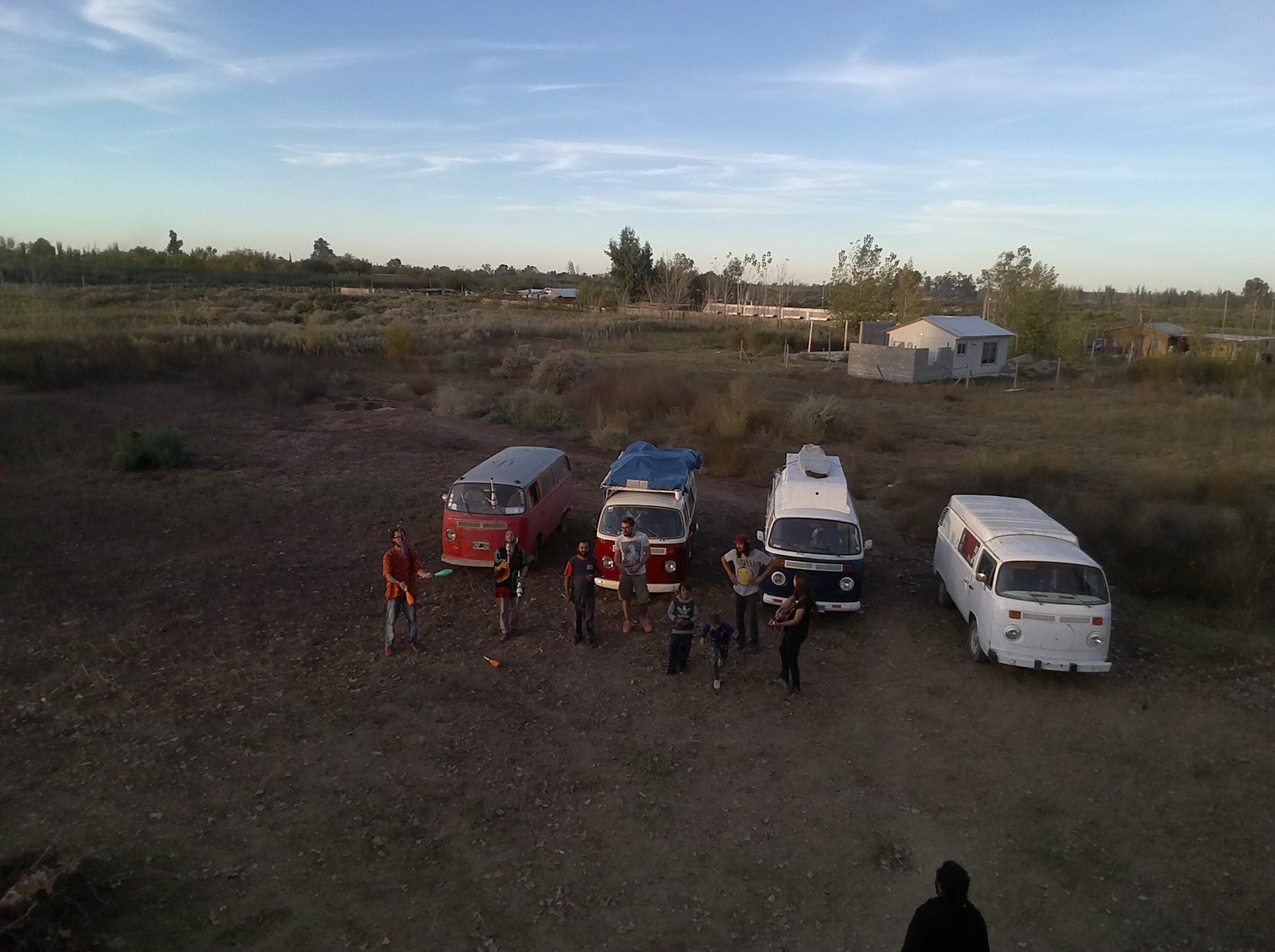 Ce refuge où vous êtes libre d'apporter ce que vous voulez à cet édifice que Walter et Judith ont construit. Votre seule limite est votre volonté de réalisation et votre imagination. Par exemple Amaury a réussi à créer et y inaugurer, en grande pompe, un musée du Kombi!
This refuge where you are free to bring whatever you want to this ever changing place that Walter and Judith built. Your only limit is the will you've got and your imagination. Amaury even succeed to inaugurated a Kombi museum!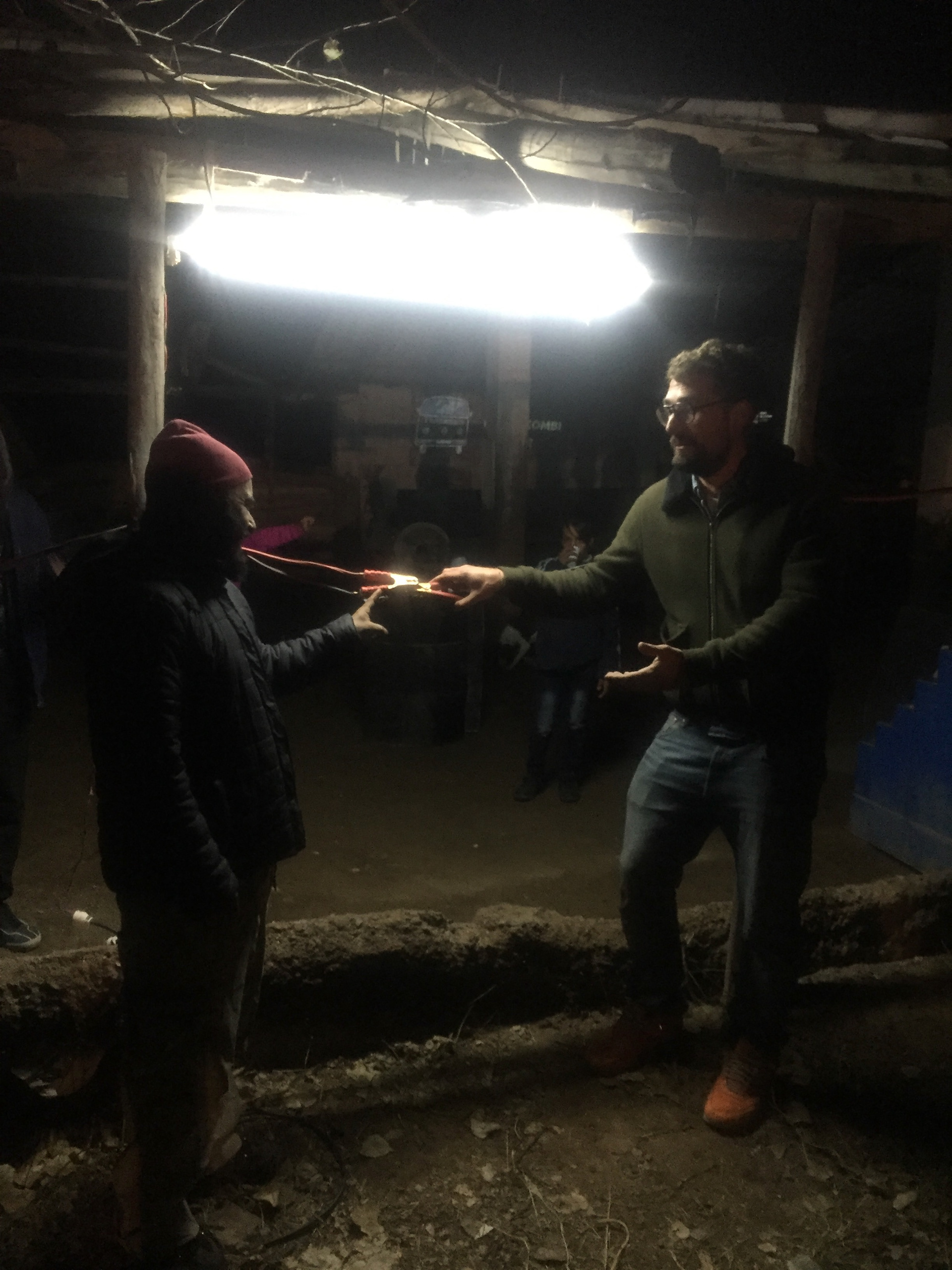 Combien de fois nous nous sommes dit que leurs enfants ont une chance inouïe. Imaginez, l'année passée ils ne sont restés que 8 jours sans voyageurs. Alors oui on pourrait se dire qu'avoir du monde tout le temps chez soi c'est usant. En réalité non, la partie Kombi est en total auto gérance, si vous laissez faire, vous ne jugez pas et vous vivez votre vie. Walter et Judith ont leur maison, ils partagent les moments qu'ils souhaitent avec nous. Mais imaginez leurs enfants, tous les jours ils sont baignés dans une nouvelle culture, une nouvelle langue, une nouvelle passion... Écouter des histoires d'autres pays, d'autres traditions et façons de vivre. Quelle ouverture! Nous aurons appris à Bruma, 3 ans, à dire S'il vous plaît et Merci ;). Mais au delà de cela Judith nous racontait comment ils ont dû souvent faire face aux jugements de leurs proches et leur famille qui ne comprennent pas toujours pourquoi? Pourquoi ce lieu? Pourquoi ouvrir votre porte à des voyageurs? En Kombi? "Ce sont tous des drogués". Et comment ils sont fiers de faire évoluer les mentalités de leurs proches en les conviant simplement à passer une soirée dans ce refuge. Et nous en avons fait l'expérience en voyant des gens s'ouvrir et partager un repas avec nous, se mettre à chanter et danser jusque tard.
How many times we told ourselves how lucky Walter and Judith kids were. Last year for example they've been alone, with no travellers, only 8 days. Well, you could argue it could tiring to always be surrounded by people like us? Not if you let it happen, you do not rule the place, you do not judge and you live your own life. Walter and Judith got their own house, their only share the moments they want with us. But imagine their kids. Every day their meet new culture, new language, new passions... They can listen up to stories from other countries, other way of living. What a chance! On our side we managed to teach to Bruma, 3 years old, to say "S'il vous plait" and "Merci". Small contribution. Of course it has not been easy for them . Judith did tell us that their entourage often asked and judged "Why do you do that?" "What do you help these people?" "What do they do for you?" "They are all hippies and drug addict!". But she did tell us how proud they are to help change these people's mind only by inviting them to spend a night in the refuge. And we did see it when they invited friends and family for Walter's birthday. Some family members who never set foot in the place before and who did say "Why do these people do not work? What do they do?" and who left saying " I did not imagine it that way...I really enjoyed my evening". Cliche but we've seen it.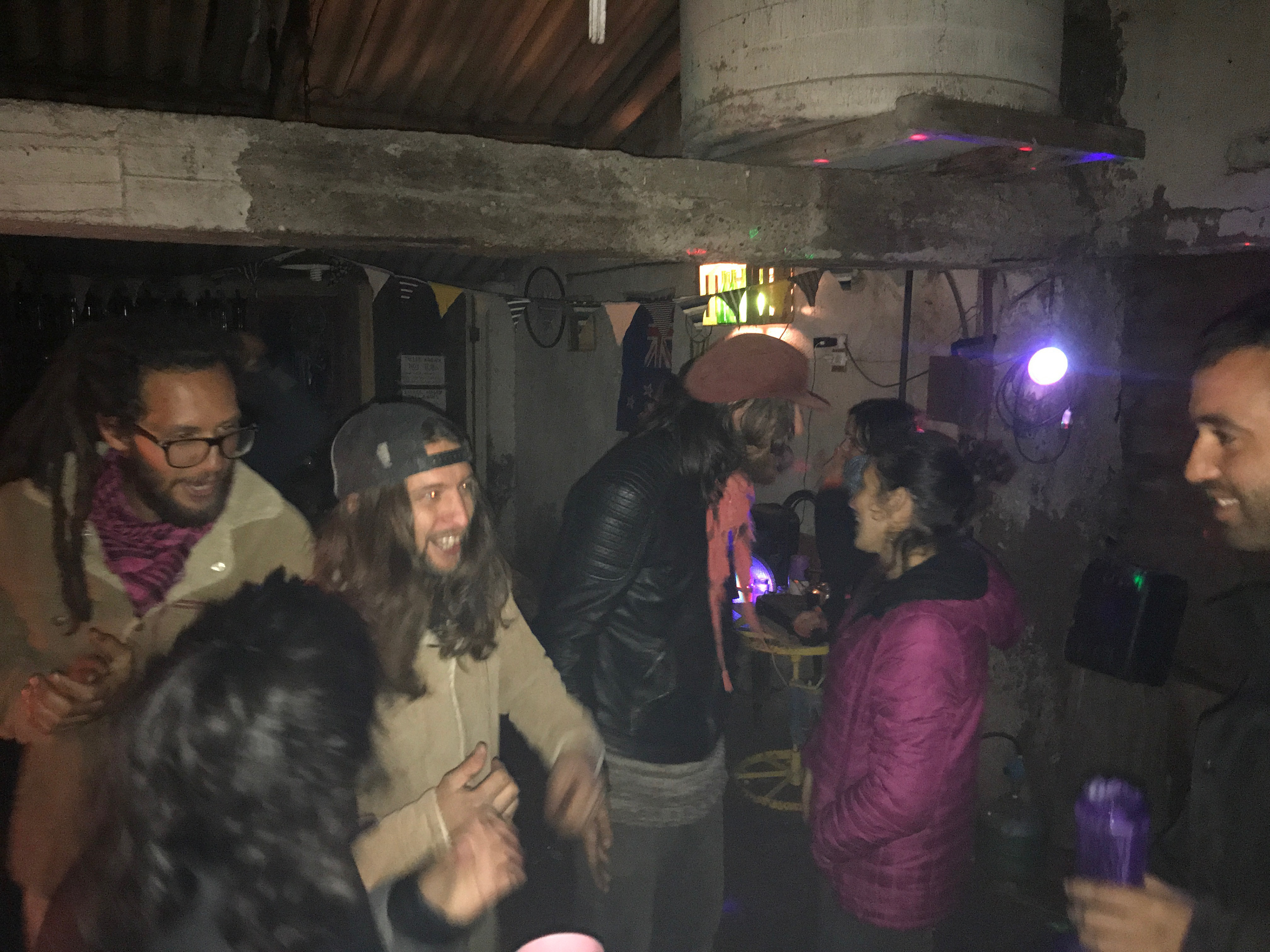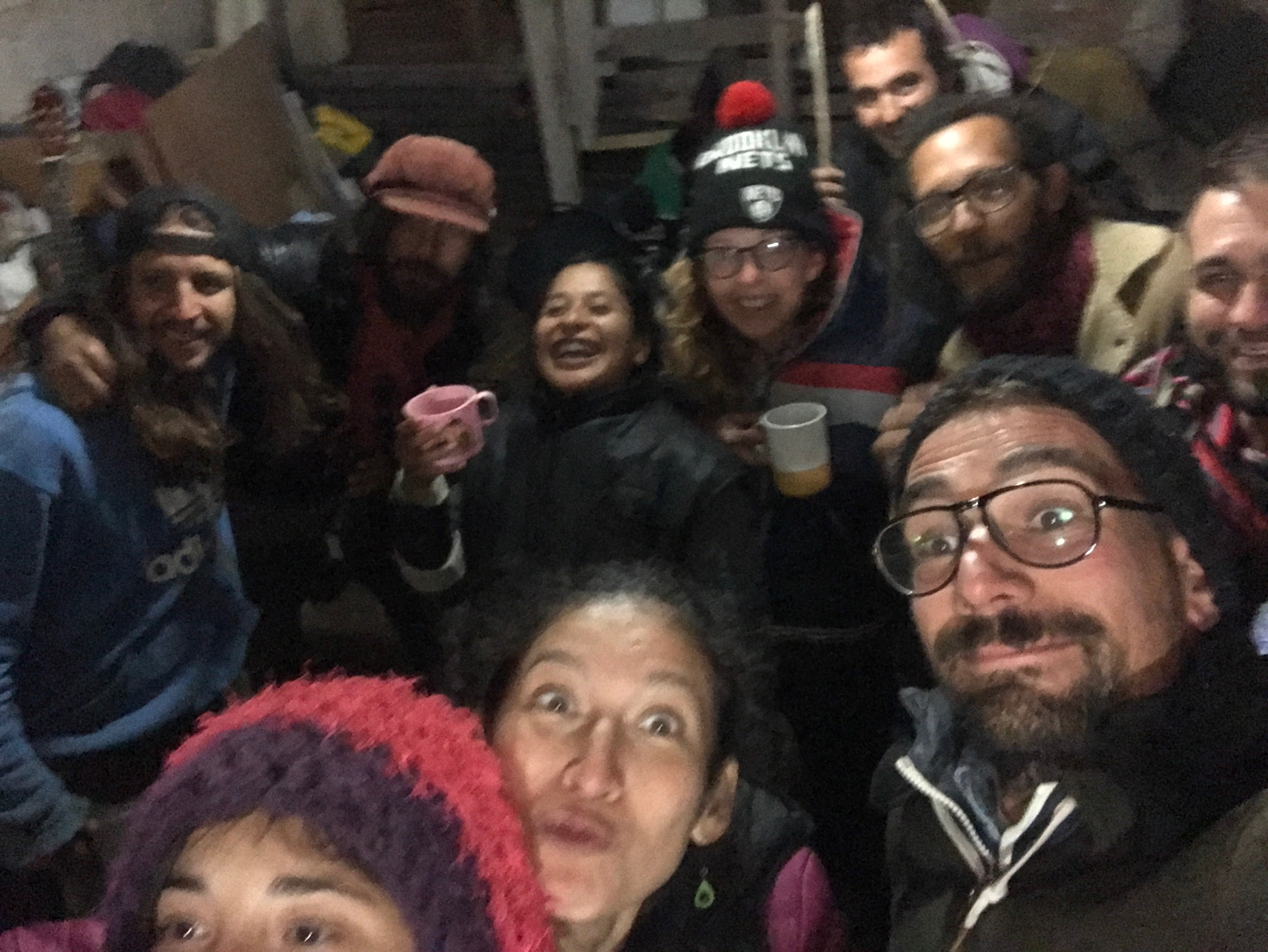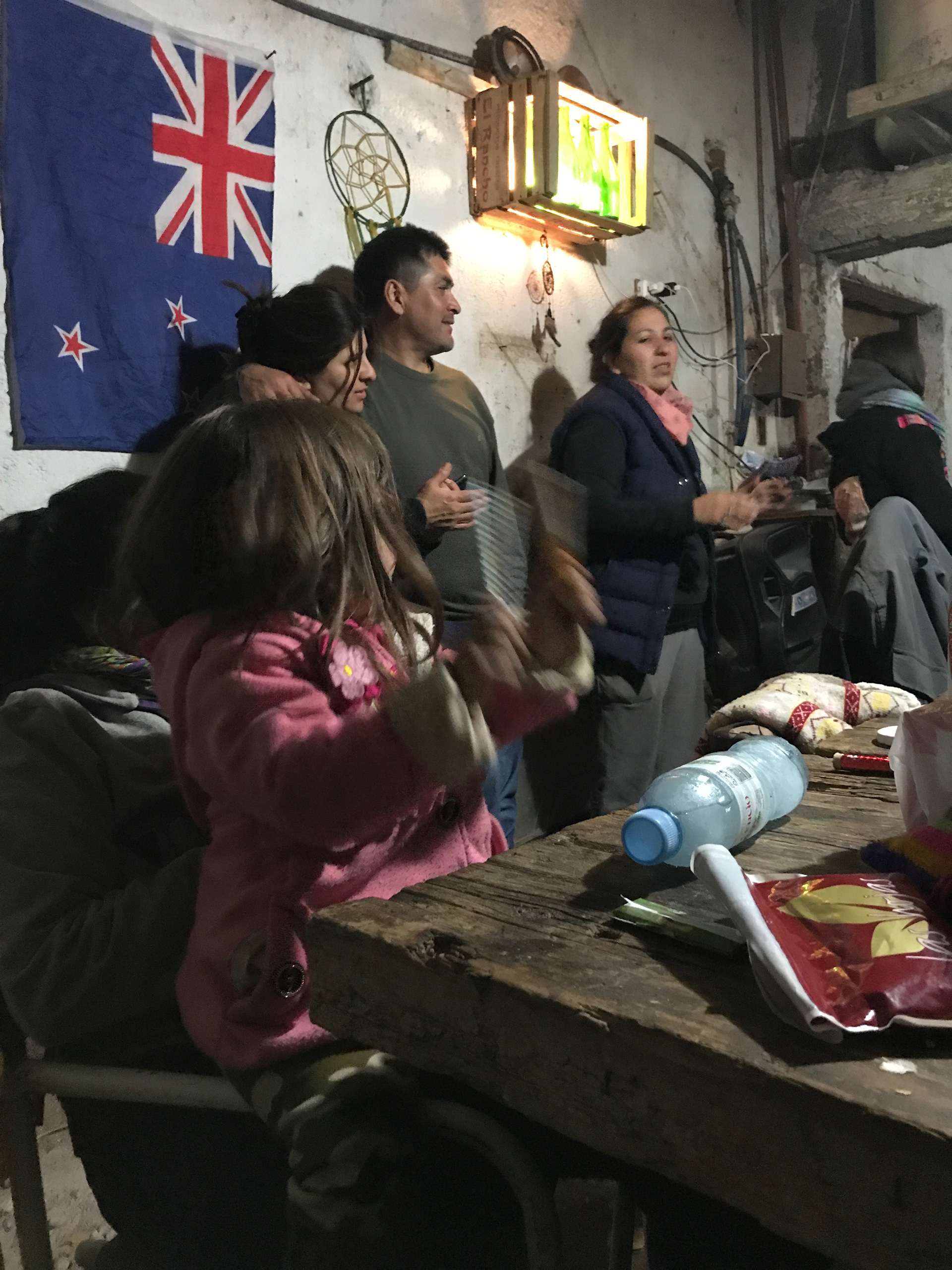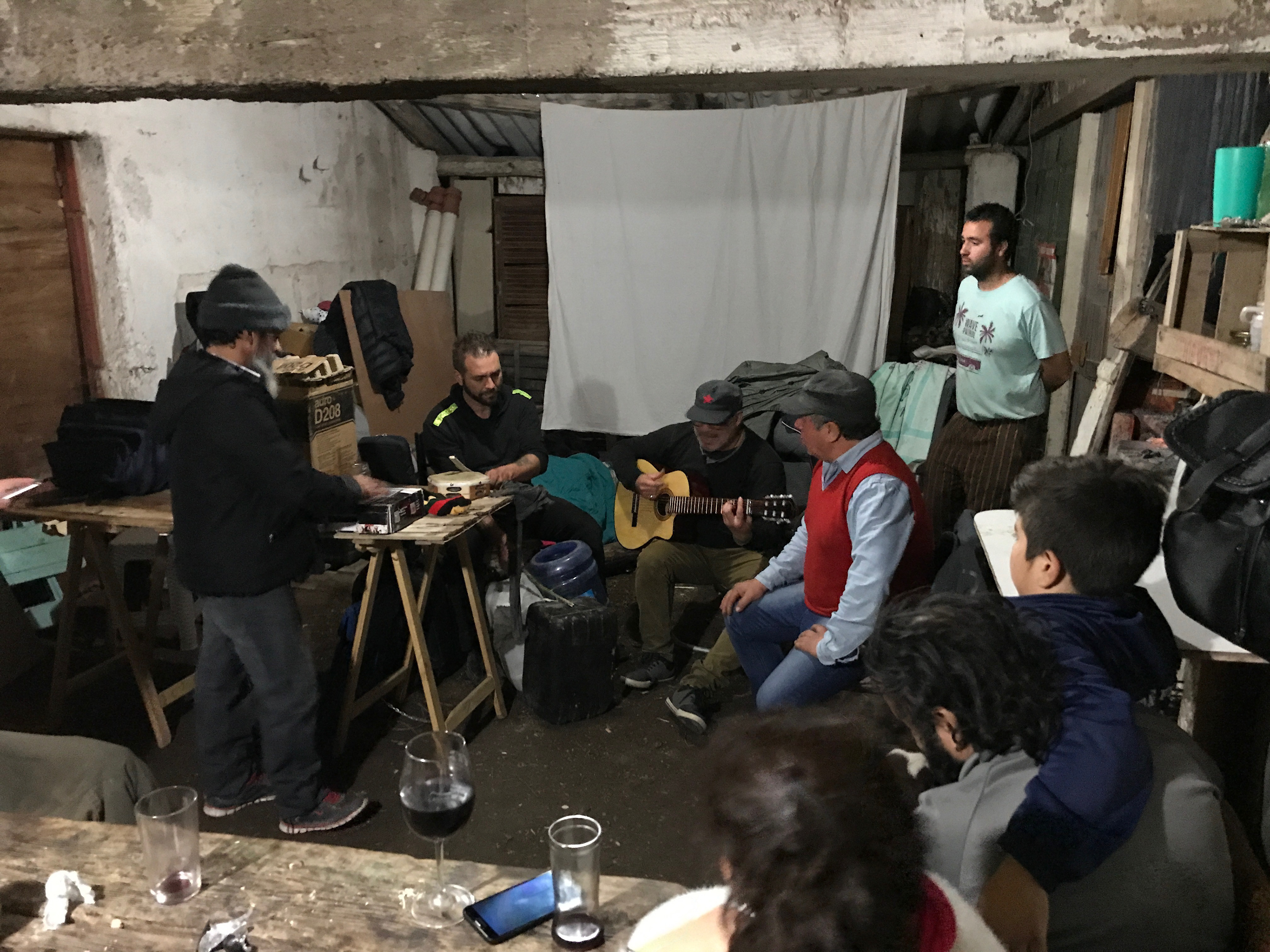 Simplement. En quelques souvenirs une partie de ce que nous y avons vécu. On vous passe les retrouvailles chaleureuses et les fous rires avec nos amis pour la vie Leandro et Julieta.
Inspirante. Je crois que c'est ce que cette famille nous a apporté. Attention nous ne sommes pas à l'abri d'ouvrir un jour un refuge Kombinauta de l'autre côté de l'Atlantique. Et ce sera un honneur remplie de joie de pouvoir un jour vous y accueillir Walter et Judith.
That's it. With these selected memories of the time we've spent there. We did not mention the warm meet up and good laughs with our friends for life Leandro and Julieta.
Inspiring. I think this is what this family brought to us. And stay tuned it might inspire us one day to open a Kombinauta Refuge on our side of the Atlantic ocean. And it will be with pride and joy that we would welcome Walter and Judith in there :)