On Saturday 8th December, after 48h on the road, our adventure almost stopped there. This is our story.
This Saturday we're entering the national park of Torres del Paine. Pampa, blue sky, and spectacular glacier in the background. We go for our first trek to get a glimpse of the Grey Glacier. On the beach leading to the viewpoint we can't even stand straight cause the wind pushes us and blows freezing water from the lake.
Le Samedi 8 Décembre, après 48h sur la route, notre aventure a failli s'arrêter. Voici notre histoire.Ce samedi nous entrons dans le parc national de Torres del Paine. Pampa, lacs bleu ciel, glaciers en fond. On fait notre première mini rando pour apercevoir le Glacier Grey de loin, sur la plage menant au point de vue on tient à peine debout car le vent nous balaie.
We rapidly look for a shelter from the wind to spend our second night in the Kombi.
1st stop is a fail. The Kombi is shaken from the right to the left by the wind. It's impossible to spend the night there.
2nd stop, The Weber bridge. A narrow path a few meters away from the main road and the wind nearby a turquoise lake. The view is astonishing. Bingo, we park here and start to cook looking at the Torres mountains. We eat alone out there with the incredible view. We then get ready to sleep, as we open the back window to make the bed, the wind gets in. Moved by this wind blow the Kombi starts to move forward, while we're both at the back. Problem. I don't réalise were moving but Amaury does. As we're starting to move faster and head straight to the lake, Amaury jumped out of the back. As he tries to get in the front and get to the steering wheel to change our fatal direction he screams to me: jump jump jump!
On cherche vite un endroit à l'abri du vent pour passer notre deuxième nuit dans le Kombi.
1er essai, raté, on est secoué de droite à gauche à l'arrêt, ce sera impossible de dormir ici.
2eme essai, le pont Weber, un chemin étroit un peu à l'écart de la route aux abords d'un lac turquoise. Le vent est plus discret et nous sommes sur un paysage instagram. Bingo, on se gare près du lac, et on commence à cuisiner en ayant les Torres (les célèbres montagnes )en fond. Nous mangeons tous les deux seuls avec cette vue incroyable. On s'apprête à se coucher et à déplacer le Kombi pour la nuit. On ouvre la porte et un grand coup de vent s'engouffre. Le Kombi commence a se déplacer, alors que nous sommes tous les deux à l'arrière, côté habitation. Problème. Amaury réalise le premier que le Kombi avance seul, il prend même de la vitesse et se dirige droit dans le lac…
Il hurle : Sors ! Sors ! Et il saute à l'extérieur pour remonter côté passager et mettre un coup de volant.

I can't remember from which doors or window I've jumped out. But luckily we're both out of it. Together we look at The Kombi getting faster ready to fall into the lake. We try to hold it to avoid letting it fall. But we inevitably have to watch it fall down. As we're still hanging to it, it seems to do not fall but to stop somewhere between the path and the lake. Hanging in the air, like magic. I'm screaming : "there's no way we've done all of that to let if fall into a fucking lake after 48h". Amaury does not get mad somehow. He tells me to let it go, stop hanging to it, obviously it's hanging in the air somehow but it's not thanks to the 2 of us. We let it go. It does not move.
Pour ma part je ne sais plus comment je sors mais on se retrouve tous les deux dehors, le Kombi prend de la vitesse, on s'accroche à lui pour essayer de le retenir et d'éviter qu'il ne tombe dans le lac. Mais irrémédiablement on le voit s'y diriger en se penchant doucement vers l'eau. Amaury le retient par la porte avant et moi par le pare choc arriere. Il s'arrête dans sa chute et semble immobilisé à presque 90 degrés entre le lac et le chemin, comme suspendu.
Je hurle. " Noooon. On a pas fait tout ca pour en arriver la"
Amaury garde son sang froid. Me dit : lâche. Ca ne sert à rien. Ce n'est pas nous qui le retenons. Nous lâchons prise tous les 2. Il ne bouge pas d'un pouce.
The Kombi is hanging horizontally, between the lake and us. We look under and réalise that it only stands in this position thanks to 3 wooden log located nearby the lake. The wind keeps blowing and shake it each seconds.
We're standing there, the 2 of us staring at it with only one sneaker each and no coat on. As it stands we can't risk to get in the Kombi, it might make it move and fall down. We're freezing and we're watching everything we got about to disappear in a blue sky lake. Amaury tells me to go and get some help. He stays there still hanging at it just in case it falls out. I start to run on the rocky road with no shoes on...
Il est quasiment à l'horizontale. En sursis, entre le lac et nous. Le vent continue de souffler et le fait trembler à chaque bourrasque. On est là tous les deux, avec une chaussure chacun, sans pull. Devant l'équilibre providentiel du Kombi on ne peut même plus se risquer à y rentrer pour récupérer quelques affaires, cela pourrait le faire bouger et entraîner sa chute. Il fait froid, et on regarde tout ce qu'on a deux doigts de tomber à l'eau. On comprend vite que si le Kombi n'est pas encore dans l'eau c'est parce que il est retenu par trois rondins de bois en contrebas sur lequel il est venu de se poser.
Amaury me dit d'aller chercher de l'aide. Il reste debout sur le pneu arrière pour faire contrepoids, au cas ou…
Je pars en courant en chaussettes sur les cailloux.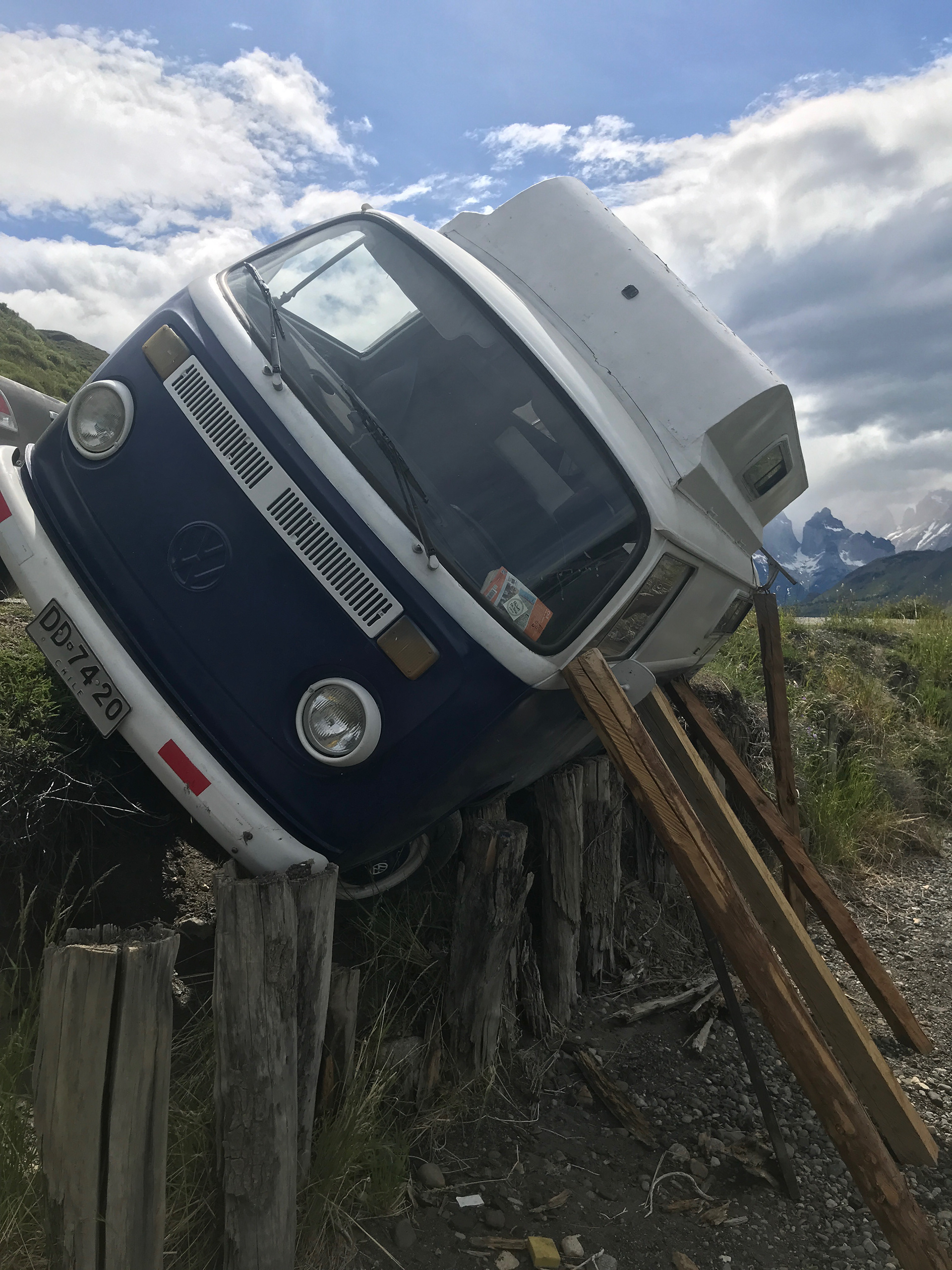 I run for a few minutes when a pick up stops by. The man driving it stops instantly. He speaks a bit of English. Easier. His first question when he sees me "are you ok? Is anybody hurt?" Yes that's true. I'm in socks, distraught, in the middle of the road. But we're both fine. It's only material. I'm only realizing it now. I'm jumping in his pick up and he drives us to the incident scene. Amaury is still there. The Kombi is still hanging in the air. This man is equipped with a radio and he informed the park rangers of our situation. They're on their way. While we're waiting for them he offers us warm clothes: it will be a mechanic dungaree for me and a ski jumper for Amaury. As he's observing the Kombi he's mentioning "Wouah, it's complicated, if The Kombi falls into the lake, the gas will immerse in water of a natural park and you might go to jail…" Sorry
Amaury looks at me and hand its phone to me: "We got no other option. Call Pedro (our mechanic friend)." Alright, how am I going to explain the situation, over the phone, in spanish! Currently impossible with my spanish level. I'm sending him a picture followed by 15 messages "no sabemos que hacer/ we have no idea what to do. Pedro immediately calls me but we don't even have enough signal to hear him. At this moment, the park rangers arrive. "Wouah" again. They seem to be lost and confused with the situation, which does not comfort us. But they do try to secure the Kombi with some additional wooden logs and a rope attached to a tree. At this time the only solution they have in mind is to bring a crane holding a giant magnet which will get the kombi out of there from its roof…. "Wouah. Really?"
Je cours quelques minutes avant de croiser un pick up. L'homme au volant s'arrête immédiatement. Il parle un peu anglais. Ouf. Sa 1ère question: "Est-ce quelqu'un est blessé?" Oui c'est vrai, je suis en chaussettes sur le bord de la route avec un air affolé. Mais tout le monde va bien. Tous les deux nous n'avons rien et ce n'est que matériel. Je le réalise que maintenant. Je monte dans son pick-up. Il me ramène au Kombi. Amaury est toujours là. Le Kombi est toujours suspendu. Cet homme est équipé d'une radio et contacte les gardes forestiers. En attendant leur arrivée il nous propose des vêtements chauds: ce sera une combi de mécano pour moi et un manteau de ski pour Amaury. Gelés nous acceptons volontiers. Il observe la situation et nous indique que "Wouah. c'est compliqué, Si le Kombi tombe à l'eau et répand de l'essence dans un parc national protège nous risquons la prison…" pardon.
Amaury me tend le téléphone et me dit "On a pas le choix. Appelle Pedro". Alors expliquer la situation, en espagnol, par téléphone. Incompatible avec mon niveau actuel. J'envoie une photo et 15 messages répétant la même idée " no sabemos que hacer" / "nous ne savons pas quoi faire". Pedro me téléphone immédiatement mais impossible de l'entendre. Sur ce les gardes forestiers arrivent. "Wouah" de nouveau. Ils paraissent démunis, ce qui n'est pas pour nous rassurer. Mais ils sécurisent le Kombi dans cette position avec des cordes et des poteaux de soutien supplémentaires. La solution qu'ils envisagent pour le sortir de la serait un aimant géant suspendu à une grue qui pourrait le ramener sur ces 4 roues…"Wouah".
​​​​​​​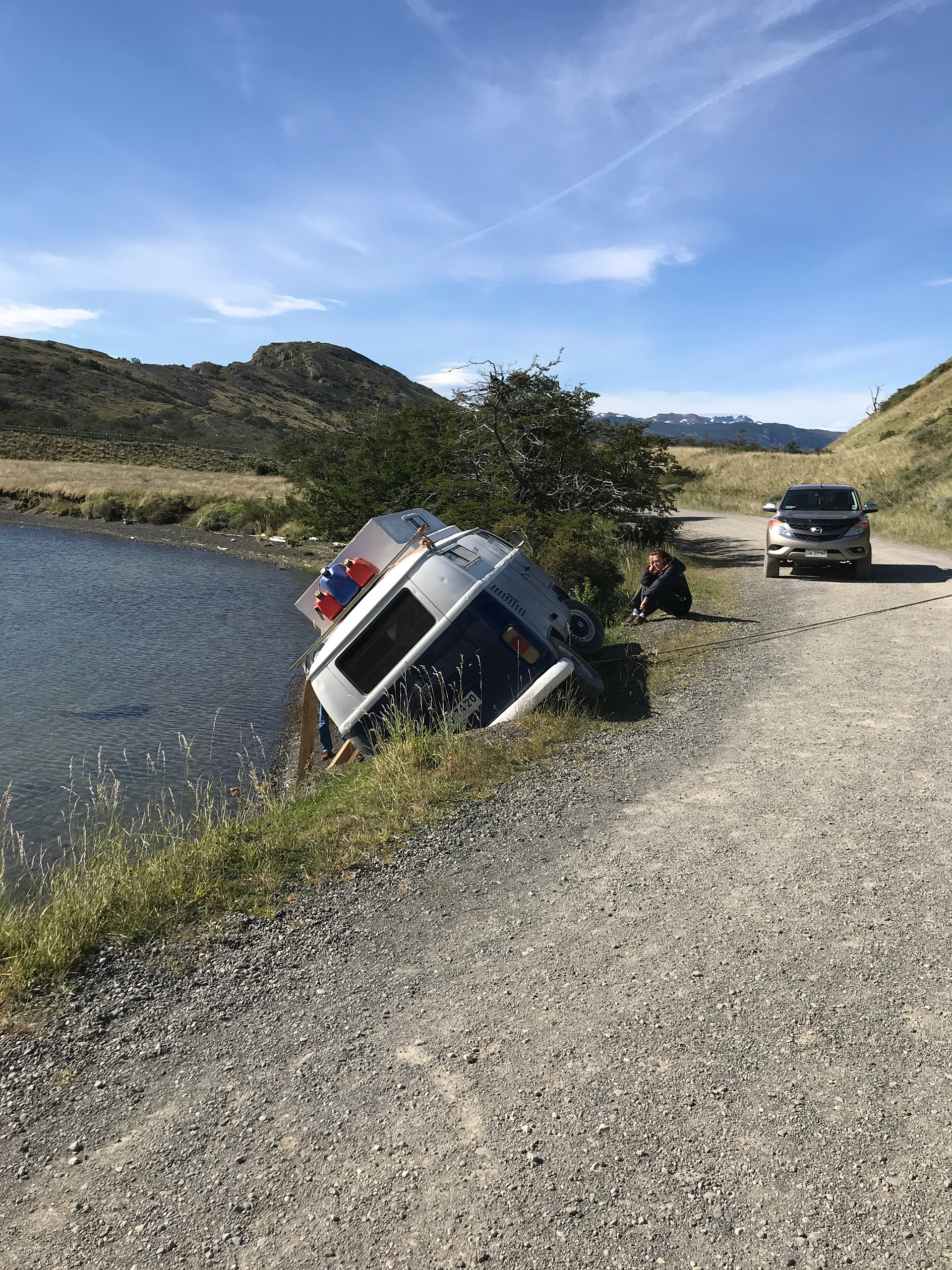 We're on a Saturday evening, it's 10pm and the night starts to set down. The park rangers inform'us that for tonight there isn't much else they can do. We gathered the few stuffs which felt from the Kombi. A towel, a soap and a water bottle, that's all we got. We have to let inside laptop and passports for the night. After having spent 2 hours watching our Kombi about to fall we get in the rangers pickup. Meanwhile Pedro keeps WhatsApping us and begging us to call him a soon as we get more signal. We leave the scene with the rangers.
1stop with the rangers in the house of one of them. We quickly realize that they absolutely want to get us some shoes. For me, size 7, it's easy, similar size as him. He offers a size 10 to Amaury...who's more of a 13.5… he will stay with his only shoe.
2nd stop a dormitory, with several empty rooms with old bunk beds. They will let us sleep in one of them for this night. In the room next doors, some other young park rangers sing while watching TV. We're on a Saturday evening after all. They bring us a hot tea, chocolate bars and a dozen of warm blankets…
And we finally manage to get Pedro over the phone. He's on his way! He's going to drive 3 hours tonight just for us. He'll sleep at a friend and we will see him tomorrow. This is the only good news for us today.
Nous sommes samedi soir, il est 22h et la nuit commence à tomber. Les gardes forestiers nous indiquent que pour ce soir il n'y a plus grand chose à faire. On ramasse les quelques affaires tombées du Kombi dans sa chute. Une serviette, un savon, une basket d'Amaury et son téléphone. On ose pas monter dans le Kombi pour récupérer ordi et passeport de peur de le faire tomber...
Après avoir passé plus de deux heures à regarder notre Kombi à deux doigts de tomber nous le quittons des yeux pour la nuit et montons dans le pick up des gardes forestiers. Pedro continue de nous envoyer des messages nous suppliant de l'appeler dès que l'on captera.
1er arrêt avec les gardes forestiers dans la maison de l'un d'eux. On s'aperçoit qu'il veut absolument nous trouver des chaussures. Moi 40 c'est facile, pile la même pointure que lui. Il propose du 42 à Amaury… ce serait plutôt du 47,5.  il restera donc avec son unique basket récupéré sur le chemin.
2eme arrêt, un dortoir avec plusieurs chambres remplis de lits superposés vides. Ils nous mettent dans la première chambre pour la nuit. Dans les chambres suivantes d'autres gardes du parc chantent et regardent la TV. Après tout on est samedi soir. Ils nous apportent du thé chaud, des barres chocolatées et des tonnes de couvertures…
On réussit enfin à avoir Pedro. Il est en route. Il va faire 3h de route pour nous ce soir. Il dormira chez un ami pas loin et sera avec nous demain.

We're just the 2 of us in this empty freezing room. Me with a mechanic dungaree wearing trek shoes and Amaury with a ski jacket and only one shoe on. We decide to go to bed like that. The wind keeps blowing and screaming outside, each time we think that this might be the blow which will drag the Kombi down. We try to get some sleep. A night like no others. Even if we know that somehow we got lucky, wére both fine, we'll get over it. But deep inside we both know that we're about to see our dreams falling down after only 2 days on the road.
The day starts to rise. A first park rangers bring some shoes to Amaury. Size 11. Really nice gesture but Still too small. We ask is there an update on the Kombi. He doesn't know. Another ranger arrives to take us for breakfast. While we're getting there he tells us he went to see the Kombi first thing this morning, and ??? It did not move. Phew. Well it did move a bit but it did not fall down. Alright we'll take that. We're invited to share the breakfast with all the park staff and we quickly understand that we got famous overnight "los franceses de la Kombi" is our new nickname. We then informed the park rangers that we will now wait for a friendly help us decide what will be the best to get the Kombi out of there. Because during the night without talking about it, Amaury and I imagined the same thing with the giant magnet plan. Best case scenario it will only snatch the roof and the rest will fall into the lake.we need a plan B.
Pedro arrives. He first see us with random clothes on and completely depressed. We still give him a hug. We get in his pick up and go to the crime scene. The Kombi is still there hanging up in the air. As we get closer Pedro says "well I thought it was a bit different". We understand : not that bad. As he walks around it he réalizes his bad it is. Outside it is still sunny but the wind keeps blowing. The Kombi moved a bit but it seems to be ok. Pedro watch the scene for more than an hour. He finally get back in the pick up and calls a friend who lives near by and owns a timber company. His friends is on his way to join the party…
On se retrouve tous les deux seuls dans cette chambre. Moi en combi de mécano avec des chaussures de trek, Amaury en manteau de ski avec une chaussure. On décide de se coucher comme ça. Le vent hurle dehors par rafales ininterrompues, à chacun d'elles on se dit que c'est peut être celle qui finira d'achever la chute du Kombi. On essaye de s'endormir. Une nuit sans comparaison. Même si on le sait, nous allons bien, c'est matériel. On s'en remettra. Mais au fond de nous deux, on sait que c'est un rêve qui tombe à l'eau. Au bout de deux jours seulement !

Le jour se lève. Un premier garde forestier apporte des chaussures à Amaury. Du 44. C'est super gentil mais c'est toujours trop petit. On demande des nouvelles du Kombi, il ne sait pas. Un second garde vient nous chercher pour nous emmener petit déjeuner. En chemin il nous indique qu'il a été voir le Kombi et ???
Il n'a pas bougé. "Wouah". Soupirs de soulagement. Enfin il a quand même un peu avancé mais en gros il est pas tombé. Ouf. On nous emmène dans la cantine des gardes forestiers et on comprend vite qu'en une nuit on est devenu célèbre…"les français du Kombi" est notre nouveau surnom. On indique vite aux gardes que l'on attend un ami qui va venir nous aider et qu'on les tiendra au courant. Parce que pendant la nuit sans s'en parler, Amaury et moi nous avons visualisé la théorie de l'aimant géant. Au mieux il arrache le toit et emporte ordi et téléphone avec le toit et le reste du Kombi s'écrase dans l'eau. Il nous faut un plan B.
Il nous voit dans nos tenues improbables. Les mines déconfites. On le sert quand même dans nos bras. On monte dans son pick up et nous partons direction le lieu du drame.
Le Kombi est toujours en lévitation. Vu de loin, Pedro: "Hum, j'imaginais ça un peu différemment". On comprend : moins pire évidemment . Vu les photos, Pedro pensait qu'il y avait moyen de le tirer avec son pick up. Sur place il réalise la situation. Il fait beau mais le vent souffle toujours. Le Kombi à un peu avancé mais semble stable. Pedro sort de la voiture et observe la situation pendant plus d'une heure. Il finit par venir se rasseoir dans le pick up et appelle son ami qui habite pas loin et bosse dans une société de construction. Il est en chemin.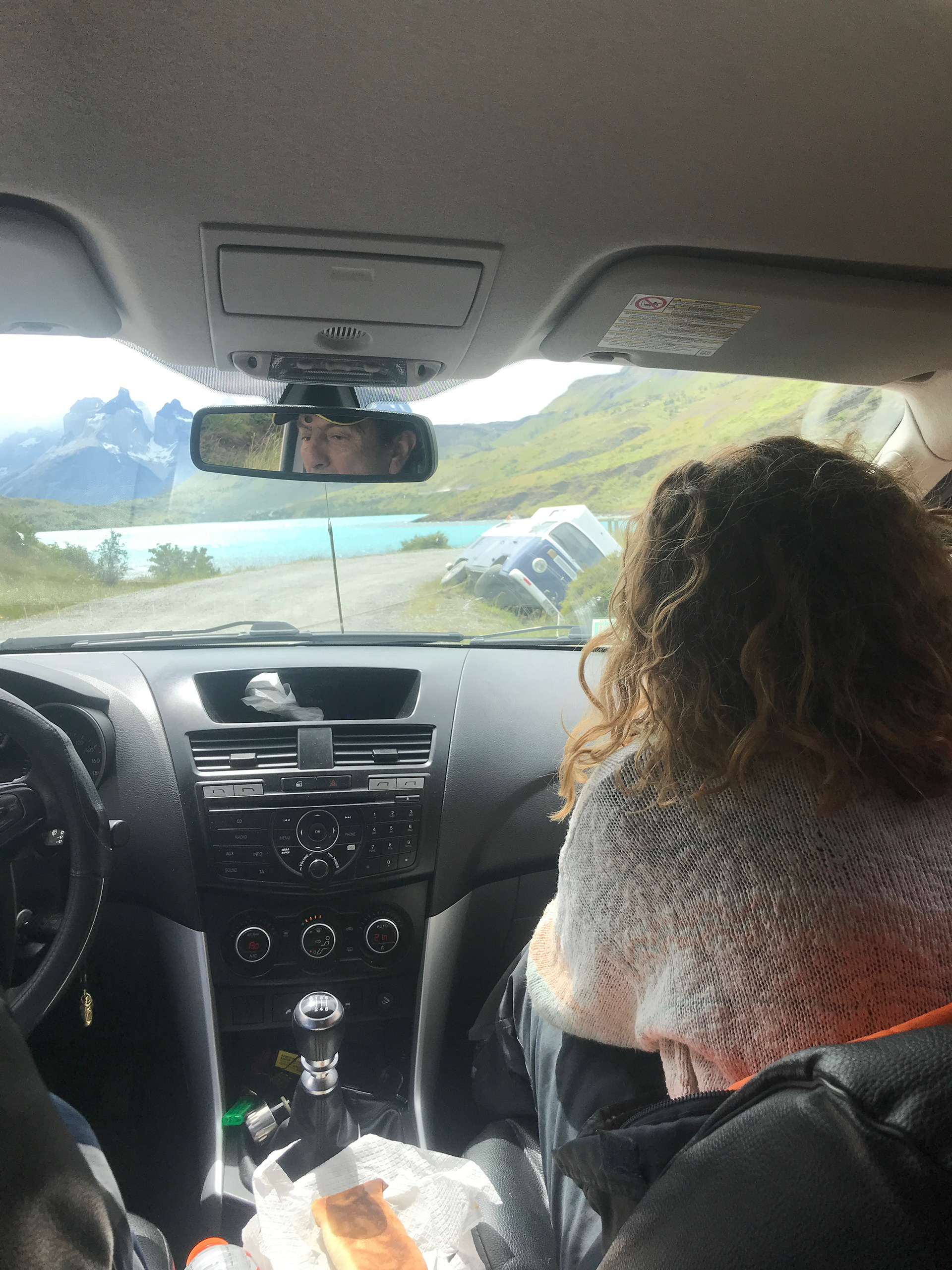 When his friend get there he starts by " I didn't see it that bad"...aaah stop it! The 2 of them observe the scene and discuss the plan for quite a while. And then they explain back to us, in espagnol!
Plan A. A crane to get the Kombi out of there. Pedro's friend have a crane available at the park entrance. He calls the park rangers to ask if we could get this crane in to rescue our Kombi. No is the answer, this is a national protected park. We need a special autorisation to let any big engines in… Pedro smiles and tells us "it's a shame cause with the crane in 20 Minutes it would have been over". He scratches his head and they go back to observe the scene. And they come back to us.
A backhoe. To dig near by the wheels, put the Kombi back on a flat surface and then drag it back to the path level. Sounds great but where are we gonna get this backhoe? Pedro's friend got one near by already in the park. Amazing. Let's do it. Well the backhoe is actually only available at 6pm tonight. It's only 11am. 7 hours to wait watching all we got potentially fall down. It's quite long. The 3 of us stay there waiting, we barely speak. Amaury and Pedro strap the Kombi to the pick up to secure it. And all day long tourists pass near by on their way to the mirador, on this day they take more pictures of the Kombi than the view.
À son arrivée "hum, j'imaginais pas ça si pire"... aaah. Stop.
Tous les deux discutent et observent la situation longuement.
Solution 1. Une grue pour le hisser de là. Son pote fait des travaux à l'entrée du parc avec une grue. Ils appellent les gardes forestiers pour savoir si on peut faire rentrer la grue dans le parc. C'est non, c'est un parc naturel protégé on ne peut pas faire rentrer une grue comme ça… Pedro nous dit "c'est dommage en 20 Minutes cela aurait été réglé"
Ils retournent observer la situation et reviennent vers nous
Solution 2. Une pelleteuse. Pour creuser. Remettre le Kombi à plat et ensuite le tirer avec une corde. Ok mais la pelleteuse on la trouve où? Le pote de Pedro à une pelleteuse qui est actuellement dans le parc. Seul hic, il faut convaincre les gardes de nous laisser creuser dans le chemin. Pedro nous emmène à leur rencontre. Il use de toute sa diplomatie et réussit à obtenir l'autorisation nécessaire auprès du chef du parc en 2 minutes...ouf. Bon c'est parti allons creuser. En réalité la pelleteuse est seulement disponible à 18h. Il est 11h. Nous allons donc passer 7h à attendre en croisant les doigts pour que le Kombi ne tombe pas.
7h à regarder tout ce qu'on possède prêt à tomber à l'eau, c'est long. On ne parle presque pas tous les trois. Pedro et Amaury ont sécurisé le Kombi en le sanglant au pick up. Au cas où…
Toute la journée les touristes défilent dans ce paysage de carte postale. Ils prennent plus de photos du Kombi que des montagnes.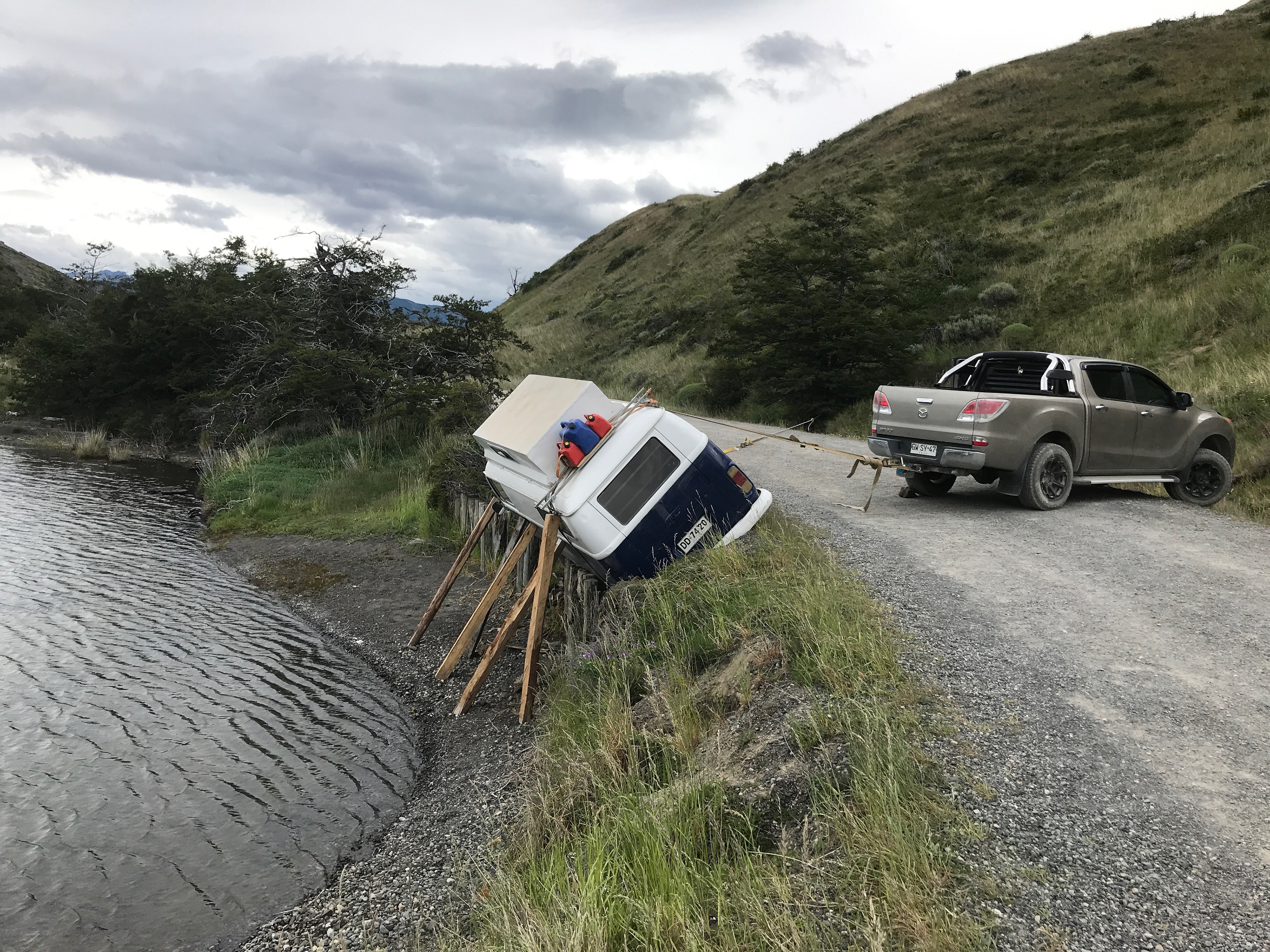 We wait. 1st time ever to spend a full day watching the horizon hoping I'll see a backhoe approaching.
5.50pm, a bunch of man with a construction truck arrives followed by The backhoe. This is the starting point of a new stressing time. Surrounded by 15 men ready to dig in the path I feel quite useless and hike up to watch the scene from there. Pedro the site manager naturally briefs this team on the plan to to follow to get the Kombi out of there safely. Yes cause Pedro's plan has been thought through so that we get the Kombi out of there in great conditions. If we can only get it out of there that will be enough for us.
The backhoe starts to dig around the wheels. Amaury and Pedro get under the Kombi to remove the mud which blocks it. Nothing moves. The backhoe keeps digging under Pedro's guidance. From the back of his pick up he observes the scene and smokes non stop. The hole around the Kombi starts to be quite massive and we getting closer to the critical moment where we'll try to get it back on his 4 wheels. Pedro tighten the straps to straight it slowly. It moves. Slowly but it starts to get closer to us. We strap it to the backhoe, and miracle it get back on its 4 wheels. 1st step achieved.
On attend. Première fois à passer une après midi à scruter l'horizon dans l'espoir d'y voir une pelleteuse apparaître.
17h50, des hommes en tenue de chantier débarquent suivi de LA pelleteuse. C'est le début d'une nouvelle angoisse. Entourée de quinze hommes je ne peux pas aider, je monte observer la situation de loin. Pedro le maître de chantier se met naturellement à l'ouvrage sous nos yeux. Il briefe toute l'équipe sur la marche à suivre pour sortir le Kombi sans l'abîmer. Oui parce que toute la stratégie de Pedro a été élaboré pour qu'à la fin nous repartons avec… Bon déjà si on évite la chute ce sera cool.
La pelleteuse commence a délicatement creuser le chemin autour des pneus du Kombi. Amaury et Pedro se glisse sous le Kombi pour dégager la terre qui le coince. Rien ne bouge… La pelleteuse continue de creuser sur les ordres de Pedro qui observe la situation du coffre de son pick-up en fumant clopes sur clopes.
Le trou autour du Kombi commence à s'élargir et l'on s'approche du moment critique on l'on va tenter de le redresser. Pedro resserre les sangles du Kombi pour le redresser doucement. Il bouge. Doucement. Mais commence a revenir vers nous.
On attache une sangle à la pelleteuse qui finit de le ramener à plat sur 4 roues. 1er pas.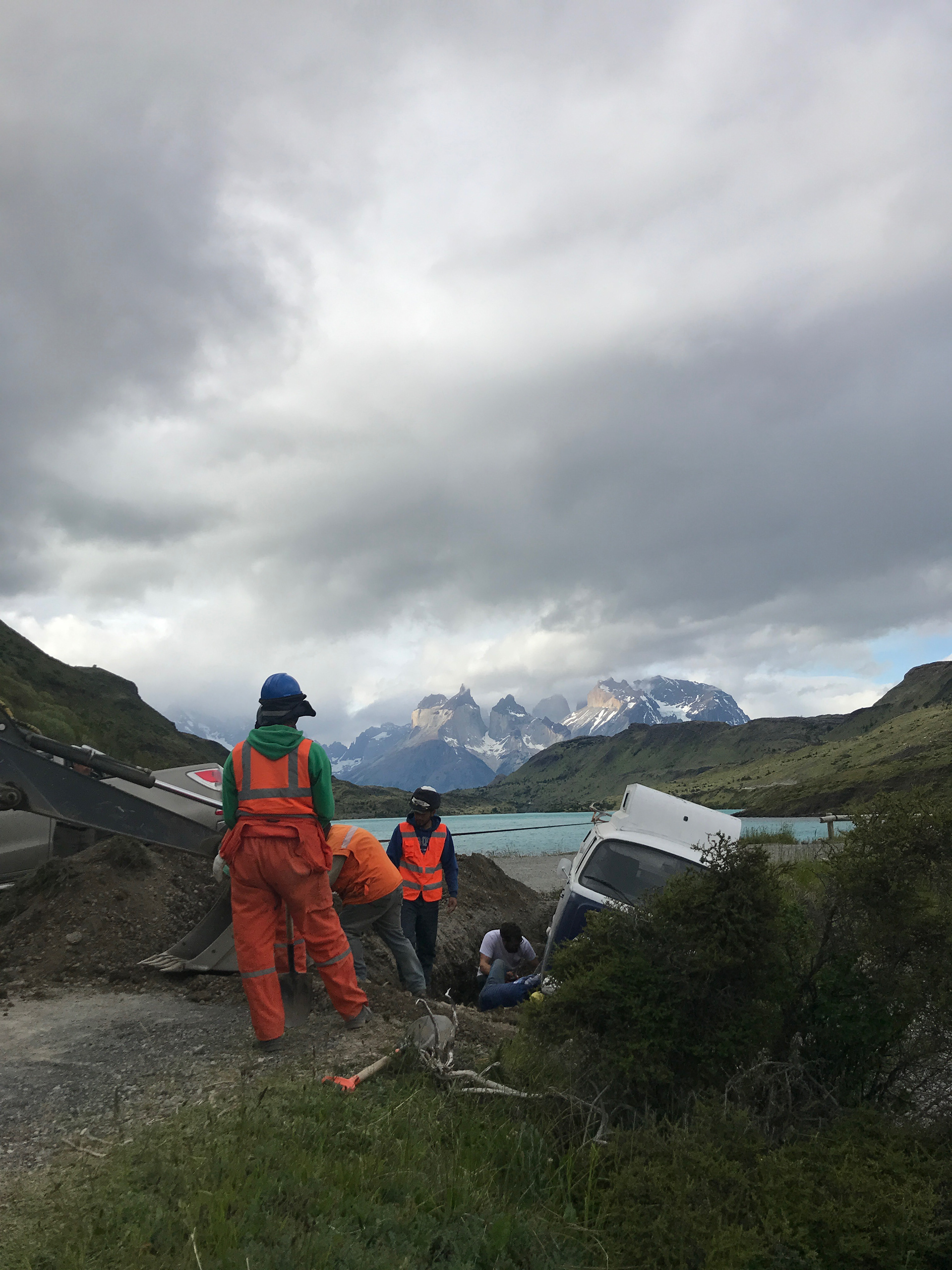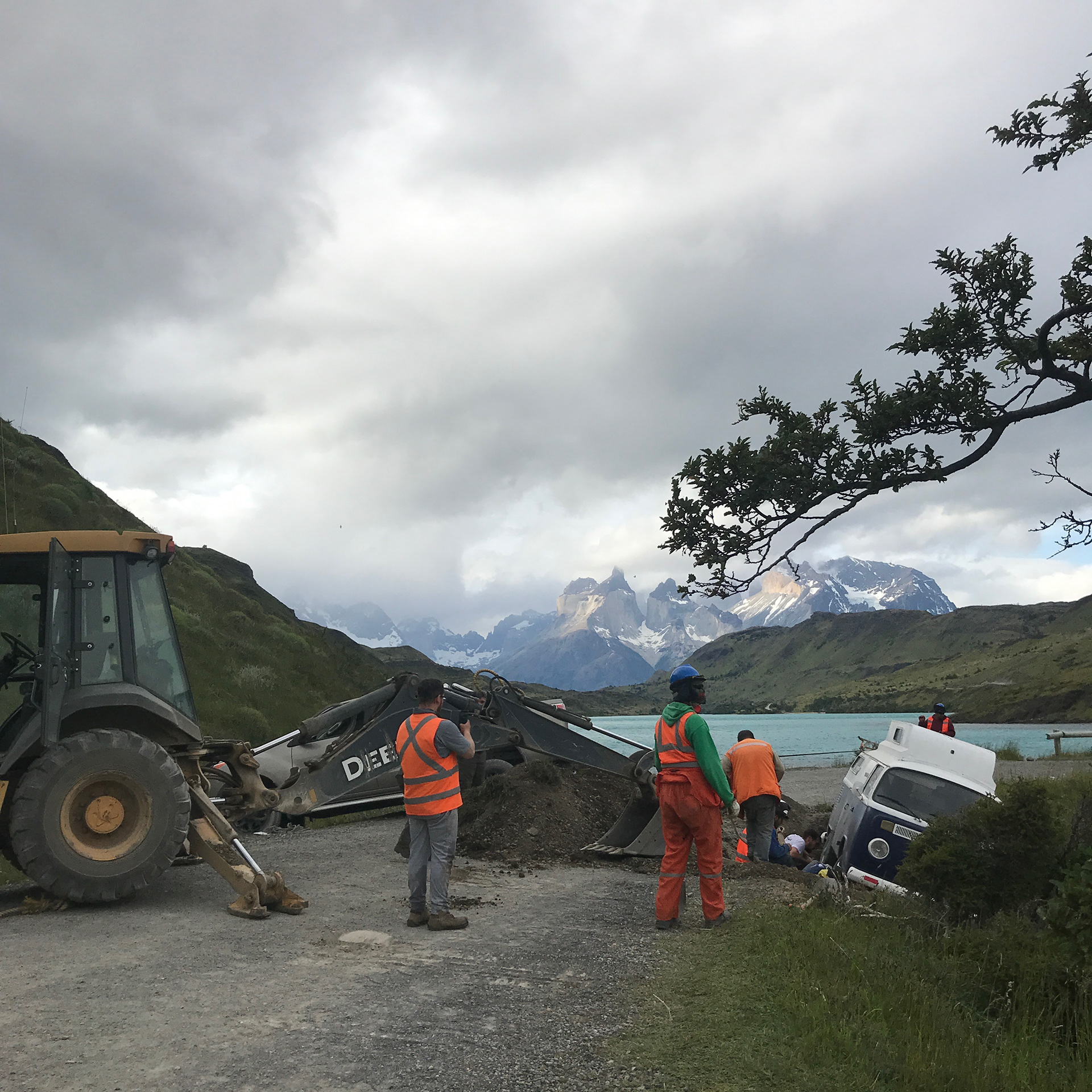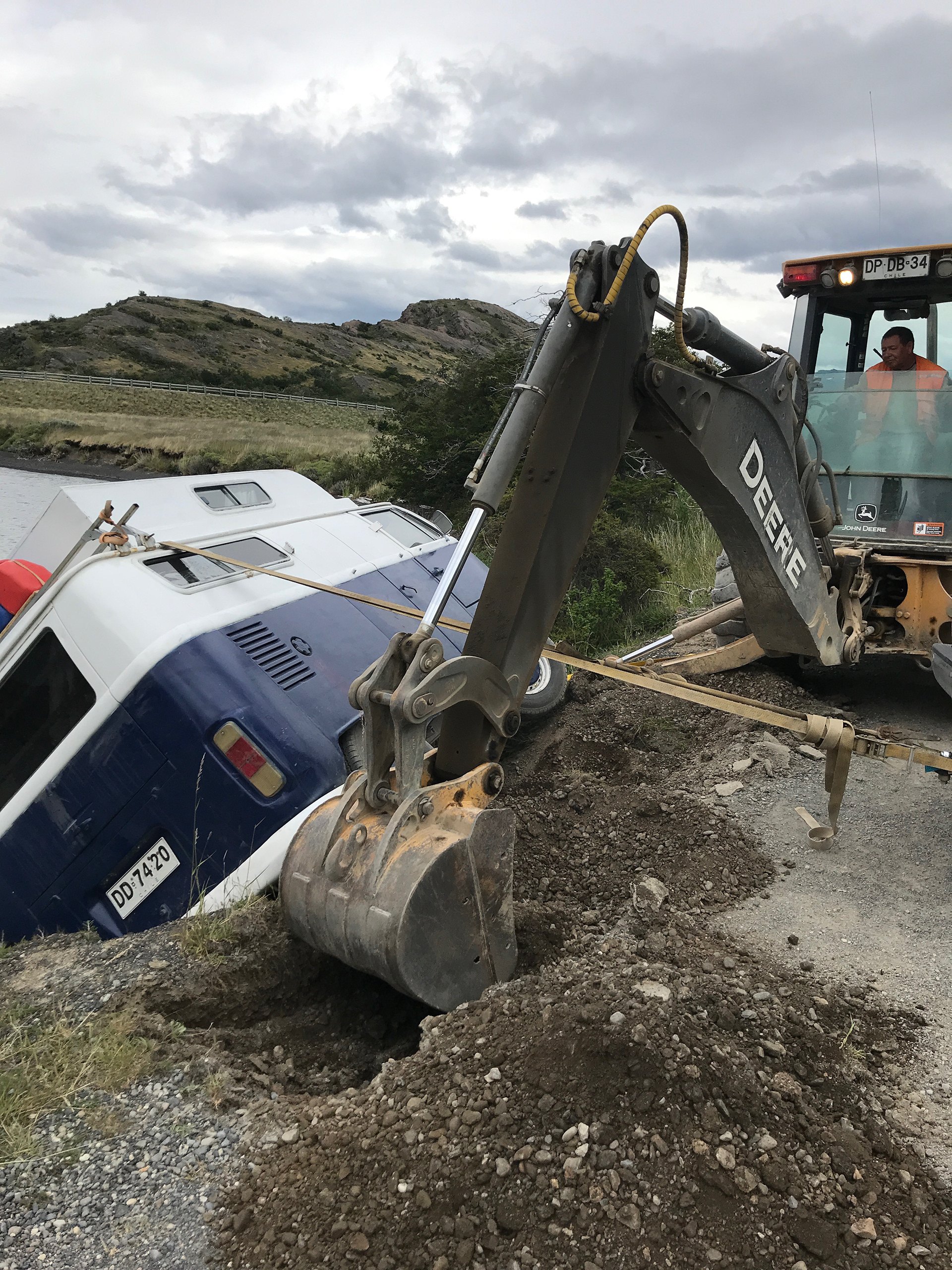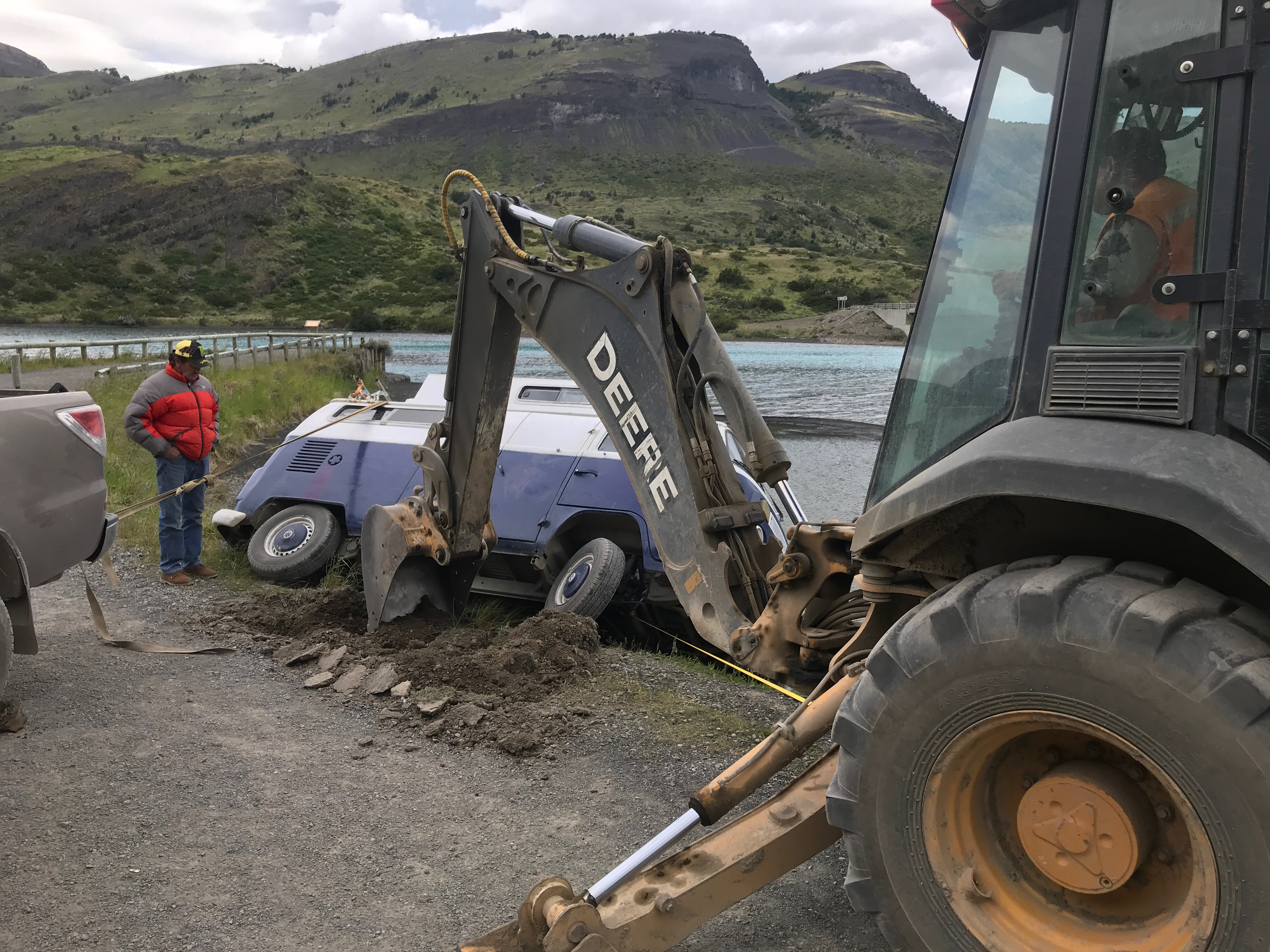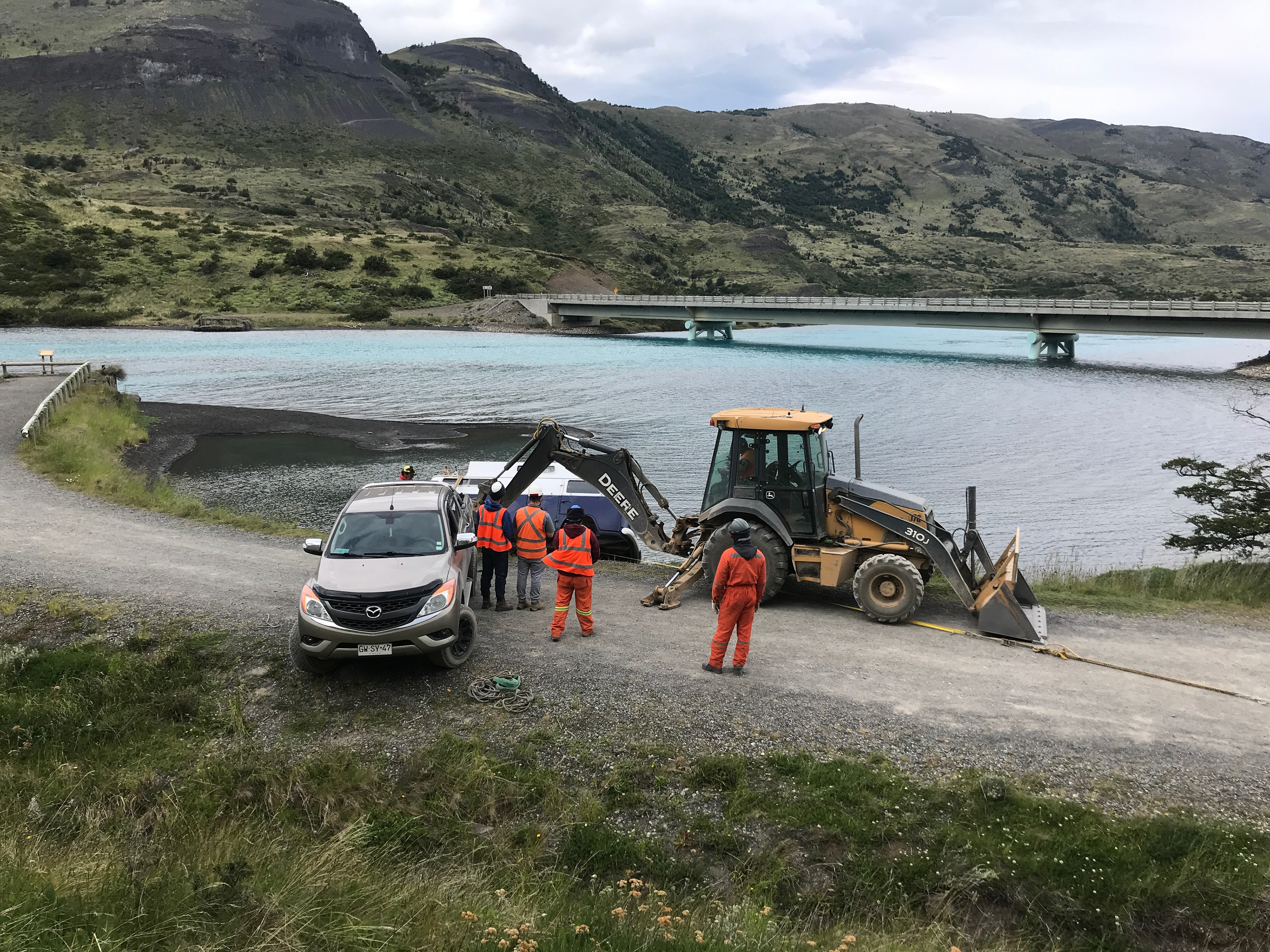 But it is still stuck in this hole between the lake and the path, leaning lake side. Pedro orders to Amaury to get in the Kombi on the driving seat.hahaha. He's not kidding. I start panicking, if the Kombi falls down, in addition I'm now also losing Amaury. Well Pedro drove 300km to rescue us, so far he's always been right, we trust him. Amaury climbs in. A rope is still attached from the backhoe to the Kombi. Amaury has to turn the wheels to make sure the Kombi get in the path direction, not the lake. The backhoe starts to drag the Kombi out of the hole, the 2 front wheels are back on the path. And a few minutes later the whole Kombi is there. Straight, on its 4 wheels. In front of us. Hard to believe what we're seeing. Aaaaaah. I scream of joy, and hug Amaury and Pedro! 24h later our new home is rescued. Pedro starts the Kombi, and drive it for a few meters. Nothing. Nada. The Kombi works perfectly well. It only has a few scratches on the side. Pedro tells us we just got extremely lucky, a few centimeters away the wooden logs could have perforates the body and it would have been done for it.
Mais il est toujours coincé dans ce trou entre le lac et le chemin, plutôt incliné cote lac. Pedro indique à Amaury de monter a la place du conducteur. Ahahah. Non c'est pour de vrai. Je panique, si le Kombi tombe maintenant je perds aussi Amaury. Mais bon jusqu'ici Pedro a toujours eu raison. Il a même fait 300km pour venir nous sauver. Amaury monte donc dans le Kombi . Une corde est accrochée pour relier le Kombi a la pelleteuse. Amaury dirige les roues. Le Kombi avance delicatement vers le chemin. Il sort de son trou. Il a les 4 roues sur la terre ferme. Je crois que notre Kombi est enfin sauvé des eaux. Aaaaaaah! Je hurle de joie. Je serre Amaury et Pedro dans mes bras. 24h plus tard notre nouvelle maison est sauve.
Pedro démarre le Kombi, fait quelques mètres avec. Rien. Nada. Le Kombi n'a rien. Il est en parfait état. Il nous dit qu'on a juste une chance incroyable. A quelques centimètres près, les rondins qui l'on tenu en équilibre pendant une journée aurait pu perforer la carrosserie et c'était fini
.
We get in the Kombi and follow Pedro back to the park entrance. The 2 of us driving it with a giant kid smile on our faces. Pedro has to drive back to pinta Arenas tonight, 300 km away. We hug him one last time. We thanks him 100 times. He just tells us he's so happy to see our faces like that compared to the ones who got this morning. We say goodbye to him. For good this time. He starts the engine and leaves.
A magic moment follows his departure. We're happy, we're both fine and the Kombi is there in front of us. We both start to cry and hug each other. We're realized and happy. And i think we just realised how lucky we are to know this incredible man. Yes we got a Chilean friend who just got there on a phone call to help us get out of a unreal situation...and today we are really missing him.
La pelleteuse remet le chemin en état et nous nous suivons Pedro a l'entrée du parc. Tous les deux au volant de notre Kombi le sourire béat. Pedro doit repartir, il a 300km à faire. On le serre dans nos bras, une dernière fois. On le remercie 100 fois. Lui nous dit juste qu'il est heureux de nous voir comme ca plutot que comme ce matin. On lui dit au revoir. Pour de bon cette fois. Il démarre.
Moment magique, on est heureux, en bonne santé et le Kombi est face à nous. Nous tombons en larmes dans les bras l'un de l'autre. De soulagement et de bonheur. Et je crois qu'on réalise la chance qu'on a de connaître cet homme incroyable. Oui nous on a un ami Chilien qui débarque sur un coup de fil et nous sort d'une situation impossible...et aujourd'hui il nous manque.